Thursday 22nd February 2007.
MTB Dirt Crits – crash & injury.
It seemed like a good day to go racing at the weekly dirt crits, it wasn't too hot, a breeze was blowing. Sure the track was dry & the corners were all power dust soft in places, but I felt good about rolling up.
Strange things happen though.
I must say it was a comforting to see the great support trackside, sometime when you come off like that you're so pumped with adrenalin that you're not feeling the pain but you can't slow down enough to ward off passing out or keeping a straight head about what's happened, just having someone there to prop you up, hydrate or just occupy yourself before the men in the van come is worth it's weight in XTR.
Home now, 4 weeks taking everything easy & 6 weeks before I should even consider turning a crank in anger.
The damage:
2 x crescent moon shaped lacerations: 1x arching across the top of the left kneecap & the 2nd half way down my outside left shin, both about 10cm across. Deep lacerations down to the tendons/bone/mussel material in both cases which reduced bleeding, most of the blood is carried in the skin tissue above this layer. (ie: If you pinch your own skin at these locations, this will give you an idea what came away on my leg in this incident). I also suffered a 15% tear in the patella tendon & a crack on the knee cap as well. Approx 25 stitches in total.
What Happened?
Start of the 2nd lap in B grade passed the carpark heading clockwise & up along the small rise where the flagpoles are I was in a group, wheel to wheel, still pumped being early in the piece we were all pulling tall gears at about 30kms/hr as we shot along that soft bit of straight single track through that clump of trees before the singletrack turned left-right dropping down along the fenceline.
It's at this point - just before the left-right – preparing to lean & bank left that my front wheel flicks out to the right from under me, I turn-in hoping momentum will be my savoir but alas I go down crashing. Still clipped in as I deck it my left knee & shin bear the brunt before I clip out, roll, tumble & lose the bike.
I almost go to jump for the bike & then see my leg rolling onto my back saying: " this is bad".
It was great to see someone straight on the phone to the ambos & I had a few riders there lending a hand even before the dust settled. I had a good look at my wounds right after I did it, but when I realized how bad it was I didn't want a bar of them – thanks to Reece for covering them up for me. My heart was still racing but I was getting all light headed, tried drinking from my biddon but then was getting queazing so I just chewed on the end of the biddon instead.
40nins later the Paramedics arrived, I got the 'happy cigar', did the checks & they strapped me up onto a split/stretcher. Instead of waling me out the carpark they had the nearby cyclone fence cut open & passed my through into the paramedic van nearby.
Didn't see much of the trip to Royal Melbourne, I was strapped to the stretcher, had a neck brace on & had my head taped onto the brace, so I could only see the van ceiling directly in front of me. ( ….almost thought they would start playing Beethoven at this stage…. )
Arrived a Royal Melbourne hospital, but all the wards were full so I went into a unused trauma theater were a nurse gave me the drugs I needed. My wounds had a lot of Westgate in there & she grabbed a surgeon who told her just to patch me up & shortlist me for theater, sending upstairs to the trauma ward.
This was Thursday 15/02 evening. In the trauma ward I was given morphine & other strange substances. Thursday passed into Friday evening & I was still waiting my theater session. Friday night I was assured by surgeon who visited me again that I would be first up Saturday morning if no critical emergencies came in ( you can usually hear them as most are airlifted in. I hear choppers - I get bumped again.).
Rise & shine Saturday 7am & I'm in theater talking gibberish with an oxygen mask on my face as I go out on a general.
Due to the risk of infection the dirt & debris in my wounds the surgeon opted to fit me with a VAC system which has a solid foam inside the wounds with clear hoses at either end. The wounds are kind of sealed, but what the VAC does is irrigate or withdrawal through suction debris in the wounds over a period of time. Also my patella tendon was stitched up which was a 15% tear near the knee cap. My leg was also placed in a brace to keep it straight to assist the tendon & wound recovery I can't remove this for at lease 4 weeks.
Back to the wards & I was on constant morphine, Antibiotics & assorted colored lollies.
I was then moved over to the plastics ward.
Monday afternoon I was back in theater to remove the hardware, review the lacerations & then stitch it all up. Wednesday my dressings were removed & a final little 10cm long drain tube placed in during my Monday op was withdrawn – done in the ward without pain .
Thursday 22nd Feb They give me a pair of crutches, a chair with a toilet seat on it & release me out into the wild.
So that means that I'll be out of action, as far as MTBs are concerned, to at least the 1
st
of April.
26 Jan 2007. MTB group ride Yarra Flats. (BV).
I tagged along to a social MTB ride around the Yarra Flats organized through Bicycle Vic (http://www.bv.com.au/forums/ ). Meet was @ 7am at the Fairfield Boathouse (Melways 30 J12), I convinced Paulie to come on his Giant Trance as well. So we drove up to the meeting point in Paulie car, my Specialized on my rack & Paul's Trance inside the Hyundai.
I haven't ridden with this group b4 so I wasn't sure what to expect. One on them races – competitively – as apart from blokes like myself who race 'less competitively', & I had no idea about the others.
There were about 9 starters at the car park, one of the riders was Johnny from Thursday night dirt crits, it seemed a mixed bunch but as we headed off the pace overall was OK with me. Tim – the faster one from our group lead us out over the pipebridge & the looped under the bridge & followed a trail upstream. The pace was good, I was just behind him but I couldn't effective bring in the 8 meters he had on me without putting in an disernable effort. I hadn't ridden this part of the trail before, which I later realized why as we emerged under the Chandler Hway bridge that it was signed 'no bicycles'. Very nice piece of track it was though, hugging the steep gully alongside the river with a sheer drop off on the left, rock wall on the right & parts of shale rock & & sharp pot holes in the middle to keep your eye busy.
At a short time for a regroup Tim headed us further upsteam, hugging the river on the singletrack on a trail I've ridden heaps of times before. It was dead-dry & hardpacked in places so it easy to get a good clip going backing into the sweeping corners like a motorcycle. From there we crossed the main Yarra trail (sealed) & rode the singletrack hugging the slope up to the freeway. From there we joined the main path to for a short climb until we dropped into the singletrack longside the Kew golf cource boundary fence. This singletrack weaved in & out of the bushes & trees which didn't give you much space but genrally it was a steraight run down until it stopped, leaving up to hoist our bikes over the log fence onto the main path again.
From there it was up on the fenceline again, down the steep drop onto the main path & then after crossing the bridge over the river near the Eaglemont tennis club, Tim took us for a lap of the 'Tuesday night' Delux club dirt crits course. This was followed by the trails of the Yarra Flats area.
At Banksia St Tim, his wife & another Victor headed for home, as the rest of us continued to Bonds street.
One of the riders Steve had as GPS/data tracker thing on his bike that logged our progress, details of the ride are at: http://trail.motionbased.com/trail/activity/1963865
It was a good ride, the pace went well with everyone, although Victor came off a few times. I've been down these trails a few times on my own but having other there certainly add the extra dimension to it all. Made going for a short road ride the following morning seem like a real bore, almost
6th January 2007, Amy's Ride non-competitive cycle road ride.
http://www.amygillett.org.au/index.php/amy_s_ride_2007
Organized 120kms road ride from Geelong & the Bellerine peninsular.
Me & Paulie drove down to Geelong from Melbourne for the start at the Botanical gardens @ 8:30am. The Amy's ride start was also the location of a round of the Bay Classic – a road criterium race series which visits various locations around the bay area.
The weather was forcsted to change from the near 40degree heat of the previous day to a thundery change .We were all hoping that it's rolling in on the tail end of our ride, with a cloud layer during the ride to take the sun out & a cool southerly to push us home on the return leg. The course traveled clockwise taking in Geelong, St Leonard, Point Lonsdale, Ocean Grove, Barwon heads & 13th Beach.
Brendan & Sully were still motoring to the event from Melb when we called them after we parked the car in Geelong near the start, so we let them know where we were & they parked nearby. Both Brendan & Sully had not turned a wheel since the 'Bay ride' in Oct '06, with Robin (Sully's) bike comp still displaying the 252kms trip distance of that event. As this ride wasn't over 150kms none of us were taking it too seriously, just a leisurely roll around which is most likely why both Brendan & Sully didn't get any riding in leading up to it. Paul & I had been riding to/from work, we did the 24hour MTB event at Redesdale in Dec '06 so we ourselves weren't too fussed about a 120km road ride.
Amy's ride had stressed the aspect of abiding by the road rules, sticking to the 'two rider abreast' & highlighting the 'courteously' aspect of the ride. But as you would have it, even though the roll out at the 8:30am start split the all the riders into small groups let out about 30secs a time, the first 40kms had riders bunching & spreading right across the road in some places – 3-4 abreast & and everyone riding as if the road was 'closed' to all other traffic. This meant some cars did get caught up with riders during some climbs & a few beeps of the horn etc were heard.
Us four rode out together, me on my Crosslight (road bike), Paul on his Avanti Giro, Sully on his Merida 'something' & Brendan riding his Gitane. We took an easy pace & spent a lot of time just gasbaggin. We came across a few other riders we knew along the way too.
The was a problem, even though it was easy going, the hot northerly was sapping all the fluids out of me & I was going through both biddons I was carrying in the first 30kms arriving at Portalington.
From Portalington to St Leonards the going was easy, we turned south for Point Lonsdale & then we began to feel the strong hot cross wind of the changing westerly. This run down the south coast spread us out & Me & Paulie dropped Brendan & Sully. From Point Lonsdale to Ocean Grove & Barwon heads we rode along the road across the coast, with sand drifts of the dunes & a real strong cross wind to deal with. This seemed hard going, I was taking swigs of the biddons every now & again but the buffeting crosswind would send me onto the shoulder of the road sometimes.
At Barwon heads, just after crossing the bridge Paul & I stopped to wait for Sully & Brendan. This gave us an opportunity to watch the traveling side show that these sort of cycling events draw. Recumbent, aero-bodied recumbents, tandems & a hot pink quad-dem with booming stereo.
As Brendan & Sully rolled in, we filled our biddons at a shop (buying to obligatory drink as a 'thanks') & set off. As we were rolling back towards the west at this point, the heat & strong westerly was taking it's toll. There were more riders on the side of the road taking breaks or flat out under trees etc. At one point half way up a gentle climb one rider ahead of us actually dived off their bike while still riding, as we rolled by offering assistance he said he was suffering a leg cramp, and there wasn't anything we could do.
The final part of the ride around the open roads near 13th beach & back towards Geelong had the wind pick up even more & it was just head down & pedal time. The riders had really spread out, me & Paulie were on our own how dropping Brendan & Sully a while back & we took turns leading into the wind.
with less than 25kms to go I ran out of water again ,but luckily enough there was a bloke on the side of the road with a hose near a dip & turn in the road across a creek, filling riders biddons & a spray on the head every now & again. We both pulled over & joined the end on a short queue out here in the middle of nowhere to fill up. While we were there a rider we know from Dirt Crits – Mik – rode by so we both hollered out to him, he returned a wave looking back but didn't realize he was drifting off to the wrong side of the road around a blind right corner & wouldn't you know it there came an oncoming car. No worried though as he corrected just before anything bad happened, but we both stood there feeling a little guilty in almost causing a cyclists to get hit by a car on the Amy ride no less. Oh dear.
Made it back OK, the hot wind which was still blowing made it hard but we did get rained on twice over that last 20kms . The start/finish area was gearing up for the criterion race @ 4:30pm., the racers were circulating the short 2kms loop course warming up. Brendan & Sully were still to finish but that was OK as with no riding leading up to this ride it wasn't surprising that these hot & windy conditions would slow them up. Paulie & I filled up on free apples & muesli bars on offer so hanging around wasn't a problem.
I picked up an Amy's Ride jersey for the event. It's a top made by Uno. Half way through the ride my nipples were sore from the fabric funny enough. Not that the top was unusually tight or anything.
Riding into such a hot headwind like we experienced this day would normally really do my head in & most likely would have had me considering pulling out. But watching all the riders around me suffering & cutting their pace down, especially at the tail end of the ride, put all my suffering in perspective & allowed me to concentrate on a considered, measured pace that brought me home in OK shape.
4th January 2007: MTB dirt crits Westgate Melbourne.
Heat & windy do not make for much fun on a MTB. Working to 6pm with a 6:30pm start @ Dirt crits ,meant that I couldn't really take an easy pace riding from the CBD to Westgate park. Coppin' a hot hot head wind made for more fun-times down Lorimer Street too. I rolled in to sign up just as A grade rode off on their first lap. That gave me up to 9 mins to sign up, fix the race number to the bike, drop a few psi out of the tyres (pumped hard for the bitumen commute) & drop the backpack full of workgear to start.
As the A graders rolled through on their first lap us B graders lined up for our 4 lap (3km course) start. I didn't get a chance for a sighting lap but Bonar & Al said there weren't any new changes to the course apart from a dicky tight climb around a concrete structure on real loose , soft dust.
Leaving a good 4minute break from the departing A graders, us B graders were set off out across the open grass paddock to U-turn around a picnic bench & return to the start/finish where we would head off up the two-track course 'proper'.
The C graders were then sent off a few minutes behind us for their 3 laps.
These dirt crit races are pretty short really, so the pace is always intence from the get-go. The first part of the course is open two-track so were all bunched together looking for that gap. The 90degree right hand turn over the disused rail line was kinda awkward first time round, being at the tail end of the field I dismounted & hopped over the rail line jumping back on rolling off the siding on the other side. Some riders came down so the field broke up into the sandy tight singletrack straight afterwards. It was pretty good going for the rest of the 1st lap, but the 2nd lap is when heat played a prt. I was struggling & I cut my pace right down out on the open going, riders got past me, I tried to take a easier gear & hold off abit waiting to get back some extra omph. By mid 3rd lap I was runing a taller gear in places & picking off riders ahead. I was still well down in B grade, maybe the last 3rd of the B grade field, back with all the other riders making a difficult job of it.
The new section next to the concrete bridge section near the start/finish had a tight right turn at the base & the very top, with a lot of loose dust right through it, but I found that going to a real low gear would be enough to clear spin through it, keeping low on the bike to stop the front coming up but also enough to load the rear tyre so it bites instead of spins. Luckily it was a real short section with a good opportunity to set up for it.
Roling over the finish I was glad to notch this one down, there were tiems early that I was really considering pulling out because of the heat, but it goes to show you that if you feel like DNFing, just hold out for a bit, maybe take it down a pace & you'll get a 2nd wind soon enough.
Summary of my cycling events to Nov 2006:
The Around the bay ride – Legends 250kms, 19/10/06.

The FGP 12hour MTB enduro Werribee, team mens fours, September 16th 2006.

Various weekly FGP Dirt Crits MTB events, Westgate.
Forking about. (MTB). 30th March 2006.
Isn't always the way, I upgrade to a new MTB rig fitted with a good pair of forks (Rock Shox Pilot XC/SL 03) which give me capable & dependable service of 3 yrs through all sorts of trouble & strife, but eventually a fork seal goes & it's time to take them to the LBS for a service. Then the troubles begin.
No problem at the time, the LBS knows of a bloke who specialises in bike forks – especially Rock Shox of which they are - & send them on. A week later they return resplendent with new seals & oil.
I fit them on again & do a MTB event the following week. The action feels alittle fast so I utilize the only adjusting knob I've got for rebound damping at the base of the right fork leg & turn them slightly to firm them up, and ride again. I find that turning the knob doesn't give the sort of change I previously felt, but I can't be sure, it's been 3 weeks since I rode the bike last in similar conditions so I carry on.
That evening back home I check out the adjusting knob & find that previously I was able to turn it clock & counter-clockwise through it's 1/3 of a turn range in a smooth action. Now I distinctly feel a notchy action, as if there are 3 to 4 notches between full fast & full slow action. The first thought I have is that the rebound mechanism has jammed & the adjuster rod/shaft has spun out or gouged through the plastic damping mech which is what is giving this notchy feel with apprant no change.
Due to work & play commitments another week goes by without addressing my fork issues & I'm fronting up to another event on the MTB. During the course of this event I start experiencing another funny thing from my forks. On big hits the damping works, but on little hits while it's at the top of it's travel – climbing seated over rough terrain for example – there is no damping, the fork is springing back at full speed. This also occurs while cornering - exiting corners - which makes the steering vague & very unpredictable, I started getting abit of arm pump which I haven't felt since I was MXing.
So more than a month after getting the forks serviced and over 20hrs offroad riding time I'm standing in the shed looking at my Stumpjumper wondering how rocking into the Local Bike Shop with my forks in hand & dissatisfaction all over my face will go.
My leaky fork seals was never this bad.
Like any regular person faced with the prospect of a useless confrontation with a LBS where I get most of my parts/accessories from, I opt to fix it myself.
www.Rockshox.com/ Gets me the exploded diagrams & service instructions for my Rock Shox Pilot XC/SL 03 forks, so off I go.
I suppose the biggest thing about doing something for the first time correctly, is not so much what to do, because the instructions are pretty straightforward, but how to do it – the feel. Things like to know how tight to do up the bolts/nuts, how hard to push the rods through the oil seals etc, especially when you have a combination of alloy & plastic components. Oh yeah, also having the tools required goes a long way, but sometimes you can 'get by' without the specialised tools by improvisation.
Of course there are things like pulling the lower forks out without taking into account the remaining damping oil as it pours all over the floor & remembering to 'grease-up' the seals & shafts before reinsertion.
But after ½ an hour the suspect HC2 Rebound Damping shaft (part #11.4307.393.000) is successfully retrieved.
Inspection of the rebound damper did show that the plastic inner damping assembly had gouged as a result of the damping adjustment knob shaft being turned beyond the allowable range which was 1/3 of a turn. With the fork fully assembled & fitted to the bike it's not possible to rotate the damping adjustment knob beyond the 3rd of a turn as the fork's front axel mount on one side & the protruding skewer on the other restricts movement beyond this 3rd of a turn. Hmm.
Luckily the LBS can supply a replacement (@ $59.59) which arrives the following day.
Assembly always takes longer than disassembly , but surprising not so much in this example. Measuring out the replacement 5wt damping oil (did you know that cc is the same measurement as ml ?) which I had left over when I previously purchased for my motorcycle fork, took the longest. Unfortunately I didn't have anything small enough to get the 30cc & 20cc amounts I needed so I used some cooking utensils from the kitchen to meter out the amounts (it's OK, I've washed them well afterwards, my fiancée - she'll never know).
I did notice that even though I did spill a considerable amount of damping oil in the disassembly, there seemed to be a very small amount removed compared to how much I was replacing as directed by the instructions.
With the fork assembled but before I fitted it to the bike, I exercised the fork through it's action on various damping settings & it feels great, fast is fast & slow is slow. Didn't get enough time to ride test it, but Dirt Crits is Thursday so we'll see how we go then.
Ride report : Bendigo 8hr MTB Sunday 12th February 2006.
Ah, don't you love recovery day, the day after an event, when it's OK to eat anything that takes your fancy, the ride into work is crusiey & nothing seems to stress you out at work.
It not all roses though, I can feel the sores on my right knee , thigh & forearm throb, result of a brain fade moment with yesterday afternoons encounter with some of Australia's more scrappier looking granite.
Me & Paulie drove up from Melb early Sunday morning to the private property somewhere between Sutton Grange & Segdgwick south of Bendigo where we entered in men's pairs [ the Flat Matadors] , in the 8hr MTB event held by the Bendigo cycling club. Forecast was clear 27degrees, at 6am the sun was just barely up but you could tell it was going to be a warm one. Roos hopped about all over the place as we arrived at the start/finish area, apart from the overnighters there I reckon we were the first to rock up that morning. We set up in a prime possie under some trees 10mt from the tranisition area, hoisting the 'pit' tent, chairs, eski, etc.
Even though we had some time before the 9am start we didn't consider a reccie lap, our thinking was to save the legs for the following 8hrs. The lap was about 6kms of 90% singletrack with some open going. Most of the climbs were early on & I found some to be really sapping to the legs even with the granny, the terrain was dry & rocky, with lots of sparse tree cover & open undergrowth of sparse long grasses. Pretty sparse all round really.
The start was a 50m foot race up a hill to the bike & off on a access rd that looped back to the circuit & away. Paulie offered for 1st lap duties (I hate first lap bottle necks etc), so as his bike-handeler I rode his Specialised Hardrock to the bike area.
At 9:07am they were away, there I was with all the other bikes & bike-handlers watching the stampede of riders up the dusty access rd to where we were, this followed the usually confusion as you're yelling out to your bloke in the scramble to their bikes. Wit hthe last away we could make out the rides by the plume of dust rising up from the trail, & this was the first lap….
Anxious at the transition area suited up & raring on my Speicalised Stumpjumper hardtail, looking out for Paulie. It was about 30mins lapsed & he should be round any sec, & there he was, the trail just before the transition skirted the pit area so you had a min or so to catch sight of them before they came around for the changeover. He rolled up, but I quickly got the lowdown in 5secs of the worst & I off I went.
The first 1km of the track looped around the pit area in & out of a gullied creek area with some little dropaways & sharp climbs, fresh as a daisy these were a ball, then the trail started out through the scrub climbing up. With the nature of MTB courses there can be a thousand corners in 2kms with various climbs & decents, but this first half , about 3.5kms generally had climbing. The scrub here was low & pretty sparse with almost no cover from the sun & with the still air early on the dust kinda hung in the air. The rocks were poking out of the dust & grass everywhere here, even if you had a clearing between trees/bushes you had to watch for nasty looking jaggered rocks hiding unseen. There weren't that may riders I could see ahead of me so I was pretty much on my own during this 1st lap.
As it was my first lap I was trying to take it easy, looking out for little surprises, but racing is racing & I found myself climbing out of the seat all the way up on the climbs & slamming down descents as if I had 7 inches each end to play with. During all this I was finding my gears were not changing cleanly & on more than one occasion I brought my crank 'round to foul up with the chain (is this called chain-suck?)having to back pedal to clean it up on the fly. At about the 3km mark banging down a decent the chain let go & wrapped itself around the cassette. I coasted to the bottom. Shit.
Easy fix really, but my chain breaker was sitting safely in the Hydration pack I left in the tent back at the start/finish. The bush around here was pretty open so I scanned the hills for the direction home. I noticed an access rd through the bush & shoulded the Stumpjumper & took off hopping over rocks & dodging the bushes, as it cleared near the access rd to grassland I saw another rider who lost her seat heading back too. As we walked back I noticed that it was a downward slope so I mounted & rode my bike down pushing long with my free foot, a-la-scooter holding my busted chain.
It was a pretty long 'scoot' back to the pit area, I had to run the inclines so I was pretty spent when I got back. Paulie was chowing down on banana when I rocked up, He offered to head out again as I got busy.
Upturned the bike & checked the length of the chain for damaged links apart from the ones at the end. I had everything I needed to do this except for a spare link (Shimano or SRAM) which is always the case – you never break a chain until you forget to bring spare joining links. I had to shorten the chain by 2x sets of links as the next ones along was also squashed, this would make it a squeeze for running the chain on the large chainwheel but it was an easy choice as I had no other options. I dropped the busted links & then tried to save pushing the pin out on the outer plate to re-use or to push it back to join the chain. I understand you should never re-use chain pins like this but again, an easy option to take when there aren't any others.
The test ride was success but it didn't like changing to the two largest (lowest) cogs on the cassette, still I had the granny & 32t middle chainwheel to play with though. Time was coming up for my lap so I settled for my '14speed' & tagged Paulie for my next lap.
The track was starting to chop up with very fine power-like dust in places. Rocks were being dislodged from the trail , but it kind of made the trail faster in places, using the developing dusty berms in corners & taking out most of the loose rocks that you couldn't avoid. At the end of the downhill where my chain broke I had a little smile "at least I made it past this point' I thought. After this point the track actually opened up & didn't have the constant climbing & the snotty switchback downhills of the first half. Out on some open access road to the 'official' half way point - A bloke with a ute, an esky & a hammock, the track only had a little rocky/dusty tight point & then it was all open & fast blasting through open fields. The track circled down another section of access road where you could clock up about 40kms/hr & then out long some open singletrack which dipped in & out of a little creek, a sharp gully crossing every time. There was a narrow plank-bridge as well thrown in for good measure. All this open & fast going put you in a good mood for the return back to the start/finish & the little dips & turns bunted around the pit area just before the transistion was a good time to whoop it up styling the bumps into jumps & the corners got the sliding out the rear - squared-off - treatment.
My next lap was the early afternoon, the sun was almost as bad as the dust in places. Luckily a fresh wind was picking up every now & again. I was having a real bad time of the climbs , even though I was not being able to use the lowest gears didn't help I was struggling in places I cruised earlier on. I bailed more than I would like to admit walking the bike up. I tried to make up this lost time by going banzi on the descents & keeping off the brakes in the tighter stuff. Near the tail-end of the lap where the track opened up in the grassy area I was shooting along towing a high-ish gear out of the saddle & I banked for a fast right hander, slowly my front began to washout & , as you do when you getting abit dozy, I started to turn in into instead of countersteering to get it back , so down I went into the long grass alongside the track , feet still clipped in & all. I tumbled & rolled the grass giving me a soft but abrasive landing. Got up, I was in one piece with no bad cuts, just that stinging on my right arm & leg from where the grass rubbed me up.
Mounted, rolled it home, no fancy antics into the transition area.
Paulie was going great guns, turning over the laps & taking the climbs, heat & dust in his stride.
There were a lot of flat tyres happening. Almost every 5mins there would be someone running their bike into the transition area on dead tyres. Out on the track, riders were hunch over their bikes were some shade could be found pumping away on their spare tubes, those black circular Taiwanese snakes started to litter the course here & there.
I was kind of struggling, that afternoon lap was crap for me & I was trying everything I could to get over this dead feeling. Eat lots, drink even more, go lie down, walk about, elevate the legs, short of jumping on the air trainers they had there I was in no frame of mind to get out there when Paulie came back from his lap. Paul said he was good for maybe 2 more but doing 2 laps back to back would be struggle. After a rest for the both of us, Paul struck out again at 3:30pm. I took the opportunity to get some video footage from his new digi camera that does the short-movie-thing on part of the track near the pit area.
As he came around from that lap I headed out at 4pm , this would be my last so I made the most it & enjoyed the fun bits. With the extended rest I had almost what you would call a 2nd wind. The early climbs were dispersed with short, sharp descents. One of these had a couple of switchbacks & I was jamming down , out of the seat positioned way back like they say on the instructional videos. All was going well, the track hugged a rise, the trail off-camber curving right crossed a rocky outcrop. I get off the anchors & opt to coast through the rocks not giving pedal clearance, but that OK as it's slightly downhill & I'm gaining speed. As I skip through the rock outcrop the front wheel hits & deflects off a rock (of all things), I go to crank in a vain attempt to catch it & down I go onto warm, inviting & jagged granite.
Ouch.
The rest of the lap was OK, the dust I was half covered in was a good banage for any bark I may have lost on the off. I really got into the trail end of the lap & came through to tag Paulie for his victory final lap.
Not sure where we finished up, hopefully it wasn't last in the men's pairs. My Stumpjumper looks like it needs a bit of freshening up, new cogs/chain. I'm very suspect about the front derailleur .
Recorded laps:
(using on-broad bike comps)
Lap1: Paul: Time: 38:18 Average: 11.9kms/hr Dis: 7.63kms Max:41.5
Lap 2: Mark: no time recorded.
Lap 3: Paul: Time: 34:07 Average: 12.5kms/hr Dis:7.18kms Max:40.5
Lap 4: Mark: Time: 33.63 Average: 13.34kms/hr
Lap 5: Paul: Time:33:39 Average: 12.7kms/hr Dis:7.17kms Max:41.5
Lap 6: Mark: Time: 34:25 Average: 13.10kms/hr
Lap 7: Paul: Time: 34:30 Average: 12.3kms/hr Dis: 7.18 Max:40.5
Lap 8: Mark: Time: 36:56 Average: 12.17kms/hr
Lap 9: Paul: Time: 36:04 Average: 11.8kms/hr Dis: 7.17 Max:42
Lap10: Paul: Time: 36:47 Average: 11.6kms/hr Dis:7.16 Max:42
Lap11: Mark: Time: 34.51 Average: 12.89kms/hr
Lap12: Paul: Time: 36.55 Average: 11.50kms/hr Dis:7.17 Max:42
January 28th 2006 – 8hr MTB Race Hard Day At The Office – 9am to 5pm.
1st attempt at endurance MTBing. Teaming up with mate Paulie on his Specialised Hardrock, I was astride the mighty Specialised Stumpjumper hardtail (team: Flatbar Matadors).
Run by the Fat Tyre Flyers, the venue was in & around the bush at Whittlesea's scout camp just 5kms north from Whittlesea. A warm Saturday the forecast was 30-ish, humid & some rain – maybe.
We rocked up early which gave us time to pitch the pit area (tent & goodies) & check out the course, Start was to be at 9am, briefing 8:45am. Most riders opted not to do a test lap. It was about 6.8kms long, fairly tight & from what I understand Fat Tyres usually run their courses kinda tight. It kept the average speeds down & made for interesting riding. Within the first 2.5kms the course rose up from the scout camp with single-track climbs that brought in the use of my much maligned granny cog up front. Followed by a descent into some fun switchbacks & up & down & , well you get my drift.
We entered in the Men's Pairs, a pretty competitive class, but with the aim to 'finish' & 'not be last' took some of the pressure off our camp. Paulie took up 1st lap duties.
The prologue 'lap' was a 50m run to your bike, then a ride along an access road through part of the camping area to a chute that funnelled riders onto the course proper. 9:05am & they were off, I stood there holding Paulie's & Mik's bikes & the usual messing about of bolting riders looking for their mounts ensued. My vantage point was a good place to check out some of the fancy dress enteries: Spriderman, the tennis players, a smattering of school girls & office attired single track junkies. Mik first picked his bike & was away with Paulie chasing a short skirt up the wrong end of the 'bike pick-up' point before he doubled back for his bike & was off.
The prolougue wound the riders back through the main transition area / timing tent before they began their 1st lap.
Even though I had at least 30mins to get over to the transistion area before Paulie would be coming through ending his lap I raced over quick-smart, all keen as mustard. As I waited they had the announcer go over the first lot of riders coming through on their first lap, offering spot prizes for the best mono going through the chute just before the timing tent, with one bloke (missed his name) doing a nice wheelstand just before he slowed up & looped right over landing hard on his arse.
Paulie rolls through, tags me' & I'm away.
The course wound around the scout camp in/out of a little gully & up the back into the surrounding bush. I was pretty much on my own & fresh as a daisy so I was cutting up the trail flicking through the corners & jabbing away at the crank lofting me up, over & into the oncoming bumps, logs & holes of the course.
The first climb began easy as they always do, but the gradiant increased, the trail crossed a road & then kicked up, now a tight singletrack snaking up the side of this hill. I found that wash-outs ,ruts & exposed roots really did their best to work against getting a smooth fast spin happening, it was good to see riders up ahead having similar problems & kinda encouraged me to pull the finger out. After the 2nd climb the trail descended & I was making some good rhythm through some switchbacks.
In the heat I was sweating loads & my 'glasses steaming on the ascents so I pocketed them. The trail was damp from last nights rain so dust wasn't a problem. In fact the passage of the previous bikes had cleared all the loose leaves/branches & was developing some real nice berms on some of the corners, I was really getting a kick out of this stuff. The layout of the course meant that the 2nd half was pretty much an ongoing decent so coming back to the scout camp was a real blast. Coasting, out of the seat slamming down the trail, jumping to clear obstacles was a hoot.
Into the transition area Paulie was there anxious to go, tag, off he stormed.
Through the morning we did alternate laps, but even with the rest inbetween I was getting really buggered. My next laps I really blew out & had to walk the top end of each awkward/steep climb. After stringing 2x laps together really hit me hard & all the effort I was putting into the climbs made me vague on the descents & the flats, picking some poor lines & making it harder on myself.
Passing of the faster riders wasn't a problem for me in that I didn't worry too much about losing a sec or 2 buttoning off or coasting to let them through when the trail was too tight for an easy pass, most riders were pretty cool with it all, never encountered any hotheads.
We got some rain during the day which kept the dust down & made some parts really nice & loamy, comments from the riders was that the course was a rave.
We finished, and even though our results weren't blistering, both of us are pretty keen on fronting up for the next one. Well, the next one is Bendigo in a fortnight which clashes with other stuff we've got on, but, the next one we're available for anyway.
Personal bike comp stats:
Mark's laps:
Lap 2: 30:14 time, 6.88kms @ 13.67kms/hr Avg spd (end 10:21am)
Lap 4: 32:02 time, 6.88kms @ 12.90kms/hr Avg spd (end 11.30am)
Lap 6 & 7: 1:15:05 time, 13.89kms @ 11.10kms/hr avg spd (end 1:29pm).
Lap 9: 35:08 time, 6.85kms @ 11.71kms/hr avg spd (end 3:44pm)
Paul's laps:
Lap 1 (include prologue extra): 44:57time, distance 8:23kms
Lap 3: 35:12 time, dist 6.68kms
Lap 5: 36:20 time, dist 6.65kms
Lap 8: 37:39 time, dist 6.68kms
Lap 10: 37:13 time, dist 6.67kms
Lap 11: 37:32 time, dist 6.66kms
Offical results:
http://www.ftf.com.au/results/uploaded_results/29397479HDATOResultsDetailed.pdf
27th September 2005.
With the 2 rides over the last weekend (I don't commute the Crosslight during the week – got the single spd for that) the bike has developed that annoying click-click noise under load (when you're out of the saddle – King Of the Mountain style) from supposedly the bottom bracket (when the crank runs into the frame. There's no binding or play that I could see down there just the noise & on a roadbike it can drive some people bananas.

Booked it in for a general service at SHM in the city as it's down hill & around the block from the coal-face. Besides they got all excited when I enquired about how much a general look over would set me back.
The hit list for me was: the cricket living in the B'bracket, a little bit of play in the rear wheel hub, a kinda lazy rear derailleur when going down into the little cogs & unusually squeally front brake [brand new pads] on my Avid cantilevers (not sure if this is fixable but there you are).

Dropping it off first thing, one of the blokes there was picking up on what I was saying & also pointed out that my chain was shagged ("look how loose it's one the outer edge of the chainwheel" he shows me), but that seems to happen every time I roll a bike into a LBS regardless, so I offered to wait for my usual tell tale signs of drive train wear – that first chain skip on the rear cassette under heavy load.
Many schools of thought about the best maintence routine of a bicycle chain & cogs, when is the best time to replace them & how best to do it. But that option of multiple chains updated to extend the life of the cogs never worked for me with either changing the chain too frequently – stacking up the costs, or not timing it soon enough & having a brand new chain skip first-off on a cassette I could have otherwise run ragged for another 1000kms, but needed updating to match the spankers chain.
Ultegra cassette, Whipperman chain & matching chainwheels (3 of them) – do I get change out of $300?

Oh, when I mentioned the lazy rear derailleur the thought they had was to replace the cable (inner & outer) to get a smooth action. I suppose yeah, whatever I thought, didn't sound to exxy ($$).

Picked it up this evening, $90 down. Job list read:
Dismantled the B'Bracket, cleaned water & any dirt/debris, greased bearing & outer threads, reassembled.
Dropped a link out of the chain – to speed up shifting. No replacement of shifting cable.
Retightened both front & rear wheels hub cones.
Tensioned spokes front & rear, quite a few on the rear wheel were loose.
Adjusted brake cables & re-seated brakes pads – this one is interesting, see below:

Here I was thinking that new brake pads on a used rim might squeal a bit initially but it would settle in after a while (first wet ride maybe to speed things up?). My Crosslight runs Avid cantilever brakes & the pads are those long V-brake type pads. After 250kms after install the front was squealing like a piggery in springtime, even though my rear pads (new too, same type/brand) didn't even squeak. I tried the sanding of the pads with coarse sandpaper, fooled with the seating position, nothing worked.
What the LBS did to fix the squealing brake was to re-position the pads so they are a little toe-out, so the leading end of the pad is slightly further out from the rim than the trailing end of the pad. Worked a charm.

The other results of the rest of the work?
The b'bracket still clicks, but differently now. I can see traces of white grease around the shaft as it goes into the b'bracket.
The rear hub has lost that slight loose play it had.
Spokes feel the same, I think. I hit them with my U-bolt's key out in the street but I wasn't really sure what I was listening out for.
Rear shifts nicer, well it changes when the shifter is engaged not a little bit later.
26th September 2005.
With a weekend down & a few rides clocked in it looks like a it would be a good idea to get a LBS run a general service on the Crosslight.

Saturday morning I headed out with a few mates down Beach Rd (Melb) to Mordialloc & back, a pretty cruisey ride. Into my first 100kms on the bike & the BB starts that tick-tick-ing noise that can really grow on you riding a road bike –not. Technical roadside inspection by a team of fully trained people found no play of binding apprant in the BB, but yep, it certainly tick-ticks when you're out of the saddle.

A group bike raid (with Aust Bike forum) Sunday highlighted that I was running my rear skewer alittle too loose causing my rear wheel to slightly cock on real hard rear braking, resulting in dragging the pads on one side. Not a biggie, but I was concerned that the rear wheel could find room to move, while on the move like that. Maybe the quick release needs to be tighter in that on my MTBs??
During this roadside pitstop & found some slight movement in the real wheel side to side, thinking that I might need the cones re-set I made the decision that maybe expert help was called for & made a diary entry to call the Local Bike Shop Monday morning.

That's the worst of it.
My initial worry of running relitively small chainwheels (30/42/46) didn't come to bear, both running the flats off a wheel down Beach road and throwing myself down the decents on the BikeRide route. I did actually have the opportunity to run the chain on all my cogs (including the 30t front chainwheel – but that's between you & me) in these two rides so I'm happy with that.
Maybe when I'm up for a new chain/cogs I'll go for the standard offering with a Ultegra triple of 30/42/50. Would like to hold onto the rear cassette combo of 23,21,19,17,15-11 though.

The riding possie was great. In fact all I did was measure the seat height, crank centre to the top of the seat, from my SS MTB commuter & matched it with the Crosslight roadie, perfect first off.

Still getting a handel on the Vittoria rubino tyres, I was never one to consern myself on what I was rolling over, but a road bike running 110psi 23c tyres does make you pay attention.
Also riding in the drops still feels weird but come high winds & steep inclines & there I am, right in there.

Motivation in getting a road bike for me was to develop some better cycling legs for the MTBing I do, I seem to have it wired [in MTB at my level] in the tight going, but I get totally blown away in the open fast stuff when it comes down to what is getting put into the crank.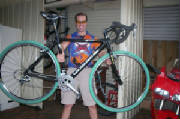 New Crosslight roadbike (cyclocross). Don't worry the tyres were the first to go..
20th September 2005
New bike: Kinesis (cyclocross) road bike.
Bought 2nd hand out of the Trading Post. The seller originally had it built up for him (it's not an off-the-floor bike) when he was in the UK in 2002 [original receipt provided for verification] .
It's essentially a cyclocross prepped bike but a change in tyres & maybe a larger chainring up front (TBA) should make it a sturdy & flexible roadbike I think.

It's in great nic, but it does look like it's done a few miles, maybe even offroad (orginal brake pads are histroy, braking surface on the rims aren't too flash).
Got it at a great price [cash talks], enough for me not to worry about forking out for replacement tyres & bike comp.

Sum of it's parts:
Kinesis Crosslight Pro2 Easton Ultralite frame with disk mounts. (Cyclocross).
Kinesis fork with disk mount.
Shimano Ultegra 170mm cranks, with triple chainring 30/39/46.
9speed Shimano (Ultegra 6500) rear cassette 23t - 11t.
Shimano 105 STi shifters
Shimano 105 rear derailleur
Shimano Ultegra front derailleur
Brakes, Avid Cantilever Shorty 6.
Wheels, Mavic Cosmos (rims/hubs)
Selle Italia Oktavia saddle
Tyres Michelin Cyclocross Sprint 700x30C (30-70psi)

I added:
Pedals - Shimano SPD PD- M520
Brake pads - Clarke's pads with replaceable pad insert (these Avid cantilevers take the same pads as regular V-brakes). The old ones where worn.

What's coming:
Replacement tyres - Vittoria Ribino (spelling??) road race. The Michelin cyclocross tyres it has now have a lot of rolling resistance for the road.
Bike computer with cadence.
Maybe a larger big chainring (50t?) but still to get some big miles to suss it out.
The frame does not have braised on mounts for a biddon cage, so maybe I might get a seat mounted biddon cage 'mount' like some triathelete bikes.

In the few rides I've had with it , I 'm not all too comfortable riding in the drops yet, but I suppose I'm maybe too familar with MTB flat 'bars.

(it won't have green tyres for too long now...)
Fitted the Vittoria Rubino 700x 23C tyres & a Sigma Sport 1600 (with cadence) bike comp last night.

Compared to the 700x 30C greenies, these new Vittoria tyres feel like I'm riding on the rim, but it rolls like nothing else now. I can also feel that it's knocked my overall gearing lower too, but top (46/11) is still pretty tall. On a later ride I topped 51kms/hr on the flat (passenger in a peleton/group) with a cadence of 110 which is about as fast as I can pedal for more than 10mins.
Compared to MTB tyres, even though these roadbike tyres take 110psi (for me 75kgs), it took 5 sec on the floor pump to get them up.

With the bike comp, what does everyone do with all the extra length in the wires? At the moment I just looped them up in one spot & taped it up with electrical tape, but this arrangement does look pretty low-tech
14th July 2005.
Dirt Crits MTB night racing event. Not a good run at the moment, the weekly Dirt Cirts in the cold, the wet & the mud, I get my 2nd DNF in a row.
It didn't start that way, I began the event coming out 3rd from the C grade start, holding that position almost for the whole first lap. At the pointy end of the field (in C grade) you always have some one breathing down your neck & having that dancing spotlight (from the following rider) constantly behind can get distracting. As we round the next lap up over some open two-track I peeter out as I usually do in the open going & 2x riders get past & I follow in behind them easy through the next two sections of tight single-track, but in this very muddy & sometimes slimy going it's hard to make a pass unless the bloke ahead gets caught up with a mistake.
This time of year it's pretty cold & wet. We had some drizzle during the day & that made some flat open sweeping corners, usually hardpacked & a good place to take it up a few gears, into a slippery slid. I almost came a cropper on 2 of these fast-ish sweeping hardpacked corners, with the 2nd one riding right out into the surround grassland to catch the sliding front tyre.
Half way around the 2nd lap is where I came undone. Sitting pretty in a comfortable 5th place in C grade I was gaining hand over fist to 4th through the tight single-track at the back of the circuit, where it skirts the fence line near a power line pylon. This little single-track then returns to some vehicular two-track by crossing a shallow gully which they (organisers) placed a narrow (about ½ metre wide) planked bridge. The rider in 4th which is about 3 bike length ahead turns left down into this little gully & goes to cross the bridge, but catches his front tyre on the leading edge & goes down. I'm rolling along, hook the left corner & come across him sprawled on the left side of the bridge, I go to hop up onto the planked bridge towards the right, but my front slides out from under me & I go down almost face first into the shallow mud next to the bridge. In the mad fury of getting the bike upright, walking the bike out of the gully where I run & straddle the bike (also getting ahead of the guy down on the bridge), I really didn't take the time to check my bike out. A large amount of mud was jamming up my rear derailleur & the right handlebar carried a lot of mud from the off. I was having all sorts of problems getting into a higher rear cog for this open two-track, so I hung on the gear I had & spun.
In the dark with just the helmet mounted light it's not easy to do running checks on your bike riding when, 10 seconds later, I'm back into tight & muddy single-track through tussock grasses. Most likely the muddiest part of the course the main aim is just to maintain forward momentum, keeping the rear driving as it spins & slides side to side & letting the front slide back & forth. In & out of another little gully near the disused rail line the trail joins up onto 2-track again before climbing some small mounds. Out of this the trail really opens up & I fighting for a taller gear on the rear, but the mud on the h'bars is getting real slimy & the shifter doesn't engage, so I go up on the front chainwheels & get out of the seat grinding the tall gear.
This part of the circuit gets some ambient light from the Westgate bridge & as I grind away I look down & check out my rear shifter. This is when I notice that the whole right h'bar is covered in mud & blood, with my right hand coated in claret. It looks real bad so I pull straight over I check my right hand out. I can't see anything. Then I feel my right thumb throbbing away. Yep, it had a bad cut right down the pad of my right thumb. With all the attempts in shifting gears & riding since the off I was pumping claret all over the place. It looked pretty deep too.
I thought it over, ½ way through the 2nd lap, in a good place, what to do? I check out the rear derailleur & pull out the offending branch that got wedged in there. I go to ride off & change on the rear, shifting with my right thumb & all this pain is there now. Shit, I'm out.
I circulate back to the start & hand my number in. Washed off my hand as best I could in the dunnies but there was a lot of Westgate in that little cut. With the mud washed off it looked worse than before. Put abit of pressure on it & watched the other guys finish.
Took it easy riding home. I don't think I've ever had so much mud on my MTB.
Funny how such a little wound in such a particular place can be such a big deal. Even now sitting here as the PC handling the mouse is all arse backwards.
Looks like the Dirtriders on Sunday is out.
10th July 2005.
Ride report – Fat Tyre Flyers MTB XC at Officer. 5km bush loop, Sportman B 3 laps. DNS.
Not a good start to my stab at some new MTB events. In this case coming a cropper on some real technical & very muddy singletrack which left me winded, hurting & pretty dissappointed at my non-start for an event. No damage to the Speicalized Stumpjumper but I aggrevated a previous shoulder injury by slightly dislocating it before it went back in almost immediately but was sore for a while afterwards. All this on the pratice lap before the event.
With the preceeding few days rain & cool weather before this event had by Sunday morning made the & technical (about 80% was singletrack) trail muddy & very wet in places. Logs & exposed roots were greasy & the track dipped in & out of small gulies in thick growth that made approaching this going difficult. At one stage I was decending into a gully all locked up with trees on either side & I was so far back on the bike that when I struck an exposed root full on with my front wheel & winded myself bashing my chest onto the seat.
The incident with the shoulder was when I was negociating a tight left around a tree where the track was off camber down towards a low gully, the front tyre slid on a tree root forcing me off into the gully below, this is where I attempted to grab a branch with my left hand & I felt a little pop so letting go I continued down, the bike & all.
Watching the start afterwards there were a few riders lining up who were going off to the World championships next weekend.
There seemed to be a pretty high attrition rate as the event went on, but I'm not going to vidicate my poor showing at this event. Although I must admit after going through the worst of it, I'm kinda excited by now knowing the extent of what can happen out on that trail. Even though I was little sore & sorry, it was the lack of confidence I got out on that practice lap that forced my non-start, & that's just all in the head.
There's another MTB XC event next weekend (Dirt-riders in Beconsfield) which is regarded as running 'easier' trails than Fat Tyre Flyers, so I'm all gun ho with that.
19th May 2005.
MTB race – FGP Dirt Crits, every Thursday 6:30pm.
Maybe getting a little boring writing up a report on every Dirt Crits I do, every week, but when something out of the ordinary happens, it can add a little extra drama.
This week I copped a flat tyre on the first lap. Half way around the circuit, running 5th in line out on the C grade start, just coming out into an open run from some tight single track in between some tea trees, my rear tyre blows & I'm running on the rim before I can veer off & brake to a stop.
With the field filing past me I looked out for the main sealed path that cuts through Westgate park back to the car park (start/finish area). Off I go & try to ride it back sticking to the grass verge of the sealed path but the tyre starts to spin on the rim & I can feel the harsh cluck-cluck of the rim striking holes & rocks through the floppy deflated tyre (these MTB tyres have a huge volume, but collapse I flop about like balloons when flat). I'm relegated to get of & run my bike back to the car park, which feels like it took forever in the dark.
Get to the bbq area, I grab my backpack & flick off my rear wheel under the lights of the bbq enclosure.
Using the top of the bbq as a workbench I tyre lever only on the first part of the bead & the rest worked loose by hand easily. I pulled out the holed tube & replaced it with a fresh tube from my backpack, in the process covering myself with talc I had in the tyre & all over the new tube beforehand. Stuffing the new tube in & pushing over the tyre bead back over the rim I was able to do by hand, easy. Fitted on the hand pump & started jamming away at it. Darn! The pump was not fitting the valve properly & air was coming out all over the place, on my fourth failed attempted I checked the valve (pesta), it's OK, it's undone ready to be pumped up. This is when I noticed the field streaming through the start/finish tent. I consider asking the guys at the tent whether anyone had a floor pump but that might waste time, so I refit the hand pump & go of it again, this time after 2 puffs out everywhere the pesta valve kicks in & the tyre begins to fill. I jam away at the pump & bring to tyre up to enough pressure, breaking the handle off the hand pump ($30 of Taiwanese workmanship bloody) before I refit the wheel. I throw everything back into my backpack & chuck it to one side, I remount & go over to the tent. No riders are coming through now so I ask " C grade how many laps are they at?", "Last girl went through still on her first" he said, I tell them I got a flat & that was my first lap, I tell them my number & ride off.
This lap was a blinder I chase the distant red flashing light, catch & pass her, this spurs me on to the guys up ahead.
End result, finished 17th in C grade out of 23 riders. It showed me that regardless of what happens, like a flat tyre in a short criterion sprint type race, it's worth making the attempt to re-enter the race asap.
Results: http://www.fullgaspromotions.com.au/new/images/WIWOResults/Series6/week9.pdf
12th May 2005
Race: FGP MTB Dirt Criterion race I [as part of a two man team] finished 4th overall !!!
The teams were allocated as follows:
Faster A grader matched to slowest C grader, 2nd fastest A grader with 2nd slowest C grader , and so on.
My team mate - David Thomas - was an A grader. Me being a C grader. We did alternate laps - 4 lap race - David started & I did lap 2 & also lap 4 (to finish). Interchange was at the start/finish tent & being at night it was hard to find my team-mate (had to tag each other).
I was pipped right on the finish for third place by 1 sec (pretty much). As we did alternate laps it was like doing flat out sprint one lap flyer, I reckon I almost did half a lap before breathing. I had the advantage of a clear trail ahead & that sort of mad panic & adrenalin to power me across a lot of the course. The track was dry & fast, I found that with good momentum you could slam through dry, hard, rutted going without your wheels deflecting off to much. The tight sections flew by & I kept way off the brakes, running wide in places to slow up, but it paid off.
A new tight section around the back of the circuit had deep dusty, tight corners that swallowed up your front wheel as it ploughed through the soft berms. At one point on my 2nd time around the front drove into the dust & I stalled running to higher gear, at least the landing was nice & soft with the power dust.
This format of doing alternate laps was a real buzz, even though I only got 2 laps in, instead of the usual 3 or 4.
Pauilie & I have entered into the Melbourne 12hour in Sept 17th @ Werribee as a team. Should be fun.
Results:
http://www.fullgaspromotions.com.au/new/images/WIWOResults/Series6/week8.pdf
26th April 2005.
MTB race – FGP Dirt Crits, every Thursday 6:30pm.
http://www.fullgaspromotions.com.au/new/dirtcrits.html
Rode my Specialised Stumpjumper ('03 model, hardtail, Schimano Lx groupset) the 12kms down from home to WestGate park as I had the day off work, it was a pretty warm evening, 27degrees with a north/easterly breeze.
I've been doing these Dirt Crits events on & off since Sept '04 so I arranged myself a years MTB race licence ($90approx) to save the extra $10 per entry ($10 for the event & $10 for day race licence). Arrived at the start 'tent', signed up, grabbed a number-card which I wire-tied to the brake cables just off the levers & set about fitting up my lights. I ran 1x 10wt Nitestick light off my helmet, with the lead to the battery pack tucking into the back pockert of the jersey. I had to sew-in a narrow pocket in the jersey from the exsisting wide pockets for the battery so it slid in snug without the likeihood of the battery falling out. A smaller front light on the 'bars which was a 3x led white light that I normally run on the commuter (now that it gets dark in the evenings early) & the regular flashing red tailight.
With enough time for a test lap (they let you pre-ride it if there's enough time) I set off for a look-see. It was now getting pretty dark as dusk set in but I tried to save my 10wt Nite-stick light's battery for the race as it only goes for about 1hr or so & made do with the ambiant dusk & overhead freeway lights from he West Gate bridge. We had a run of dry weather so the course was hardpacked & dusty in places, I found that most of the open parts I was running gears off my large 44t chainwheel, only dipping to the smaller 32t chainwheel for the single track & obsticals. Funny thing is, here I am taking it easy checking out the trail & I come off, not once but twice pretty heavily. The first time taking a flat smooth corner & having my front wash out at speed because of the loose sandy surface, which really banged up my left knee & shin leaving me all bloodied. The second time dipping down into a little gully & catchin my front wheel in a rabbit hole, stopping it dead , throwing me over the 'bar with my feet still clipped in (no time to pull out). I landed heavily on my back with my bike on top of me totally winded. By the time I got back to the start I was pretty sorry looking, almost got 2nd thoughts about lining up for the start, almost.
The track was anti-clockwise, starting off from the start/finish tent at the BBQs just north/west of the carpark. The trail then headed up over an open rise that skirted the park using a two-track (made by the wheels of a car) trail with a fast dip & then gentle climb to the west. The track then turned in towards the lake & crossed a concrete bridge, back onto a gravel trail followed by a sharp right at a pile of woodchips into some two-track again. The track then went straight over a disused train-line which was pretty awkward becaue of the loose rocks on the rail siding & the relitively sharp incline & decent from it before & after the rail line. Fortunately the organisers had piled up some dirt against the rail line edge to make it easier to scale the rail ine, but your front chainwheel could strike the 2nd rail if you bottomed your forks, let alone the cranks & pedals if you just tried to pedal through it. Over the trainline the alongside it through some open track to the south, passed a gap in a cyclone fence, turning right onto a paved path, then veering right off again onto some open singletrack that headed up a fast little rise in some tea trees, out again to a open stretch that rounded left around a large mound then across the paved path into some tighter singletrack in some more tea trees. This tight singletrack crossed some two-track & then into some more singletrack in a grassy area. This long grassy area began with climbing a mound after a tight left which was awkward, then followed by heaps of weaving & switch-backs through this grassy area. This grassy area floods & can get muddy with only a small amount of rain, but this eveing it was dry. The trail then turned back towards the park hugging the south fenceline with some switchbacks in & out of some tea trees on some singletrack. Looping around & down towards the paved path near alongside the carpark, there was a little bit of tight singletrack through some tea trees before we turned out into the start-finish tent. 3.5kms approx, 10minutes.
The race: Agrade was sent off at 6:30pm for one whole lap, as they came around B grade was sent out 30 secs later, with us in C grade 30 seconds after that. C grade had about 21 riders, they made us start by funneling us through the start-finish tent which only allowed about 3 guys abreast. Up onto the open two-track first off it allowed us to spread the field abit before the single track started. I was somewhere in the 2nd half of the field copping a bit of dust in the fast two-track going. As the trail tighten we all found our place single file to the rail crossing. In C grade most guys were opting for the dis-mount & walk through, what with the traffic heeding a good run up, which is the option I took. After the rail crossing the field was pretty sparce, with only 3 riders in my view ahead. Into the first lot of tight stuff I found I was gaining on those ahead but then I couldn't pass them in this tight going so we all followed. The first opportunity to pass I grabbed a tall gear & ground away picking up 2x places, but my legs were already feeling it as we dived into tight singletrack again. Then alongside a train line the track dipped down into a little gully & the rider infront of me (I was right on her wheel) caught her front tyre in a pot hole & went down, I veered but the long grass here had large rocks & logs that stopped me dead for going around. I clipped out (feet) & hoisted my bike over hers saying "..are you o-right?" & hopping through the bottom of the gully up the other side. Mounting on I hadn't lost a place but couldn't find my pedals fast enough to carry any forward momentum, but I eventually got going (3 seconds feels like forever) & motored on through the long grass.
Out onto open two-track going straight under the WestGate bridge, with no one behind me I tried find a gear to spin up & loosen what felt like weiry legs, I found that high candence helps me 'free up' my legs. Along the fenceline next to the Westgate the singletrack wound in & out of some tea trees, I made some ground on a couple of riders ahead. This part of singletrack climbs the side of a gully weaving through some small trees & the trail is off camber. Out of this, over the top of the gully the trail opens up & I'm belting along but behind me a rider gains. I'm able to hold him off until the start-finish tent, but as we go through he pulls out ahead & I lose him.
This next lap I spend pretty much on my own, but I pull in the quickest time, with being able to pick greatr lines through it all. It night now as I round the end of the 2nd lap & the lamps they have at the start/finish tent are blinding as you ride through.
The final lap was getting pretty hard on my legs, also half way through my 10wt light gives out & I'm forced to race up to a rider's tail & bludge off his headlight to see where I'm going. This is hard work & my weakest point (compared to other in C grade) – the open fast going – is stretching my ability to keep up.
But I come round for the final lap & skid through the start/finish tent.
Results, C grade, I'm 11th place.
The problematic DMR chain tensioner.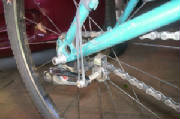 Note: the rubber band (cut from an inner tube) to increase the tension of the chain
24th April 2005.
My commuter MTB, '90 Apollo Everest converted to single speed 44/08 has been giving some reliability issues with what seems to me to be a below standard DMR chain tensioner I've been running.
The setup I have on the resurrected Apollo MTB has dropped the cassette, derailleur & shifters, converting to a single rear cog spaced out on the standard freewheel, but as the Apollo frame runs horizontal drop outs (where the rear axel sits into the bike frame), this does not allow scope for chain tensioning (unless to fluke it with the chainwheel/rear sporcket sizes) so I run a basic spring loaded chain tensioner – by DMR. Problem is, due to the original starting point of the ratios I selected - 44/16, the chain length is 'overlong' but still to short to drop a link, so I have quite a bit of slack in the chain which the chain tensioner has to take up. Because of this the tensioner is adjusted with quite a large amount of chain taken up & there have now been 3x occasions that the chain has been thrown off the rear cog, with the last time resulting in a fall & injury (jumped a curb, landed heavily, & went to crank with the chain jumping clear of the rear cog, off balance & crash-arama).
Ideally, there would only be the need for a negliable amount of chain slack to take up, so little that even large hits that would spring the tensioner away would still not have the slack required to throw the chain off the cogs. An option would be a new combination in chainwheel/rear cog sizes, to achive the same ratio but with different sizes sprockets provide the chain with less slack. Replacement front chainwheels are approx $45, rear cogs $10, chain $20.
I've had this DMR chain tenstioner readjusted by a Local bike shop, to make sure I didn't screw up the original fitment, but with no success. So I have fitted a elastic band (crafted from cutting up an inner tube) as an interim safety measure to increase the tension.
My thoughts to a fix to this unreliability are now turning away from the single-speed concept & I am now considering going back to a rear cassette with a rear derailleur. With the wide ratios available to MTB rear cassettes I think I can get away with only a rear shifter set-up. Looking through my old shifters etc there isn't much that is salvable, so I might have to spring for all new components . The current chain & front chainwheel will need replacing as they have had enough miles under them to throw them too far out of tolerance compared to a new cassette.
All $$.
25th April 2005.
Ride – Yarra bend, Fairfield boathouse north/east to Westerfolds park, singletrack 30kms (one way). ANZAC day off & the weather is fine, we (me & Paulie) took off from my place down to Fairfield boathouse. Across the pipe-bridge to Yarra Bend park we hung a left & headed up stream along the Yarra.
Along the whoosey track – Yarra bike path to Westerfolds there is single track shooting off the main trail. Under the Chandler Hway bridge the singletrack hugs the river with some flat fast going, skirting the grass area, as the track comes near the freeway it crosses the main bike path & runs up along the freeway siding with some kinda awkward off camber single-track. This bit takes a few goes to get smooth on it & gain the confidence to run hard against the camber, but great when you get it. Apart from an awkward tree down in the track near Willsmere Park it was a breeze on this day as it was bone dry which helped the grip no end.
Onto the main trail for the climb east up to Belford rd & then off to track just as the log fence begins. This little bit between the main trail & Kew golf course has the combination of off camber & narrow gaps between various trees & the fence line to make getting a good spin & a smooth line an effort. The camber causes you to strike the inside line with the pedals every now & again. The single-track does go the length on the golf course fence line but an opportunity to get back onto the main trail without throwing the bike over the log fence comes short some 100mts before the end, which is worth taking.
Just as the main trail heads north/east & bends away from the freeway there's a track off to the right that hugs the freeway fence. This is a little flat blatt that follows the top of a small ridge near the fence finishing in a steep, very fast downhill back onto the main trail that clocks my MTB up to 80kms/hr in less than 40mts, there's no changing your mind once you turn for the decent.
Back on the main Yarra trail just before the path bridges the river top the Ivanhoe side there are some flat single-track off on the river-side which is a good lot of switch-backs, as well as some track on the Ivanhoe side of the river, but this other bit is overgrown & there a heaps of hypo-mozzies everywhere so I kinda steer clear of it.
Under Burke Rd bridge heading east the main trail goes through a 'gate' where a dirt track heads off right into Yarra Flats. There are heaps of single track here and some mega ramps/jumps that spooked the hell outa me (no I didn't try them), these jumps had deep pits dug between the take-off & landing ramps so there was no option of whoosing out.
It's easy to get lost in all this single-track here but there is a 'main', well worn track that takes you out north/east. We basically hung to the single track which hugged the river as best we could, to take in as much of the tighter track there was, coming in & out to this 'main' single track. Some blackberries in the tighter stuff was there to scratch you up if you took a sloppy line or wide corner, but it was great hammering through some of the straighter but overgrown parts of this single-track. Most of this was flat so it made negotiating the track pretty straight forward.
Just after the single-track joined the main Yarra trail still in the Yarra Flats area it was about 1km or so before we came across a little loop of single track off on the river-side of the main Yarra trail that began in an open field near a drinking fountain with overhead power lines nearby. This loop which we did clockwise ran long a wire fence which had an old electric fence wire on it (not connected, I tried it) that lead into the scrub. This single-track was flat & kinda open under the trees where you could look ahead & pick a good fast line through there. This made for some fast switchbacks all the way around. I think it went for about 3 kms with every corner & bend urging you on even faster, would definitely recommend it for any MTBs passing by this little loop.
Back onto the main Yarra trail heading north/east we take the first single-track off on the riverside of the main path, his leads to some bush long the river & tighter single track. At this stage I'm getting pretty confused in which way we're going, but I tried to keep the river on my right (heading north/east) & took any single-track off to my right as it seemed that a lot of the tracks peeled back onto the main trail. This took us right up to under the Banksia St bridge ending in the track skirting some grassy open space.
Up along the side of the 'Greenery' nursery we stayed on the main Yarra trail to Warringal park, heading north/east past this we come to another 'gate' at Banyule flats & take the dirt track across an open field off towards the river where the bush closed up. What did we find here? Yep more single-track. Being a public holiday there were heaps of people out, not just on MTBs either. We were into our 2nd hour of constant single-track & now we had to contend with a fair amount of oncoming traffic, so at a few times we had to turn off the single-track to let people pass by.
The track joined the main Yarra trail again just after a little dip before the main path's bridge crossing Plenty river, we followed the main path as it hugged the Rosanna golf club's fence line & then jumped onto the single-track just after. This was pretty flat going in amongst the tea trees right next to the main path for about 2kms with various switchbacks, this finished at Bonds Rd.
We negotiate the gates at Bonds rd over a small rise towards Westerfolds park, the main path was well above the river level now & the single-track coming off the main path was fairly steep, rocky & brought the granny gears into play. Being my first time into this section of single-track we were opting for the walk through with some really gnarly parts, and some of the track absolutely demanded that approach. A section of single-track ran below a raised boardwalk of the main path that was very difficult going without enough room to even walk your bike through. But this section was short (thank god) & joined up with the main trail at the end of the raised walkway. There was another similar short section just after which was a granny gear or walk through affair before joining up with the main path. The next bit of single-track was a fair bit easier looping through some flatter going right up to the main trail footbridge across the river to Westerfolds park.
Immediately after this footbridge there is some single track off to the right up a steep rise but we chose instead to go along the main path into Westerfolds park & hopped onto a single-track off the left hand side which travelled north along the east bank of the Yarra river. Again this lot of single-track was pretty flat going but still tight & pretty interesting.
This took us – off & on the paved path – to a toilet block in Westerfolds park which was where we turned back. At this point we clocked up 27kms since the Fairfield boathouse pipe bridge which took about 3hrs.
The return was just as good retracing our steps, except maybe with slightly more weary legs. With so much track you couldn't get bored with any of it. At the end of the day we covered 55kms of 90% single track (total for the day 80kms to/from home), most challenging, all heaps of fun.
25th January 2005.
MTB ride – The You Yangs. Heard about a MTB specific park reserve out at the You Yangs national park so I thought I would check it out on a day off from work. Being about 50kms out of Melbourne I drove the Commodore up with the Specialised Stumpjumper MTB on the rack. Forecasted 35 degrees Celsius I made it an early start of 8:30am hoping to have it covered by lunchtime where I could get back home out of the heat.
The MTB 'zone' is actually at the rear of the You Yangs National Park but you have to drive in the front entrance & take a left on the Circle track which goes right around clockwise (one way traffic only) the whole park. It was the Stockyards car park I was looking for (signed) when the MTB zone goes north from there.
Below is a link of the main MTB tracks, which are signed funny enough but I also found heaps of other XC type of single track there as well. I was riding about for at least 2hrs non-stop exploring the area. Found some real technical stuff out there including ramps & some pretty scary downhills. It's open scrub & pretty sparse in a lot of places leaving good visibility for a first timer. There are some tracks which are real steep & eroded where I had to get off & push it, but most is navigatable if you're creative in places.
Being mid summer the place was dry as, dust in corners & ruts in the downhills. The day was mega hot & I did my whole biddon in the first 1 ½ hours. Getting back to the car was fun without a map and realising that I was on the opposite side of the reserve, with it being uphill all the way to the car.
Wallabies are plentiful but they just check you out & piss off. Saw a lazy snake. I think it was a bad mistake getting out there on such a hot day, with the heat (from pedalling as well) taking the edge off a fun ride so I'm pencilling in a cooler stopover with a few mates thrown in next time.
2nd December 2004-12-03
Kona week-in Weak-out dirt cirts MTB races – Westgate park every Thursday night 6:30pm.
Straight down from work I rode the dirt encrusted (from last weekends single-track jaunt) Specialised Stumpjumper for my 3rd crack at it. It was a dry warm night, I rocked up @ 6pm to find the guys had not set up yet – running late. By about 7pm they had set up, me signed in & ready to roll. A graders off first, followed by B graders 30 secs later & then 30sec after that, the serious guys – C grade. Running a shorten course clockwise (like the most recent time I did it) we bottlenecked again at the first tight wooded section, walking it though. Next little tight snakey bit I washed out the front on a flat, dry, piss easy corner. Mostly because my SPDs didn't let my inside foot out in time to dab down I came down on my shoulder at almost 0kms/hr. As it was tight there with no where to pass I pulled my bike from the trail & let the guys behind through, problem was as this was early on, it was a while before a break in the traffic was enough to let me go. Maybe lost 7-9 places, no damage, no bark off, off I rode.
With a break to the guy in front it allowed me to ride the trail & get in the groove. The course had dried up nicely since last time (they mostly run the same course each week) & the only real problems was the dried out bogs with hard ruts that kinda pushed your wheels around, but dust wasn't any real issue. I found I was gaining on the guys ahead and made a pass or two before the end of the first lap which was a great motivator. The course ran along a train line & bouncing off the sleepers between the rails was no fun. The lack of any real mud lifted the speed through most of the technical going & I found that I was really laying it over & craving like a bastard. Still kinda lagged out on the open path sections with my jelly legs, regardless of whether I was grinding a high gear or spinning fast (I tried both).
Like previous times the 2nd lap was just me on my lonesome, riding the trail ahead. Took me pretty much the whole lap to gain a pass on a bloke ahead of me. No one passed me.
3rd – last lap, I started to pick off some riders up ahead who fell or were tiring, I was coated in sweat & it poured outa my helmet down my face. I didn't wear my sunglasses because my sweat always runs down them & with the dust I would be left riding by feel. The faster guys were coming through now, mostly in groups of 3 or 5 in the tight stuff I shot of the trail where I could giving them the gap. Trying to catch their wheel was an exercise in frustration, looked like they bounced from one corner to another freewheeling.
Uneventful but rewarding I passed the start finish for the last time, Stopped & sat down heaving & heart pounding. It took a few goes at it, but getting the buzz of nailing a smooth, tight line & powering through the heavy going was great. Passing guys gave me a 2
nd
wind every time, just need a better motor.
Results 2nd Dec 04, Kona Week-in, Weak-out dirt crits.
2nd December 2004.
Fitted new steering head set to the SS Apollo. The old headset had developed some play over the last year but it didn't really bother me until the slop was banging in & out with every brake or change of direction.
No biggie, took 5mins to pound off the old headset bearing races with a hammer & cold chisel. Because I only have the brake cables (no gear changers) to worry about the handlebars & gooseneck came off in one go, just removed the brake cables out of the levers on the 'bars easy.
Bought a BMX headset which ran huge (for a pushbike) bearings, called the PIG. Got heaps of grease everywhere (& some on the bearing too) & threw it all together. Feeling like new now, I reckon it actually turns tighter & feels steady too. Cost $50, but like all pushy stuff, you're paying off someone's 20ft yacht for sure.
26th November 2004.
Critical Mass - Critical Mass is when cyclists ride together in peak hour traffic for safety, enjoyment and to celebrate a shared vision of a city without cars . Melbourne Critical Mass started in November 1995 and has since been riding on the last Friday of every month. They meet at the State Library in Swanston Street at 5:30pm. www.criticalmass.org.au
I decided to rock up on my SS Apollo after work 5:30pm Friday evening @ State Library & check it out for myself.
Didn't get rolling until 6:30, 500 odd turnout, can't say they were mostly crusties, but there were some there. Hard to see who was organising it, maybe 3x ring leaders, but a group of a bout 15 seem to Shepard the field. The roll-out started after people got anxious/bored & started hooping it up (bell ringing, yelling etc). Police presence was 5x m'cycles 1x pushbike cop & overhead helicopter. A couple of bikes had boom boxes, one towed a trailer with 2x massive marshal speakers, playing mostly protest music – Rage Against the Machine etc.
Route eventually taken was: State Library > Latrobe St, right into Exhibition st, left Lonsdale to Spring , then into Little Collins, left into Exhibition down the new extension to Swan St. Through Richmond down Swan St, right @ Church st, down to Chapel St, through the Jam factory car park, then all the way to Dandenong rd, right through underpass (under Nepean hwy) then left past Albert Park lake into Fitzroy st straight down to the beach (right over Jakka Blvrd, crossing against the traffic into the park.) .
The group was pretty slow moving. Police escort didn't do very much traffic management, cyclists mostly 'corked' intersections. The group stopped at a few red lights to bunch up. I noticed that the police m'cycles hung near the front but didn't try to Shepard the group at all.
Near the tennis centre, Swan st & Batman Ave, as the group bunched up & the police escort blocked off the oncoming traffic, a few riders ( 6x) broke from the group & made a bolt down along the river towards the tunnel, all the m'cycle escorts took chase, passed them & blocked the road.
Then the group moved down Swan st towards Richmond. They stopped & massed in the intersection of Swan st & Punt rd & did a 'bike lift' – lift your pushbike over you head & yell/carry on. They did another bike lift at Chapel st/Toorak rd as well as Chapel/High st.
It was a pretty friendly group as we rode around we chatted as we coasted along, a couple of young girls in bikinis (it was a hot evening), some dude on a black recumbent (with scull/crossbones flag) fanging around. BMXs, full-on lycra road bikers, chicks on MTBs & the odd crusty, you name it. One or two radicals, but I suppose this is their time in the sun.
One incident in the CBD where a car was pulling into a centre median park (indicator on) & didn't see the group in his rear mirrors & started to turn in at the first couple of riders streamed by, the motorist glanced one rider but didn't bring him down, but then turned to give chase (the rider kept going) & then pulled up ahead of the rider he connected with, jumped out the car & made an issue of it. I saw the whole thing & you can give him the benefit as he was indicating (one reason why I swung to the car's left), but he could've just took a sec to check the mirrors for the 500 odd cyclist bearing down on his as he turned. A police bike pulled up to sort it out.
I think the intent of going through the tunnel was more a beat up from the media to get meat into a story & City Link panicking about anything that would impact their operation. Talking to one of the dudes in the group giving some of the directions (there wasn't any one leader) he said that they weren't considering the tunnel again after last year because it was difficult to get in & out safely. As he said: " it's just a hole in the ground, that's were cars in the city belong if you ask me…."
18th November 2004.
MTB Dirt Criterion event, 3x laps, total dist 12kms C grade.
After a 2 month break I had my 2nd stab at the Dirt Crit race at the Westgate on Thursday night. We've had some pretty constant rain over the last few weeks here in Melb which had put me off doing the event with the muddy conditions.
The course was run clockwise this time around, opposite from the direction I had previously ever run this course. Some of the inclines took some getting used to, but it also highlighted the 'scope of improvement' that there was still left for me in this MTB game.
25 starters in my grade, we rolled off for our 3 laps (B grade - 4laps, A grade – 5laps). Again I was towards the rear of the field away from the start, running clockwise meant that it was only a short run before the course tighten up, with a bottleneck in less than 30secs before the first tight section. Being so eary on this first tight section through the trees was a slow wait-in-line & walk through affair, nowhere to pass spread the field way out after emerging, remounted from the trees. I tailed the bloke in front but could not get the sort of speed up along the flat single track to get by him. Again the course tighten up & dropped into a muddy section where some timber pallets had been placed to reduce chopping up this part of the course. Up & along an off-camber snake in & out of some trees before a short flat open section to the rail line where we bounced along between the rails on the sleepers, hopping off through grassy lumpy paddocks.
This is where I came off. Riding right up the clacker of the guy up front on some twisty single track, the trail turned sharply left & rode up a large dirt mound. As I shadowed him up, a female rider ahead of him boggled at the top of this mound & he braked. This was where I wasn't paying attention & rode straight up, at the last moment seeing him stopped I went to his left with my momentum. But ahead of him she came down off to the left side, right in front of me. I braked mid-stroke & the front tyre skidded off to the left off the side of this mound as I followed. This brought me down into the long grass below the mound, feet still in the pedals, hands on the 'bars as I struck the ground with my left shoulder & back, bringing the Stumpjumper over me. Slightly winded, kicking out of my pedals I righted myself. I pulled the bike out of the bush it was imbedded in & lifted it over the tall grass & mud pass the mound, finding the tail & pushing long, leaping back on trying to find the pedals & get the right gear. My rear brake lever was bent down but was useable & I fumbled clipping in with my pedals over the next few corners. I lost 4 places but at least I had a clear trail ahead. I pedalled on.
After few other twisty sections I caught to a rider ahead of me. As we dropped onto a sealed pathway I suddenly discovered I didn't have the legs to power up to him (& this was my first lap!) so I found a nice cog to spin a little & take a breather. I knew that there was only a short whoop-de-do section to test me before the course wound back to the start/finish on some smooth open trail. Great thing about this course was that it was pretty flat with no killer inclines so I could rest my feeble legs before the next lap.
3kms, lap 2. Mostly spent this on my own, made no gains on the bloke up ahead & never really saw any catch me up. Gave me an opportunity to ride the course & be neat, making every pedal revolution count & being smooth as I can be. I found that in the tight stuff I'm always dragging my rear brake & in some case braking & pedalling at the same time which hadn't be a good thing.
6kms, final lap. Through the start/finish I was in a better frame of mind than last time I came through here. The A graders were coming through now so every now & again I could here the squeal of a rim brake or the slap-slap of a drive chain as they came up to me. Through the muddy section I actually had 5x guys up my arse so I whussed out I rode off the side & let them through.
Finished OK, coated in sweat, a little muddy & with a graze & a bruise for good measure . Rode home nice & easy, I didn't feel any of my injuries until I ran the shower over my grazes. Little patches of blue & purple on my shoulder & legs made for interesting viewing later that evening.
FGP Kona Dirt Crit results - 18th Nov 2004.
17th Oct 04.
Ride – Around the bay in a day – 210kms.
Rode the Specialised Stumpjumper (Previously my Avanti Aggressor 2003 with a frame change), ran the Speicalised Hemishpere 2.00x26 tyres & the usual set up for this event.
Weather was fantastic. Start was at Docklands (Melbourne), headed in a clockwise direction, Melb> Frankston> Sorrento (ferry)> Queenscliff> Geelong> Werribee> Melbourne.
Uneventful (good), except for a puncture just out of Geelong. Got 4x holes in the rear all at the same time. I tossed the tube & ran my replacement.
Averaged 27km/hr. Started 5:30am, finished 6pm. Stopped heaps because of punctures, mine & riding buddies.
At one stage I was changing a rear tube of a lady who also copped a puncture while I waited for a mate to fix his flat.
More details to come.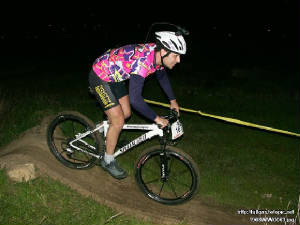 Thursday 19th August 2004.
First MTB race. The first time I turned a wheel over a start line of a MTB race. Run by Full Gas Promotions
it's
a weekly Dirt Critium race that covers a loop set out at Westgate Park Melbourne & also takes in some paddock area as well. I've heard about this event for a few weeks now but only competed for the first time last night as the weather was pretty much ideal – for Melbourne in August – and I recently got my relatively new Avanti Aggressor MTB back from a warrantee replacement for a cranked frame the day before (not really an Avanti anymore as you can see in the pix but that's another story).
They had 3x grades, A, B & C. The course was approx 5km loop, A grade did 5 laps, B did 4laps & C 3laps. The grades were sent off 1min apart. Start was 6:30pm so I rode straight from work (finish 5pm) to make the sign in etc, also 6:30pm in Melbourne at August mean darkness & cold, so we all ran lights. I opted for a 10wt helmet mounted light (http://www.cecilwalker.com.au/category261_1.htm ) instead of bike mounted lights as the beam dances around heaps on the move, helmet mount give you a steadier light.
In C grade I rode off last in my grade & followed the bloke in front for most of the lap. Weird riding by spotlight but it actually made riding technical going easier because I wasn't distracted by drop-a-ways or obstacle out of the field of vision (what you can see, doesn't scare you). By the tail end of the first lap I pulled a couple of passes & began to power on alittle harder.
With not much experience with some of the more technical stuff, I dismounted & pushed through & tried to make up lost ground by going harder in the open parts, using brawn over brains. A couple of times I backed off or baulked which tossed me off into the darkness.
3 stacks down I rounded for my 3rd & final lap. Legs feeling weary but my adrenalins was pumping away at the crank. Half way around the A grade riders started to come through lapping me, " Passing on your right!", I tried to stick with them & maybe learn a thing or two, but it didn't last long.
Finish, & made it in one piece. Was surprised that I didn't do that may gear changes, mostly stuck on the centre chainwheel & maybe went up & down on the rear derailleur, too busy looking where I was going to play around with the shifters for that perfect cadence. Besides the course was pretty flat with only short climbs & drops.
Wasn't that muddy. Was coated in sweat even though it was like 10degrees Celsius. The ride home from the event was a slow affair with the backpack full of 'workwear' etc & the tiredness seeping in.
Be there next time (in a fortnight 2nd Sept as next week it's not on), no worries.
August 2004.
Apollo MTB single speed- update. Changed the gear ratio from 44/16 to 44/18. This meant that I needed a new/longer chain ($25). This ratio 44/18 allowed a comfortable flat cruising speed of 25km/hr & gave me a good crack at the inclines on the Melbourne City cycle path which was the worst of my commuting routes. Max speed topped 28-30km/hr on the flats (pedalling) and it allowed good take off from standstill for pedestrian barricades & inclines etc.
With the rear sprocket, the only sizes available had been 16t or 18t, with 17t being very had to source unless you broke a 17t from a rear cassette. I erred on the lower ratio of 18t rear instead of hunting up the 17t as I thought it would be better to spin up on the flats/downhills, than grind a higher ratio on the hills.
A very basic bike now, the Single Speed Apollo still had thrown the drive chain on more than one occasion which I blame the DMR chain tensioner. The Tensioner has a metal tab that goes over the chain as a 'retainer' to stop the chain hopping off the tensioner cog under extreme hits. Problem was that with hard impacts (gutters, stairs) the chain whipped up & caught onto the retainer tab, snaring & throwing the chain. Fixing it can be done on the fly (with abit of bending & simple tooling about), but the inward facing mounting bolts of the tensioner cog & the fashion of the tensioner mounting bolt (to the bike frame) makes it a bitch to work on & to adjust the tension.
This mounting bolt to the bike frame of the DMR Tensioner is also made of light alloy which threaded (wore out the thread on the bolt) after the 4th readjustment, so I raided the steel mount bolt from my old rear Schimano derailleur. Problem here is that the spring tension on the DMR tensioner is dependant on how tight you do up the mounting bolt, so even after the replacement of the original tensioner's alloy mounting bolt, the thread tapped into the cromoly frame of the bike eventually threaded out as well. Went to the Local bike shop to tap in a new thread - $30. The DMR tensioner is a neat setup apart from that where it actaully pushes up & has really no desernable hang to catch up on below the chainline.
Sunday 20th June 2004.
MTB offroad ride. Even with the pretty 2nd hand weather we get this time of year (dead heart of Winter) I took my Avanti Aggressor MTB(2003) out Sunday morning to the single track trails along the Yarra river here in Melbourne. Its a pretty good mix of tight & open single track off the main bike trail heading from near Fairfield boathouse, north/east along the river to Westerfolds park.

With my first trip shod with the knobbbies down this way & into the single track it was a bag of fun. Having the MTB slide around under me through the bogs & ruts. Some of these trails loop around on each other so I circulated around the one loop to get a handle on this offroad gig. I only got as far as the Burke Rd bridge bit (from Fairfield), but there was 2 hrs of dirty fun right there.
With the wet weather some of the roots covered in mud (or it that grease) & those little drop-a-ways got to be abit of a handful, but as one bloke I came across out there said : "its all good".
And it was.

My Avanti MTB after the ride, pass the sponge....
Apollo MTB '90, base for single speed convert.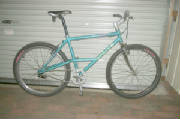 14th June 2004.
MTB single speed convert - Apollo Everest. Even though I bought my new Avanti Aggressor MTB to replace my tried & worn Apollo MTB, with the amount of commuting I have been doing, I thought that converting the old Apollo into a single speed & using that for the commute would leave my Avanti Aggressor for a more offroad application (as god intended). That way at least I would have 2x working bikes.
Besides there is all this mystic in doing it the hard way that a single speeder brings to riding a pushbike. You begin to read the path ahead with more insight, reading the terrian closer, taking into account how inclines can be achieved etc.
I dunno really, I just like to have the stripped down look of a bare-bones pushie.
Luckily the components on the old Apollo MTB which were worn where the ones I needed to change in the convert, namely the front chainwheel, rear cog & chain (as well the derailers but these were tossed in the convert) . I also looked at a new set of bars & a new seat because I grabbed one from a specials bin.
I suppose the important part of a single speed convert is the right ratio. The mantra with MTB single speeders seems to be 2 to 1. 2 teeth on the front for every one out back. Popular with offroad MTB single Speeds seems to be 32/16. For me this would only give me 20kms/hr cruising (flat out) which is pretty slow seeing how I stick to mostly bitumen paths (roads) on my commutes. On my current Avanti Aggressor MTB I seem to spend heaps of time in the 44/16 ratio doing the 9 to 5 runs, so this is what I went for on the project bike.
DMR make a Single Speed convert for a multi-speed freewheel (just a cog with alloy spacers really). I ran the front chainwheel on the middle mount on the crank & played with the freewheel spacers in the DMR kit to align the cogs true. Easy.
A problem with single speed on a MTB (later model after mid 80s) is that they have vertical dropouts for the rear wheel axle. This doesnt allow any sort of adjustment of chain tension without a rear derailleur. The option to reweld in horizontal dropouts in my current Apollo frame would add cost & lots of stuffing around to my project so I sort a simpler chain tensioner from DMR. This tensioner was not cheap coming in at $110AUS. Some guys go for the old derailleur & just back in the adjusting screws until the derailleur sits aligned with the chain & cogs. Problem was my old rear derailleur was total cactus & threw the chain more than anything else.
After fitting up the convert with the (new) chain it didnt seem that I had that much slack in the chain but I went for the tensioner just in case, test rides without it showed the chain slapped around too much.
I went with wide (65cm approx) Riser handlebars to give me the leverage I would need as I would be out of the saddle more on this single speed with hills. I fitted beefer Raceline Hemisphere 26 x 1.95 tyres to reduce any chance of slip on pavements, they also offer some cushioning as the Apollo has rigid frame/forks, but didnt have rolling resistance of knobbies.
Ive done about 50kms so far & Im thinking that maybe 44/16 might be alittle high as Im out of the seat heaps, but its do-able. I will give it an extra week & if its still a problem Ill got from 16t to 17t at the rear as my chain can take that extra size up without adding links.
Pic of the complete MTB single speed project bike.
The antimony of my single speeder:
Apollo Everest MTB 1990. Converted to single speed.
Drive: 44/16
8 speed chain
Multi-speed front chainwheel 44t.
DMR single speed convert (16t).
Handlebars; Easton Scandium DH (65cm end to end)
LX Deore (circa 1990) 5 spider crank.
Race line Hemisphere 26 x 1.95.
DMR Singlator chain tensioner.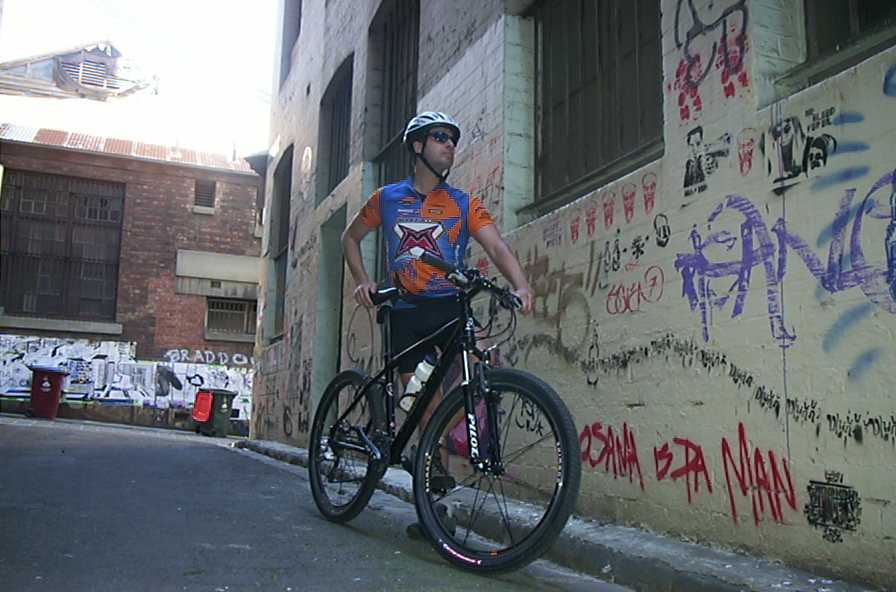 Flinders Lane Melb.
Bay ride 19th Oct 2003
The event: Non-competitive 12hour, 210km public event, cycling around Port Phillip Bay starting & finishing in Melbourne. There is a ferry crossing between Sorrento & Queenscliff which is included in the event. Even though many try to do a good (fast) time, all public road rules have to be followed.
Set-up: http://public.fotki.com/Marx/mtb_stuff/bay_ride_2003_-_cycling/191003a.html
Replaced my tyres from Raceline Hemisphere 26x1.95 to Continential Avenue 26x1.3. Included an extra drink bottle cage (to 2x), one for water & the other to carry food jelly babies/snakes. Ran a small seat bag which had tyre flat repair stuff & some tools for emergencies. Strapped the pump onto the seat post (after the fitment of 2x bottles it was the only place I could best fit it. Left the lights on (the morning start is dark), and a general wash, check up & lube for the event. I did not worry about a lock as I am with the bike the whole day & the ferry crossing has my bike in the hold with 1000 other bikes (safety in numbers). I bought a bum bag which I kept my rain jacket, extra top & camera, also included cash & card for emergencies.
Training:
I was not really best prepared this year, only got 1x 150km+ ride in the week before the event and only did basic exercise (30 min runs 4x per week & bike rides up to 2 hrs on average 3x a week). My diet was pretty average, I did my best the day before by eating a high carbo dinner pasta, & that was it really.
Done the "Bay ride" before, first time in 1998 on my old Apollo Everest MTB (running Continental Town & Country tyres), then in a failed attempt in 1999 due to high winds & a delay in the ferry (which I tried to make up with a faster speed but expired before the end), & the again successfully in 2001 & 2002. This year 2003 I was to do with a new bike Avanti Agressor MTB & 3 mates from work, 2 of who were doing it for the first time.
The forecast was looking grim even though the previous day was warm, almost hot and the morning was to be very warm, showers, thunderstorm & winds was the outlook for the rest of this day. The good thing was a warm start to the day & the hope that this wet change would come much later.
Packing clothes for rain is hard on a pushbike, rain jackets never keep out 100% of the rain & you sweat 2x as much under them. Getting water soaked is a bitch because as soon as you stop, in cold weather you freeze. I kept my gear to riding knicks & cycling top, both made of polyester which does not soak with water, a cycling windbreaker (poly again) & a regular cycling rain jacket. Both the windbreaker & jacket pack really small & was able to fit them easy in my bum bag.
Start was at 5am, I was up @ 3am. The bike & gear was already set out the night before, ate breaky & waited for Paulie & Nobbie Head to rock up. Having the only bike rack capable of taking more than one bike I was designated driver to the start. Fitting all 3x MTBs onto my old rack was fun. Designed in the 80s it really didnt accommodate the thicker frame tubes MTBs run nowadays so it was not that easy to clamp them on. Still, we fudged it & motored to the start in St Kilda where as we got closer to the start more & more cyclists appeared on the roads. We parked a good distance away in Albert Park & rode to the start. At the start bikes were everywhere & people riding off in both directions, there was not any real start time & it looked like most people just rode off as they got there, after a meet up with Sully (last of the pack of 4), quick photo op http://public.fotki.com/Marx/mtb_stuff/bay_ride_2003_-_cycling/191003e.html , so did we.
Our route was clockwise, Melbourne, Frankston, Sorrento, Queenscliff, Geelong & Melb. The ride down to Frankston was a ball, nice & warm, good tail wind (northerly) & lots of cyclists almost bumper to bumper in one huge peleton all the way. Averaged 28km/hr on my MTB without trying to Frankston.
Nobby Heads rear wheel on his 10 yr old Apollo MTB had a massive buckle in it, even though he thought it was good to run the event we convinced him on the way to Frankston that he should call into a bike shop (they bike shops en route open ridiculously early to cover participants with problems like us) at our first stop to get looked at. Arrived in Frankston at 7:30am & we pulled up to a bike shop. All 4 of us checked his wheel for busted spokes, he mentioned a funny ping noise earlier this morning & I found one spoke gone, so we wheeled it in to Jones Cycles. http://public.fotki.com/Marx/mtb_stuff/bay_ride_2003_-_cycling/191003f.html What seemed a hour (it was actually) the dude from the bike shop wheeled Nobbies bike. He said that 4x spokes had broke & charged him $20 for his trouble. I was pretty surprised that so many had gone & the wheel made 30kms, still it highlighted for me what importance some (if only very little) maintenance on a MTB can be.
The road from Melb to Frankston was pretty flat, but after Frankston to Dromana, (some 30kms) had some of the steepest climbs we would be doing. Olivers hill, Mt Elisa & Mt Martha all tested the riders, spreading out the field. Clouds gathered & light rain started to fall. Every now & again you would pass bikes pulled over, upended , missing a wheel & their owner busy with a patch or tube. I was always worried my paper-thin Continental Avenue tyres would get pricked on something out here. Onto the 60km mark & we shot down from Mt Martha to Dromana as the rain set in, Paulie, Nobby & Sully all pulled over for jackets but I thought that I was wet already & as long as my body temp was up who cares how wet I got. My plan was to don the jacket when I stopped & cooled down. All along the stretch from Dromana to the ferry at Sorrento the rain came down in a heavy torrent, water streamed across the road but most of the cyclists kept going. Cars passed by splashing waves onto my wheels & feet, water sloshed between my toes in my shoes, grit & grime off the road sprayed everywhere onto me, onto my bike, into the wheels & gears. On top of this a cold headwind buffeted us, normally this would be the point I would bail but as I was surrounded by all these losers taking it like champions I figured I could do at least that.
As we wheeled into Sorrento at 9:30am the rain lighten up, but there was a cold wind blowing. We filed into line with a 1000 other riders, all cold & wet http://public.fotki.com/Marx/mtb_stuff/bay_ride_2003_-_cycling/191003g.html . We got handed a paper bag with 2x bananas, jelly babies, juice, sandwitch wrap & some brown powerbar thing that took ages to chew. We wheeled our bikes with this disintegrating paper bag (for it is raining again) out onto the pier & wait for the ferry. Not much cover out here, we got a good fresh gale here & some more rain to boot. I was shaking from the cold, never have been so cold before, it was easier for me to just give into that shaking & try & get warm doing that then anything else. Ferry pulled in & we piled on, I threw my bike on the pile & dashed upstairs to find a warm corner. Inside, in the ferry it was already standing room only, I found a spare piece of carpet & squatted, the water was dripping off my head into my food. When I finished it all I started to take my shoes off to get some of the water out. This is when I realized the other fellas where on this ferry somewhere so I looked around, all I saw were unhappy wet folk. At 11am the ferry pulled into Queenscliff after the 40min ferry ride everyone was anxious to get to their bikes, this is when I saw Nobby, Paulie & Sully over the other side. Gestured to them I would meet them down at the bikes. Downstairs I found my bike was actually on the very top of a stack lent up against the side, so I fished it up & waited for the other fellas to get their shit together. Walking out onto the pier in Queencliff with the cold sensation of more rain. I had put on my windbreaker & jacket while in the ferry so hopefully this should ok even though my cycling top was still damp (but warm), just have to get riding & warm up.
Out of Queenscliff we diverted slightly towards Ocean Grove & then back onto the Bellarine Peninsula Hway to Geelong. I knew from previous years that this stretch was difficult because of a slight up hill gradient & a constant headwind, but it wasnt that bad this time. The rain cleared & some cloud broke to shed some sun too! We separated with Sully & Nobby going off ahead while me & Paulie motored on. We pulled into Leopold Rest Stop for a bite. As we try to pulled out I was just behind Paulie when he brakes for a passing cyclist but I dont catch it in time but brake when in a wrong (high) gear & then find my foot does not want to come out of its cleat so down I go onto the concrete at 0km/hr. Just my left knee & elbow, with a little piece of concrete in Leopold that has alittle piece of my genetic code.
Ever since leaving the Ferry my legs are aching but I still feel fresh, muscles strong, averaging 26km/hr which is OK for me on a MTB. Headed into Geelong 30km later, stopped for a jelly baby & then off to Werribee & Melbourne. At this point I felt like it was all down hill. In previous years the ride to Melbourne from Geelong was long & open, not much to look at, where it diverted through oil refineries & the back roads through Lara & Little River. This year the route took the main freeway which was recently completed & included a generous bitumen shoulder all the way to Werribee, also we copped a great tail wind from the weather change that had just come through & rode a gentle south/westerly all the way down a smooth freshly laid road. I saw a lot of guys fixing flats down this stretch, but I suppose with the amount of traffic this road takes the likelihood of glass etc would be high.
In to Werribee at 3pm , the 191km mark, Paulie & I stop to finish off our goodies before we do the last stretch to Melbourne. The sun is now beaming & I take off my jacket but leave my windbreaker on. Not feeling all that bad, sure my arse hurts but thats not surprising. Also my left knee it battered & bleeding, stinging as I squeeze water from my bottle on it.
Off we head to Melbourne, even though I do not feel that tired, there does not seem to be a lot of power in my legs at this stage, this would be where my lack of training was now showing, Paulie was cool to head off taking full advantage of the tail wind to the finish. The finish in St Kilda was only now 30 kms away, I rode along just to make the distance. It was funny riding over the West Gate Bridge this time because the first time I did this event in 1998 I almost cried, now it does not seem to be that much of as big deal.
In the wash up at the end of the day, it was the most experienced in our group, me, who came in the lowly last place, by about 15-20minutes. The first timers Nobbie & Sully got in a full 30 ahead & Paulie was at least 15 mins after http://public.fotki.com/Marx/mtb_stuff/bay_ride_2003_-_cycling/191003j.html . For me, next year, I would like to have a good go at it, train & make an effort as it seems far more rewarding at the end of the day because of it.
Still, I would do it again regardless.
28th September 2003. Ride. 180kms. Melbourne to Carrum, then north east along Dandenong Creek to Jells park, then west to Scotchmans creek bike path, Gardiner creek bike path, back to the city & home. The wind was up, blowing N/E which made the trek down to Carrum from Melbourne along Beach Rd/Nepean Hway a high speed blast, my semi-knobbies humming away as I averaged 28kms/hr down this stretch. Then turned east from Carrum along Patterson river past the National Water Sports Centre then along the bike path following Dandenong creek. Heaps of cross wind, very open.
At Jells park I then followed the tall power lines west over to Scotchmans creek. Not familiar with this area getting lost in the streets of the burbs here can really blow out my time. This little bit is actually pretty hilly & I was using my granny gear (small chainwheel on the front) in some parts. Looking at the map the easier option would be to take the major road west along Waverley road but I didnt like taking on hills on high traffic roads. Getting onto Scotchmans creek bike path & then onto Gardiners creek path presented a challenge in not getting lost. These bike paths go all over the place looping back & around so loosing your bearings is pretty easy. There isnt much in the way of signage either so have your wits about you here. Then it was back to Melb & home.
With the cross wind & head wind on the way back my average dropped to 22kms/hr. Together with the fact that bike paths dont give the opportunity to run the taller gears for some decent high speed running this average overall speed was OK for me.
13th September 2003. Ride, Melbourne to Frankston (& back) 100kms. The "Around the Bay in a Day" ride is coming up on the 19th October. Even though Ive been riding my MTB to & from work, I am going to need some long distance work to take the sting out of 210kms in one day on my MTB.
The run from Melbourne to Frankston along Beach Rd & Nepean Hway is like Bourke St with all the bicycles along that route, especially @ 6am when most of the riders take off from Melbourne for the ride. Its about 50kms to Frankston & its a nice smooth flat ride. The hills begin after Frankston for those willing to take them on. I found the ride there a piece of piss, but on the way back to Melb, we copped a head wind & for some reason it really took a lot stream out me. My average speed down to Frankston was 27kms/hr, on the way back it dropped to 22kms/hr.
4th April 2003. A new pushbike. Reverting to my old hack of a Apollo MTB after the thieft of my previous Avanti Barracuda MTB, the age of my long serving Apollo MTB eventually came to a fore when the sprocket/chain finally packed it in & replacement cost was nearly $500 all up.
Upgrading to a brand new MTB meant a fresh start & hassle free running for at least 3 years so I opted for a new Avanti. I settled on the Avant Aggressor as it came with Schimano LX throughout at a good price. The Aggressor may not have hydraulic disks like my previous Barracuda but I dont really do downhill & the LX Schimano rim brakes work great.
As I do heaps of road work I went for Raceline Hemisphere tyres which are huge (tall & wide) but are also able to run high pressures (80psi +) to reduce rolling resistance. I am also using my old '"comfort" seat as the stock seat is like seating on the seat post.
30th December 2002. The Apollo MTB had a damaged fork/steerer, the thread on the fork was gone & the steering was binding. Replacement fork & stem was hard to come by (impossible) as the size was 1inch & ¼ diameter & this size hasnt been available for years. So I opted to sleeve down the headtube to 1inch 1/8 which is a commonly available size. Getting 2x spacers to bring down the headtube wasnt as easy as I thought. Your run-of-the-mill fitter & turner quoted me at least $50 for the set. Looking through the Internet I came across
www.cambriabike.com
which sold Alloy headtube reducer 1 ¼ to 1 1/8 (to suit Cannondales etc), converted to AUS$ it was about $43 incl delivery.
I opted for a solid fork ($90AUS), threadless headset ($55AUS), Ritchey Pro Mtn stem $45Aus. I also fitted a set of V-brakes due to the old Canterlever or centre-pull brakes using the old stem as a mount point. Besides the brake power from a more current V-brake set up made the old centre-pull brakes seem lame. I got a set of 2nd hand V-brakes for $50 complete levers & all, but Ill look at Shimano Deore LX later on.
Next will be a new set of clipless pedals, Shimano M-515 or Shimano PDM-424 if I can locate them here (no one seems to have them). I had these pedals on my previous Avanti & they worked v well.
New fork, headset & stem shown.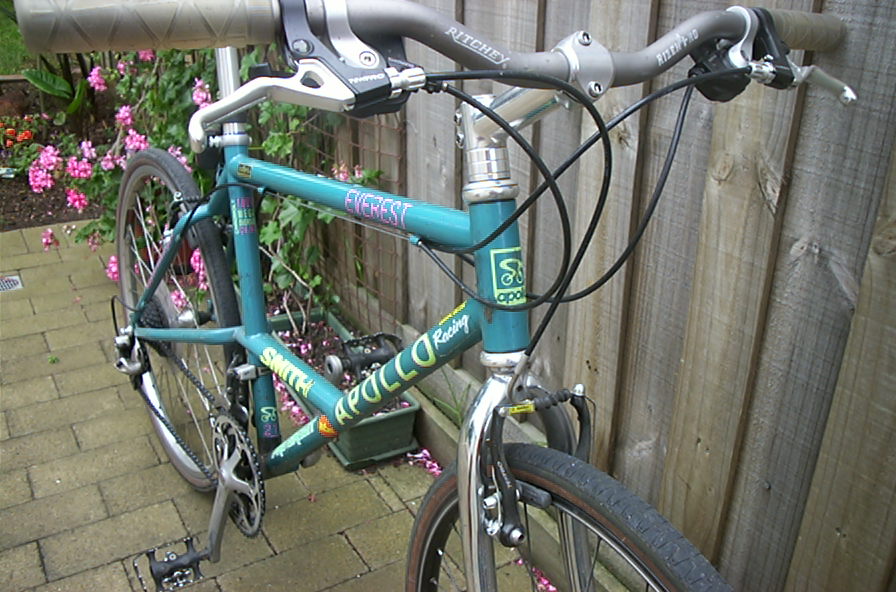 06th November 2002.
With no word from the police & a weekend spent dredging through the 2nd hand dealers around Melbourne, I began to look at a replacement MTB. Sure the lure of a new bike is there & a wander around the various bike shops showed that The kind of MTB I was after was available in just about every brand - Deore groupset or above, alloy frame etc. My main criteria for my next bike are to include:
Shimano Deore De-railers front & back , or higher.
Alloy frame 6065 up, 17inch size.
Good alloy rims & centres.
Avid Brakes or above (disk not interested).
I was over at my parents place this weekend & came across my old MTB Apollo Everest circa 1990 which I dumped over there 2 years ago when I upgraded to the Avanti MTB. Pumped the tires up & took it for a spin. It was OK, but those problem areas it had which convinced me to go to a new bike where still there, namely:
Binding steering, the Apollo took a 1 & ¾ inch steering head set which hadnt been available for a while. These bearings are shot.
Damaged steerer. The odd sized ( 1 & ¾ inch) steerer had the thread damaged (contributing to the above problem) & a tap set was not available for that size.
Wooden brakes. The old center-pull brakes matched to more recent rims (replaced 5 years ago) resulted in pretty poor mating of surface area & therefore braking. The return springs on the brakes are totally slacked out & one pad continually dragged on the rim.
Front de-railer (Shimano Deore LX) has covered over 40,000kms & has a vast amount of slop in it, causing pretty vague front chainwheel changes, and the odd auto-gear change in rough terrain. The rear de-railer was changed 6 years ago to a Shimano STX (??).
Details of my 1990 Apollo Everest MTB as at 2002.
Frame. Chromolly steel, independent elevated chainstay.
Wheel front; Rim Alesa 9017 alloy 26 x 1.75inch; Hub Alivio Parallex; Tire Continential Avenue Semi-slick 26 x 1.3.
Wheel rear ; Rim Rhyno Sun Rims; Hub Alivio Parallex
Groupset; Front Deore LX Deraileur, Rapid-fire shifters. Rear Shimano STX deraileur, rapid-fire shifter.
Brakes. Conventional Deore LX centre-pull.
Seat; Gel Comfort saddle.
Handlebars ; Ritchey Rizer Pro.
My first plan is to fix the steering. Due to the absence of 1 & ¾ inch steering bearings & forks, Ill look at sleaving down the headstem to 1& 1/8 inch. I wont look at suspension forks because I kinda think their wanky for my sort of application. Sure suspension forks are a great selling point, but honestly, they made powering up hills (etc) tiring & the steering feels a little more vague, kind of..
23rd October 2002. Dramas, dramas, dramas. Went to work on the steed like I do just about every work day, parked it in the downstairs carpark monitored by surveillance cameras & wont you know it. Knicked! Just like that.
Sure, no one saw anything, the cameras are just there as a deterrent (not operational) etc etc etc. Now what?
Reported, as you do & Ill wait a couple of weeks before I decide which way to go. Sure the likelihood of it turning up is pretty slim but Ive had it knicked before (cant give you details, it just makes me angry) & it turned up at a pawnshop, so Ill wait for my lucky star to smile on me again.
As a small footnote my friend Paul who also rides to work had his stolen from the same location the following week. Dodgey
20th October 2002.
Around the bay in a day organised by Bicycling Victoria (
http://www.bv.com.au
). 220kms. Averaged 23.8kms per hour, time elapsed 9 hours 24 minutes. Start St Kilda, Catini Gardens 5:30am. Rode clockwise: St Kilda, Frankston, Sorrento, ferry across to Queenscliffe, then rode to Geelong, Little River, Werribee & back to Melbourne/St Kilda. 7000 approx participated.
This was my 4th attempt at the Bay ride since my first in 1998. I think I averaged about 26kms then, just to show you what a difference a little training makes. The forecast was fine, 19 degree (celcius) winds 10/15 knots. The turnout was great but the start was a little disorganised, some guys leaving off from before 5am even though the official start was to be 5:30am for most. A majority of people elected to go clockwise like myself, for me the grand finale of riding over the Westgate bridge (which doesnt usually allow cyclists) into Melbourne city makes a fitting end. I rode my MTB as it was, just adding a little extra pressure to my Continental Town & Country tyres to about 65psi (max). As the rest stops on the ride are 30kms apart on average I took only one water bottle (against the advise outlined in the Bicycle Vic Bay ride handbook saying to take 2x bottles). I refitted my tyre tubes with talc power & took along 2x spare tubes.
As Ive done the ride before I was somewhat prepared for the hills after Frankston & left plenty in reserve for that. My big problem was that due to my lack of any training before the event my average speed started to drop over the last 60kms to about 20kms per hour. Even though I took advantage of the major rest stops in Geelong, Little River & Werribee I decided at one stage to just pull over & finish off any jelly babies I was carrying before attempting the last 50kms. Sure enough a 10 minute stop helped me in getting back to an average of 25kms per hour , climbing the Westgate bridge @ least 20kms/hr & finishing strongly.
Next year I will go berko with the gun-ho training & see if I can crack a record or 2
10th October 2002. Training for the Around the Bay ride on the 20th October I went for a good pushbike ride which should take me over at least 100kms. The orginal plan was to go from home (Flemington) then to the city & then along Scotchmans Creek path the Jells Park (40kms) and then long Dandenong Creek path to Boronia & then along Sheffield & Swansea rds to Lilydale & then along the Warburton bike trail. This would be about 150kms of twistly bike trails which would be like 200kms of open road riding like I was to expect in the "Bay ride".
The reality was that I only got as far as Boronia (55kms) before the windy conditions encouraged me to tackle the rest of the ride another day. The ride back was pretty daunting but made it. Averaged a speed of about 23kms, but this was twisty bike path riding, not out & out road cruising.
3rd October 2002.
The Around the Bay in a Day, 210km a lap of Port Phillip Bay (Victoria) is fast approaching (20th October 2002). Time for training, but a run of falling off my pushbike & getting just about every communicable airborne disease in the last month or so had pushed back my schedule.
Last year my training mostly involved solid 100km pushbike rides per week with daily run/jog for about 45 minutes together with a relatively healthy diet.
I will be running my Avanti Aggressor pretty much as I ride it now, leaving on the Continental Town & Country tyres with proberly just a bit more air in them (70psi from about 50psi). From my previous attempts I found that strapping as much as I could to the bike as apart from carrying it on my back/pockets was a good move, although I think Ill invest in some bag type thing to strap to the handlebars this time around. Thinking about getting the bike serviced but its running great the way it is & quite frankly nothing should go wrong I feel, just a routine clean & lube.
Ive got a couple of bike rides Im looking at down for training. One is from Flemington to Warburton (about 120km round trip) & around the Ring road bike path to Greensborough, Camberwell, then to Jells Park , Dandenong, through to Carrum & then back to Melbourne/Flemington (160kms approx).
My cycling history:
1975. Everyone rides a bike when theyre kids; shit its the only real way to independently get around when youre a little snot. For me it was on a Metallic green Dragster with the 3-speed "floor Shift", white-walled tyres, ape-hanger handlebars, long seat & sissy-bar that I got in the christmas of 1975. Sure I did the training wheels thing for a day but bent them up after that, or more correctly I
1980 Came the Department store 12-speed racer, a Roadmaster. Chromyl steel everything & as refined as an old sea anchor. During the mid to late 80s I got into the dirtbike thing & started to use the bicycle more heavily as training. That was about the time the MTBs where becoming a real force in cycling (in Australia) & higher-end MTBs with specific heavy dirt application equipment was filling bike shops.
1990. This is when I picked up my Apollo Everest MTB. Well actually my brother & I both got the same MTB together & were able to swing as good deal that was, the only difference being the frame size, my brother being taller etc. The major claim to fame the Apollo Everest of 1990 had was the Chromyl Frame with integrated Elevated Chainstay (weird frame set up) which have to avoid the chain getting caught up btw the frame & front chainwheel. This was soon after dropped on the 1991-2 models. Still I do get comments on the frame wherever I go, even today.
With the flexibility that a MTB offered me, the Apollo MTB opened up a great range of options of where I could ride. From heavy off-Road downhills to long road rides (Around the Bay in a day 220kms around Port Phillip Bay Australia). Going to & from work became the norm & through the 90s I averaged about 10,000kms per year on the Apollo. The knobby tyres didnt last long before IRC Metros were fitted which offered less rolling resistance for the primarily road/commuting work I did on it. They didnt offer too much in the way of grip on anything less than bitumen, with at least a stack every 2 months from overestimating the grip of the Metros on gravel & wet roads.
In the time I had my Apollo (1990 to 2001) I wore through; 3 sets of chain/chainwheels/clusters,1x rear derailleur, 1x set of shifters, 1x set of cables, 1x seat, 4x sets of tyres, 2x cranks, 1x steering headset, 3x pedals, 1x set hubs & 1x set rims (both front & rear).
Current:
New times, new bike. Avanti Aggressor 2003. Dropped the knobbies for Raceline Hemisphere tyres & hit the roads/trails.
Reverting to my old hack of a Apollo MTB after the thieft of my previous Avanti MTB, the age of my long serving Apollo MTB eventually came to a fore when the sprocket/chain finally packed it in & replacement cost was nearly $500 all up.
Upgrading to a brand new MTB meant a fresh start & hassle free running for at least 3 years so I opted for a new Avanti. I settled on the Avant Aggressor as it came with Schimano LX throughout at a good price. The Aggressor may not have hydraulic disks like my previous Barracuda but I dont really do downhill & the LX Schimano rim brakes work great.
As I do heaps of road work I went for Raceline Hemisphere tyres which are huge (tall & wide) but are also able to run high pressures (80psi +) to reduce rolling resistance.
Close up of tyre & forks, Avanti Aggressor MTB.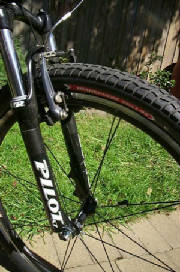 I run 80psi in these tyres. Forks provide good action.
Avanti Aggressor - stats:
Lightweight Alloy Double Butted Frame with Integrated Head Tube for superior stiffness
Rock Shox Pilot SL Hydraulic Suspension Fork with 80mm travel
Performance Shimano LX /XT 27-Speed Groupset
Shimano M535 Wheelset with Specialized Roll X Pro Kevlar Tyres for decreased rolling resistance
PD-M505 clipless pedals
Specialized Body Geometry Comp Saddle
Colour - Black
Size Options - S, M, L, XL
Frame 7005 Alloy Full DB Integrated Head Tube, Smooth Welding
Fork Rock Shox Pilot SL, 80mm Travel
Brake Levers Shimano LX
Brakes Shimano LX
Shifters Shimano LX 27-Speed
Front Derail Shimano LX
Rear Derail Shimano XT
Crankset Shimano LX Spline, 22-32-44
Bottom Bracket Shimano XT Spline BB-ES70
Chain Shimano CN-HG73
Pedals Shimano PD-M505 Clipless
Headset Cane Creek ZST Zero Stack 1-1/18"
Stem Koski Ahead
Bars Koski Flat
Hubs Shimano Wh-M525 Wheel Set
Cassette Shimano HG70 11-32
Rims/Wheels Shimano Wh-M525 Wheel Set
Tyres Specialized Roll X Pro 26 x 2.0
Seat Post Alloy 30.6mm Micro Adjust
Saddle Specialized Body Geometry Comp with Cro-mo Rails
23rd October 2002. Lightning strike twice? Well it has for me, I now have had my Avanti Barracuda stolen from work. The likleyhood of it turning up a second time is pretty slim, it's been 2 weeks now ( 07/11/02) and I'm itching to get out on a bike. Not covered by insurence (I have now changed my cover to include that) I'm left to buying a new bike, or , perhaps dragging out my old one - Apollo Everest MTB.....
My old Apollo Everest, circa 1990.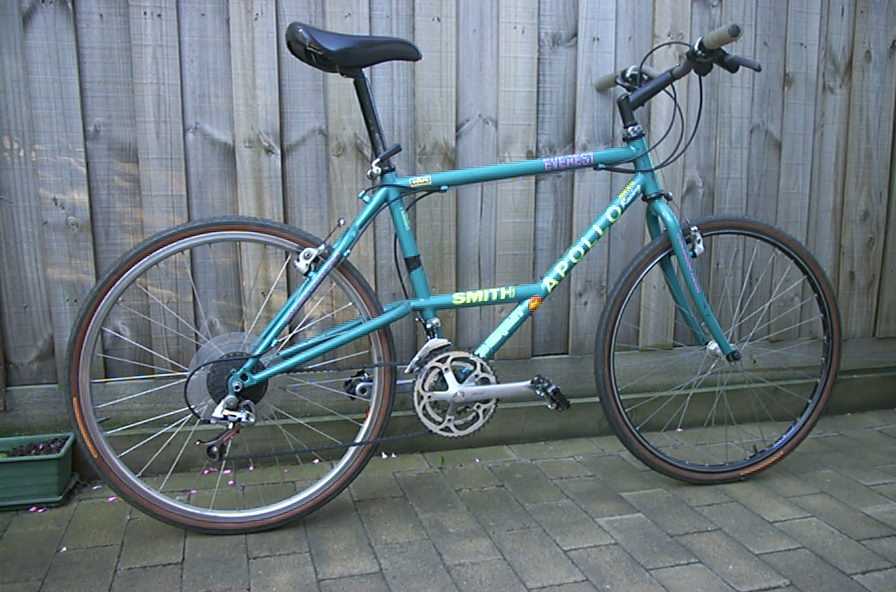 (pic taken Oct 02) Chromolly steel, elevated chainstay frame - dont make them like that anymore...
My 1990 Apollo Everest MTB as at 2002.
Frame. Chromolly steel, independent elevated chainstay.
Wheel front; Rim Alesa 9017 alloy 26 x 1.75inch; Hub Alivio Parallex; Tire Continential Avenue Semi-slick 26 x 1.3.
Wheel rear ; Rim Rhyno Sun Rims; Hub Alivio Parallex
Groupset; Front Deore LX Deraileur, Rapid-fire shifters. Rear Shimano STX deraileur, rapid-fire shifter.
Brakes. Conventional Deore LX centre-pull.
Seat; Gel Comfort saddle.
Handlebars ; Ritchey Rizer Pro.
My Avanti Barracuda Comp MTB 2001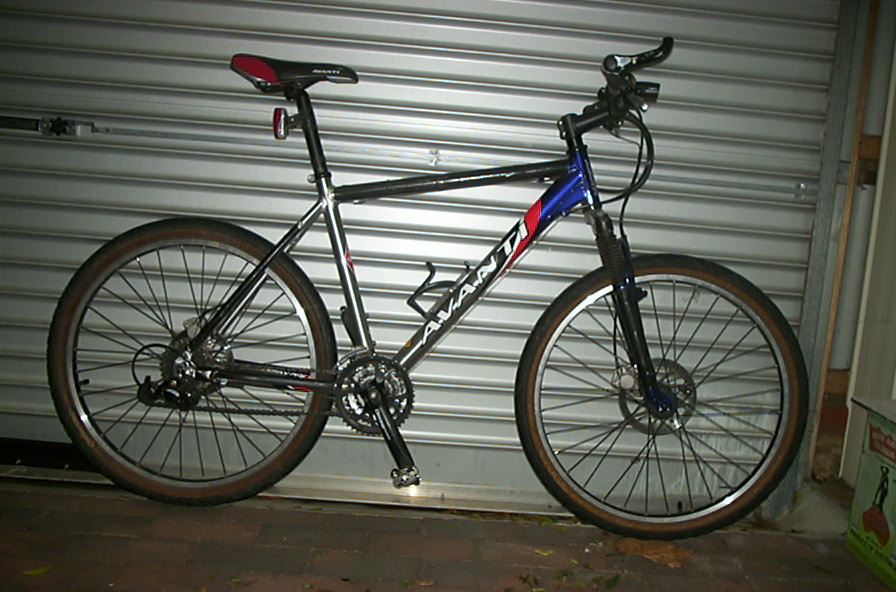 I bought the Avanti in June 2001, it was nicked October 2002 from work...
My Avanti Barracuda (stolen 23/10/02):
Avanti Barracuda Comp Series 2001
7025 aluminium frame double-butted main tubes.
Avaya Rims.
Full Shimano Deore groupset with 27 speed, rapid-fire shifters. Hollow-tech crank.
Rock Shox Judy TT forks,.
Magura Julie hydraulic disk brakes front/rear.
Shimano clipless pedals.
Bar ends.
Personal settings:
Swapped off-road tyres for Continental Town & Country, I have found that they provide me less rolling resistance than full knobbies but still does have a certain degree of deep tread for grip in dirt, the large tyre body allows lower pressures (30-45psi) to gain extra offroad grip with larger contact area which also provides some tyre cushioning & they can take inflations up to 80psi for road work. Ive replaced the "quick-release" on the seat post with a bolt & hex nut (to reduce chance of theft of seat). Catseye cyclo-computer. Some cloth tape on the outer side of forks & rear chain stays to reduce scratching (I chuck my bike around quite a bit, save on scratches). The standard seat has a really cool thin (low profile ??) look to it but it takes its toll on long rides, I might consider going for a comfy Gel seat if I dont start to develop an iron-arse.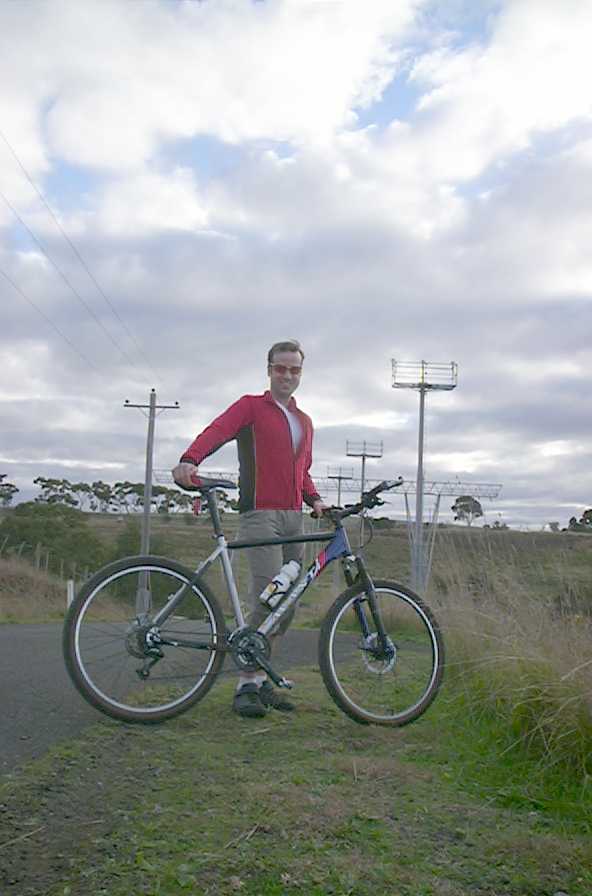 Pic of me @ Gelibrand park near the Airport.
Riding Bicycles in Melbourne Australia.
When it comes to places to ride a bicycle Melbourne does offer quite a few options for the avid (of not-so-avid cyclist). I have been riding the various bike trails in & around Melbourne over the last 12 years & have found that the cycle trail network is becoming more & more comprehensive as time goes by. Now-a-days it is possible to circumnavigate virtually the whole of the Melbourne metro area covering some 200kms (at least) of bike trails with hardly utilising any public motor-vehicular roads. Sure its not perfect & let me tell you I have been lost on many occasions due to poor/non-existent signage & Mr Squiggle-like path layouts. But this just adds to the fun & discovery of it all, eh?.
Living in Inner Melbourne West gives me an ideal launch-pad into the cycle paths available, but in just about every location around Melbourne there is a bike path beginning, or passing by, somewhere that can link up to the bike path network. If youre looking at tackling it for the first time you may need to bring a map & have an idea of landmarks/suburbs/features you will be riding past to maintain your bearings (although I have basically been winging it more times than not).
Most of the bike trails follow river/creek courses & are anything but straight, while others follow old train lines & boardwalks which are straight , and many lead you through many a tourist point. Ill try to include a run down of some paths Ive been on what you might expect. Im no expert so things like level of difficulty & hazards will be reflected from a novice/weekender"s point of view.
Plenty River bike path, from City to Greensborough.
26kms (approx). Moderate/easy.Bitumen & gravel level paths. No real steep hills.1 hour (average speed 20kms) one way from Fairfield boathouse to Greensborough Railway station.