Profiles on other bikes I've ridden:
My bike History.
This page will profile & reflect on motorbikes Ive previously owned & ridden from a personal viewpoint spanning my involvement in motorbikes since 1982.
Bikes I have previously owned:
Kawasaki KE 100. File pic, current model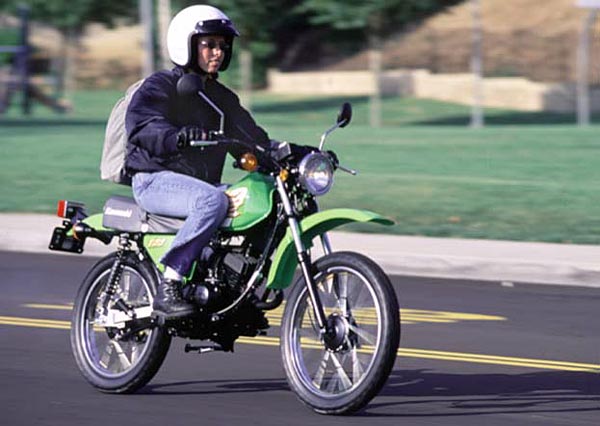 My KE100 was a 1982 model, it was blue .
Kawasaki KE100 1982.
1982 to 1987. First bike. Used offroad & unregistered 1982 to 1986. Learned how to ride motorbikes on this. 1986 put the lights back on & regoed it for my learners. Terrorised around St Albans (Melbourne Australia) on it until I discovered MX. Best things about it was the indestructible engine which was mercilessly flogged for its entire life & its easy going weight & handling - for a first timer. The worst points were the ultra-soft suspension & the flex in the suspension (watch the forks bend back as the front brake was applied at speed), the relitively weak single leading shoe brakes front & back (water badly effects them), scaled down egos (Im 175cms & 74kgs, anything over 160cms is too big I think) & 6 volt electrics. Still resides in my parents garage & starts first kick even though its turned over once a year. (Two stroke 99cc two-stroke single air-cooled engine, oil injection, cable operated drum brakes Fr/Rr)
Kawasaki KX125 1985.
Owned 1986 to 1988. Got into MX now that I was on a regular income. New to the sport so I got what was regarded as the best allrounder 125cc MX of 1985. Mine was bought 2nd hand from someone who got the Kawasaki KX125 as an unloved Christmas present. I recall that the forks were preloaded with 4x 20cent coins per fork leg & the single radiator copped a few hits (user error). The rear shock linkage which had a see-saw rocker setup was adjustable for ride height but the bearings would develop play after no time. Alot of people hated the single radiator of the KX125 1985, in a world of dual rads and Kawsaki took a few years to follow suite.
I did Club & inter club MX in Victoria Australia, very mediocre results. Discovered Hare scrambles & enduros in my adventures & looked to updating to MX with lights & rego (something which was possible back in those days without a compliance plate - how old am I?). KX125 1985 specs:(124cc two-stroke single liquid-cooled engine, kick-start, hydralic disks fr/rr, leading axel forks with Comp/Rebound & preload adjust, rear shock 300mm travel adjust comp/rebound/preload.)
Kawasaki KLR 650 1987.File pic.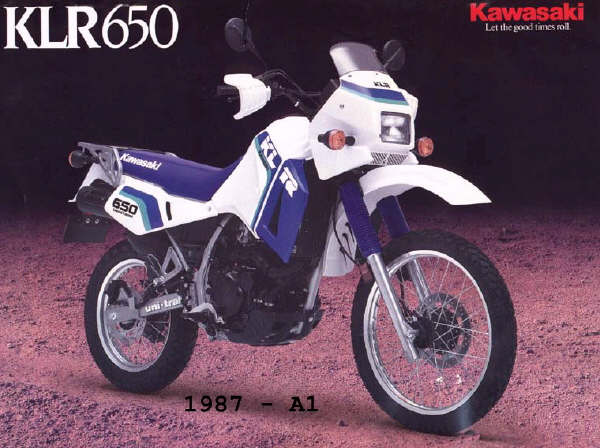 My KLR650 was blue.
Kawasaki KLR650 1987.
Owned 1989 to 1992.
Bought the KLR 2
nd
hand from a private seller. I realised that such a large tanked road/trail would mean quite a few compromises but I didnt really know which direction my road riding was going to take me so I banked on an allrounder. Was bought standard, Gearsac rack & bag with 6000kms. Cant remember too much, I know that offroad it was quite a handful but if you got a good momentum going your could ride over (through) anything. I remember going over logs which shattered under its wheels. Ground clearance was low & the plastic bashplate got a workout, the rear brake constantly overheated in the bush because you couldnt really use much of the engine braking in tight going (Victoria has quite a bit) & when riding through mud & heavy dust as it seemed to throw off the balance (if that makes sense). Heavy road work overheated and fade the single front brake & the road/trail tires I ran on it squirmed badly. It was rock solid reliable & even a flat battery (no kickstarter) was a second gear bump start affair (no mean feat on a 650cc single @ 200kgs - no decomp). It had a good low seat height for it size which helped heaps when a foot here or there in the dirt meant the difference between rubber up or down. If you dropped it the tank would bear the brunt of any impact, and picking it up was bitch with anything over ½ a tank. Overall it was a good bike considering its design brief & some blokes raced them in safaris in the late 80s. Did 28,000kms on it before I sold it to concentrate on enduros in 1992. (648cc 4-stroke single, electric start, liquid-cooled, disk brakes fr/rr, fuel range 350kms to reserve, adjust preload on forks & rear shock.)
Kawasaki KX250 1988.(Fitted with lights & rego)
Owned 1988 to 1992. Bitten by the Offroad bug & traded to a new Kawasaki KX250 1988. Bought it with full road rego & a light kit. This light kit comprised of a re-wound stator, head & taillight, brake switches on the front & rear brakes & little else. Completed in the Victorian Enduro Series 1989 to 1994 in the Clubman 250cc class. This is when I discovered that the 250cc class in these types of offroad events as well as motocross was the most competitive. Again pretty mediocre results. Highlights (or lowlights) was finishing 2nd outright in my first MX meeting on the KX250 (interclub level), suffering a massive stack off a set of doubles at Monza Park (Ballarat) during an ultra muddy interclub MX, where bikes landing off the doubles slammed into the KX with bits of green plastic pieces flying in every direction.
The best points of this bike was the compliant suspension (for it day) - the right way up forks were the last in their line & reflected the development over the years, and the rear shock was well balanced. The whole suspension package was so good that you could do MX, SX, XC & enduro without may changes. The handling was also very stable, not much (any) headshake on fast straights and tracked well through heavy braking bumps. The spread of power was pretty broad & suited the kind of power spread you need in enduros & longer distance events (easy going healthy mid-range). It was a little wide in the mid-section (between your knees) but I thought it made it easier to grip the bike with your knees.
Bad points included; bulky feel compared to other MX bikes of the day, shit seat foam material (it started to perish when wet & get lumpy after a few washes) & I hated the filler cap, I couldn't screw it on properly when in a hurry (refilling at the Traralgon 6 hour).
KTM 125 EXC 1992.
1992 to 1995. The Victorian (Australia) euduro scene in the early nineties was really kicking along, large fields, lots of events & good organisation.
Ive had been completing the Clubman 250cc class at this stage over the last 3 years, which had been the most competitive. A lot of 250cc Clubmen were bringing home times (scores) within what a lot of the Pros & Experts were doing at that time, and I was nowhere to be seen. It was at this time 125cc 2 strokes where becoming a real force in Aust enduro, especially Victoria were a lot of the special tests where tight 1st & 2nd gear stuff favouring the zappy & nimble 125. So I decided to take the step to 125cc, layed the cash down for the 1992 KTM125XC.
Set up for the KTM included road reg, Renthal Hbars (Johnson bend), heavy duty tyre tubes. The rest I ran as it was, these KTMs are race ready out of the crate.
My impressions of the 125: Explosive engine, which was relatively manageable for such a small capacity. It made it easy to do some sections totally flat out & encouraged a smoother approach. I actually began to do better times & issues of fatigue, blisters on my hands & the general hammering I used to get wasnt so bad. I competed in some long distance events (Traralgon 6 hour of 1993, ironman class). The KTM 125 wasnt all that different for the motocrosser in layout/handling etc which reflected the more intense environment of enduros through the nineties to today, so it wasnt all that comfortable. The levers where Magura & designed for big hands, but the ergos where spot on for my 175cm frame. One oddity the KTM125 had was that the engine timing (ignition/firing) was very close to TDC & it could actually be bumped started to run backwards (therefore you would have a bike with a 6 speed reverse). This made for some fun in the pit area. Even though the little 125 may have been underpowered compared to larger cc bikes there wasnt any real disadvantage when applied in the dirt. The lighter, more chuckable feel & responsiveness of the whole package made for very competitive edge.
Bad stuff about my 1992 KTM125XC: Plastic fork protectors broke in just about every event. Air box did not provide a watertight seal around the side access lid which meant that water crossing were shin-deep affairs only. The lighting was dodgy at best with a total loss system running of the stator dim lights at idle. Kick starter was on the left but thats OK because it was so light you could turn the engine over with your hand.
Had an absolute ball on it & it was the impending purchase of a house & the ensuing mortgage that put a stop to all this dirty fun.
Kawasaki KLX650 1993.(Electric Start).
Owned 1995 to 1997. More to come on this...
Kawasaki Zephyr 750 1994.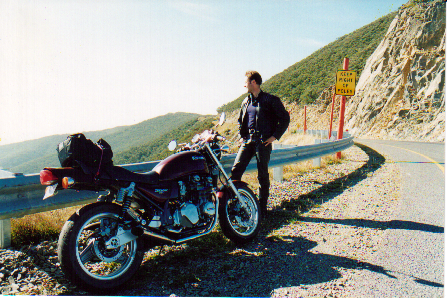 Pic of me & my Zephyr 750. Alpine Way Mt Hotham.
Kawasaki Zephyr 750 1994.
Owned 1997 to 1999. My first foray into full-on road bikes after doing the dirt & road/trail thing for 15 years. Had a thing for naked bikes & the classic 70s styling thing (aka Z9, Ducati Darmah etc), so therefore the Kawasaki Zephyr. The Zeph 550 was quoted as underpowered & the 1100 was a little too much weight for the extra cc. Bought the 750 2nd hand from a private seller, it was standard with 8000kms & immaculate. First change I made was to fit heavier fork springs & run heavier oil (up from 5wt to 7.5 wt I think), which seems like a common update for all Zephyr 750 owners. My personal changes also included different hbars called Ace bars (they sweep forward & down), aftermarket slips-ons (not shown in photo) & cut away (off) the rear mudguard under the ducktail & refitted the numberplate & rear indicators on a small bracket. The slip-ons I put on the Zephyr were actually slash-cut Harley pipes with a small baffle in them. This meant that what looked like a mild naked commuter actually sounded more like the Kawaka Mach 1 750 race bike of the seventies (don't ask me about loss in low & mid range power). I thought it was very cool. I took the rubber boot off the top of the airbox intake as well. No jetting changes (some might think this crazy). These mods didnt seem to harm the spread of power throughout the rev range & increased power from about 5000rpm upwards.
The engine was your garden-variety 2 valve, aircooled in-line 4. I thought the power was OK, not too much to get into trouble but just enough to blur the scenery within the realms of the handling & braking package. On hot days constant speeds over 140kms over heated the engine a little and it was very supcepable to temperature & altitude changes (cooler abient temps it felt like it had more power). The handling was interesting. Tires I run were Dunlop 204s & 207s & the suspension was jacked up in the rear to enhance cornering ( this was done by rotating the chain adjusts on the swingarm 90degrees so the offset axel was below instead above the centerline). I could almost ride knee down in some corners but I had to hang off it a lot because it would touch down (took off hero knobs on the footpegs). Even though the geometry (long wheelbase & raked out steering angle) meant it was very stable it did buck around little under heavy cornering, but it wasnt uncontrollable. In fact everytime the front pushed out/slid/locked up or the rear slid out/chattered/ squirmed, I was always able to catch it. Very forgiving when pushed which inspired confidence and sometimes over confidence. Still, I never dropped it. Did my first ride day at Phillip Island in 98 & the Zephyr was bucking & squirming all over the place but I reckon I had the time of my life !!
All this high speed & sports type riding made me consider updating to a sports bike, the Honda CBR600, so I sold the Zephyr with 31,000kms on it.
Honda CBR600 1999
My Honda CBR600 1999.
Honda CBR 600 1999.
Bought new July 1999 to Sept 2001. After the Zephyr 750 I was looking for something sportier that could do track days & heavy road work with greater ease. I was considering a Honda Fireblade 900 as well as Honda VTR1000 & Kawasaki ZX600R. R6 & GSXR600 didnt grab solely on the fact that Im not into Yamaha & Suzuki (not that I have anything against them. I still reckon the R1 is THE fastest production bike on a bendy road).
Honda build quality abounds on the CBR600. Sure I bought it new but the 600 remained completely tight throughout the 21,000kms I had it. Did 4 track days, weekend scratching & little else. Went through 4 sets of tyres. Chain & sprockets were still good for another 10,000kms I reckon. Nothing broke, fell off or stuffed up. Changed oil/filter every 5000kms. A tankful would take me 250kms until the fuel light came on, everytime. Fitted an aftermarket Mega-cycle slip-on 5,000km into owning the CBR6. This Slip on was a straight-through perforated core type, no baffles. The CBR6 has a flat spot at 5,000rpm in 6th (about 100kms/hr) & a freer flowing slip-on with no jetting (carburation) changes would loose this flat spot almost completely. Top speed was about 230kms.
Bikes test ridden - ride impressions only:
Honda CBR600RR 2003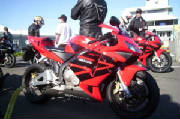 Test ride @ Phillip Island track.
Honda CBR600RR 2003. Phillip Island track May 2003. Riding the new 2003 Honda CBR600RR at Phillip Island is most likely the closest I would ever get to being Valentino Rossi. Matching the physical dimensions of the MotoGP bike in just about every way expect maybe with lower foot pegs, the new CBR600RR is short, tiny & packs a wallop. Throwing the leg over, the body work is hardly there, even compared to my 748. The front screen is very low & you definitely sit on top, instead on sit in the bike. The bars/clip-ons are a nice angle, perhaps the same as the Blade, & the foot pegs feel higher & further back compared to the Honda CBR600 F4. The seat is hard, flat & wide compared to my 748, lots of room to slid forward & back too. Controls are light, but this is a Honda so what else could they be?
Starting the 600RR the engine fires & idles fast & quietly, fuel injected & running the stock silencer, it ticks over so smoothly that it hard to know if it on(I pressed the starter more than once even through the tacho was showing 1,500rpm).
Into gear & motoring off, it feels as if you need at least 4000rpm to get the show going. I know that Im using the 748 twin as a reference point here, but the engine feels so much like a CBR250, balanced & revvy, but not too gutsy in the lower to mid range. Out of the pit exit into the main straight towards Doohan corner, I have the feeling that Im dialling way too much in the way of revs but one look at the tacho & I realise there is heaps more to go to redline. Getting the engine up into the dizzy part of the rev range 10,000rpm+ is where its at, & it shows as it lifts its skirt & flys (best part of the rev range 9,000rpm 13,500rpm). Through Southern Loop into Honda corner, the heaviest braking part of the track for me (from 170km/hr to 65km/hr in 100mt), the 600RR feels stable & brakes firm. Honda brakes are great on any of their sports bikes like the Blade & SP2, but the 600RR is that much lighter.
After a couple of laps getting a handle of the engine & where its at I reckon I was going at least as fast as my 748 (2min 5sec). I also noticed other blokes on test 600RR scorching around the track at about the same pace as what they would do on their own bikes, a testament to how easy the 600RR is to ride fast, confidently fast.
Overall the 600RR feels low & wide, with out much wind protection compared to the 748, its engine is rev happy but I think you would find the same output from the 600F4 as well. Super brakes & cornering/handling that would cut a line inside of anything else out there.
Honda CB900 Hornet 2003.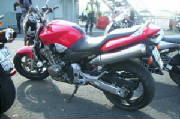 Hornet 900, test ride @ Phillip Island.
Honda CB900 Hornet. Phillip Island track, HRCA ride day 25th April 2003. Upright riding position, wide swept-back (naked bike) handlebars, low pegs. 919cc Blade motor from 1997 Blade, but fuel injected. Good strong power, meaty midrange but not such an on/off throttle as the current blade 2003 runs, power spread thats usable in real world riding, red-lined 9500rpm. Nice note from the regulation-quiet stock pipes. Pegs can be decked easily but as the test ride was on a race track it was understandable. The forks/shock may have felt softer than a Blade but I thought that it was the sort of plushness you would be looking for in a bike like that, in short no complaints for its intended use. In hard cornering the Hornet was very stable & didnt wallow through its suspension when it was pushed hard, both in the heavy braking into & heavy throttle driving out corners. Honda build quality, of course.
Honda' VTR1000 SP2 2003 model.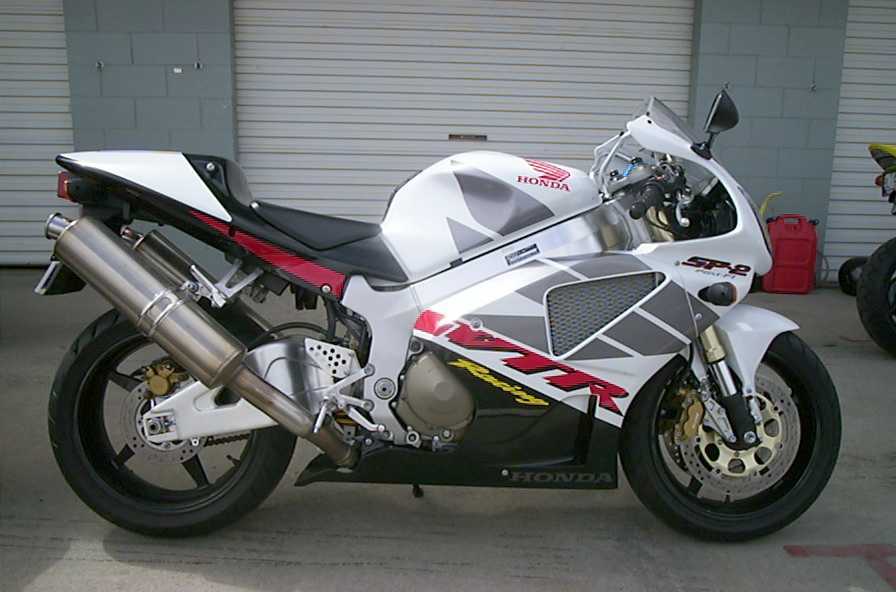 Test rode @ Phillip Island track March 2003.
Honda VTR SP2 2003. Phillip Island track HRCA ride day Feb 2003. The VTR SP2 I rode was stock, no mods. Many have said that the SP2 is the marriage of the Fire Blades handling with the torque of the VTR twin engine. Throwing a leg over the SP2 it felt closest of all the Hondas I have ridden to my 748 low screen, high pegs, low clip-ons, aggressive stance.
Between the knees the SP2 felt wider/fatter & seemed heavier in feel (moving side to side). The difference to my 748 came out as I motored off onto the track. The clutch was so light, the engine, even though being a twin, was smooth and of course torquey (1000cc). Into Doohan corner & Southern Loop the amount of power available was impressive, I was able to pull gears much higher than the 748 & drive was immense although it didnt feel so "free revving" (only had 1500kms odo). Hitting the throttle out of corners the power came on hard, almost too abrupt, making throttle application a delicate exercise (Honda call it "responcive") and it felt that it would be a handful in less than idea situations like rain. The SP2 redlines at 9500rpm which caught me out a few times as I waited for 10500rpm for the gear change (as I do for the 748). The "sliding scale bar " tacho was odd & its hard to see redline when cornering right as the brake reservoir obscures the view. The brakes where one finger only & totally over-powerful Nissan Units, easily could lock up the front after youve loaded the forks into a corner. For me the brakes felt like a liability. Tipping into corners the SP2 felt like a Fireblade in just about everyway - surefooted, predictable & stable.
Overall the SP2 felt like it had MORE of everything compared to my 748. More power, more brakes. The controls where light & steering was very fluid, I reckon my grandmother could ride the SP2 & come back with some respectable times on a track like Phillip Is.
Honda's VFR800 2002 model.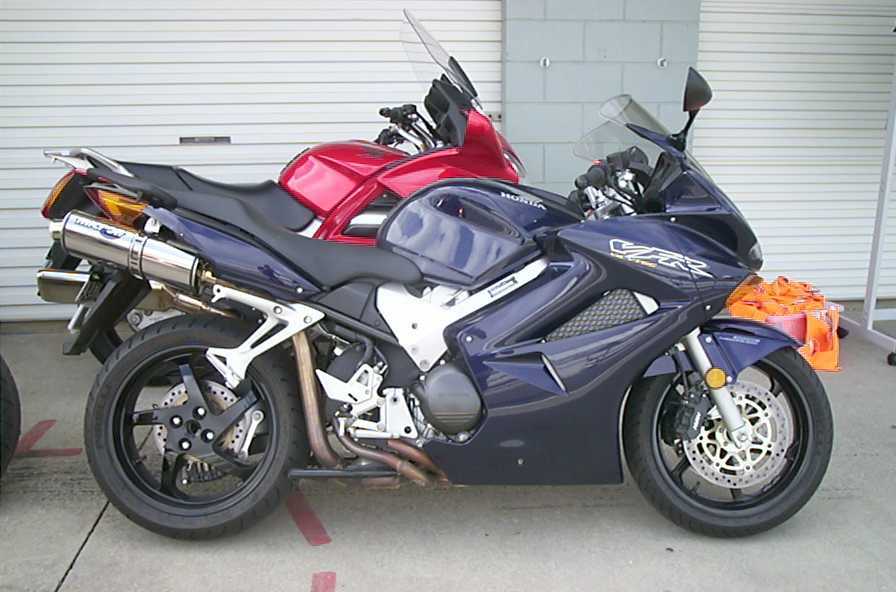 Test rode @ Phillip Island circuit.
Honda VFR800 2002. Phillip Island track HRCA ride day Feb 2003. The VFR800 I rode was fitted with Micron slip-ons, all else was standard. Getting on I found the riding position was upright with "tiller-like" handlebars & low pegs much like Hondas ST1300. The dash was a myriad or LED readouts something Im not used to - & it took me a while to work out the speed reading. The tacho was a large analogue dial slap dab in the middle of the Buck Rodgers console, which was good thing because even though it was fitted with aftermarket slip-ons I had problems discerning the engine revs while mobile. Motoring off onto the Phillip Island track I noticed that under all that tourer-esque bodywork beat the heart of a VFR or old nice & roarty. Ducking through Southern loop into Honda corner, going through the gearbox found nice positive changes. Into Honda corner, braking hard from about 160kms into a 60km-right the brakes felt all weird. Sure it stops well but this Dual-braking thingy where the front brake lever also operates the rear anchors to a lesser extent, felt unusual. After that corner I did the remaining 3 laps braking only with the front. Cornering clearance is less than any of the more sportier of Hondas current stable but you will have to push it on the road to deck really. Onto the main straight & its to the stops in every cog recording a 250km (& 22 degrees ambient outside temp) under the overhead pedestrian bridge.
After a ride on the 2003 VFR it was clear to see (to me) the direction of where the VFR is heading a softer, touring kind of bike. Even though the engine is the same, any VFR750 rider who might chuck his leg over the VFR800 for scoot might not recognize the relation the 800 has.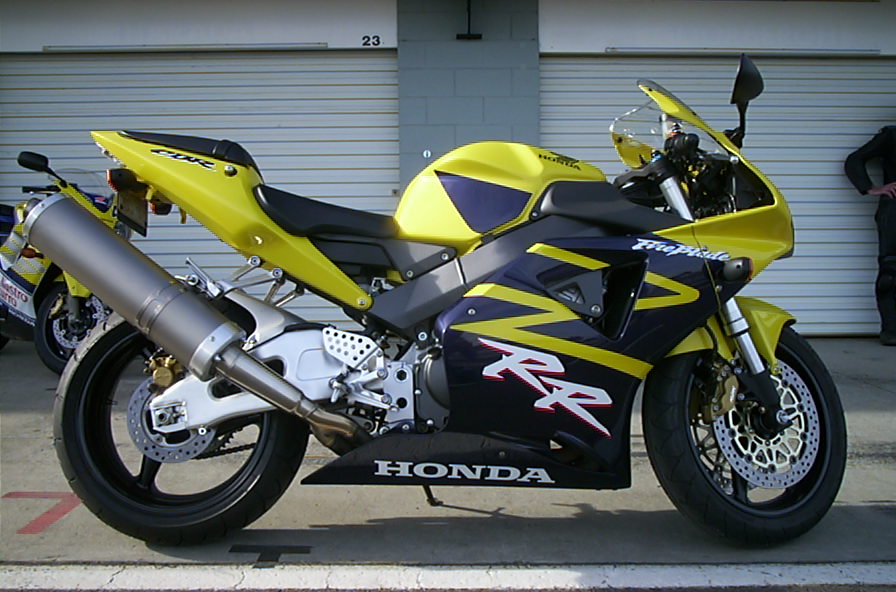 Honda FireBlade 900. Taken 03/06/02 @ Phillip Island 'Blade Blast'.
Honda CBR900 Fire Blade 2002.
Test ride at Phillip Island "Bade Blast" (Honda promotional ride day) 03/06/02.The previous Blade I rode was the 2001 fuel injected model & I felt that the caburated Blade of 1999-2000 seemed to have a "sexier" feel to the power. Its great to have an opportunity to ride the Blade on a race track & get a good feel for the performance the Blade offers when pushed, this is something that is hard to do with a normal road test.
(Comments included in "Ducati Diary"): I must say that there is a lot to say about the new Blade. Everything they say about it is pretty much spot-on. Linier power, monster brakes, stable handling. On my second session I was lapping faster than I did on the 748 & at the end of the main straight at Doohan Corner I was doing at least 15kms faster through there easy. Southern Loop was also made easier with the broad, smooth spread of power the Blade had, very predicable & lots of it, nice & smooth. Lower midrange was the same as my 748 but it was all sky-wards from there. Sure its a, what, 959cc in-line 4, but its like I always had too much power for everything, apart from the main straight I dont think I really had it full-on tapped. Comments of the front oversteering under hard cornering didnt seem to be a problem and I found it tracked straight & true. Lots of room to move around on (suitable for fat or skinny guys) & the seating position was almost up-right (compared to the 748). On the last session I got the Blade into abit of a tank slapper out of Siberia but that because I had way too much on coming out of Siberia & out to the Hayshed & I was sitting too far back (no enough weight forward). Nice bike, you dont have to think really, just ride, the engine/handling/brakes will be there when you need them.
Honda VTR 1000 2000.
Test ride at Phillip Island 2000 . Nice twin engine, less need to change gears just ride the toque curve. Foot pegs felt abit low, like they would touch down easily. Front seemed raked out and stable, but it didnt feel like it wanted to run wide or push out under heavy braking/cornering. Fuel range is about 150kms for the earlier models.
Honda CBR900 (Fireblade) 1999.
Test ride Phillip Island. 1999. Relatively wide tank, your knees get splayed apart. Awesome In-line 4 engine, power everywhere & enough of it! I was able to exit any corner with the rear struggling for traction. The front felt planted & tracked very well. Loved the rorty feel of the caburated engine.
Honda CBR900 (Fireblade) 2000.
Test ride Phillip Island 2000. Seemed slimmer than the 1999 Blade through the seat/tank area. Felt like sitting on a CBR6. Incredible power, everywhere with the in-line 4, but didnt feel so rorty like the caburated 1999 model. The fuel injection on this 2000 model has given the Blade a more linier & stronger power spread through the rev range but its seems to not have that sexy power the 1999 seems to have. Its almost nice, not nasty. But still a tremendous motorcycle by any measure.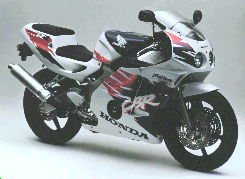 Honda CBR250 (Baby Fireblade) 1999.
Test ride Phillip Island 2000. Riding this 250 at Phillip Island was certainly an experience. Sure the power wasnt there compared to the litre sports bikes but oh the cornering. Through Qantas & MG corners it was almost like you could touch down with your elbow on the track. Braking was left so very late & it was all cracked over & still it held a tight line through the corners. The ergos of the 250 Baby Blade felt little cramped for my 175cm frame. The in-line 4 250cc engine was a little beauty, not much power down low but it revved right up to 14,000- 16,000rpm ! Combined with a good chassis & brakes (for its size) its the kind of bike I reckon everyone should have a chance to ride & help hone their skills in riding smooth & fast.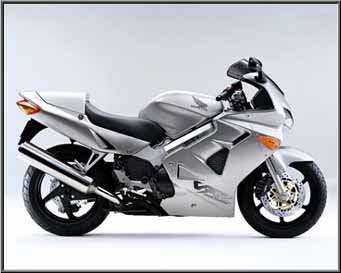 Honda VFR800 2000.
Test ride Sandown Race track 2000. Gorgeous engine, that V 4 is such a masterpiece. Best sounding engine when fitted with an aftermarket pipe I reckon. Riding position is definitely toury compared to all the other bikes I had rode since 1998. Dual action brakes (applying the front also works the back & vice-versa) are an interesting concept but Im not a fan. Rode the bike on a racetrack so I might say the suspension felt soft but it went pretty well, no surprises. Good fairing coverage, no problems riding in the rain at speed on this thing, keeps you nice and dry. Room for everything. This is the bike Id have if I had to do everything on a bike, work & play.
Honda Hornet 600 1999 (no-fairing).
Test ride Sandown Race track 2000. I love the concept of unfaired or naked bikes. The 600 in-line 4 engine on the Hornet comes from previous CBR6 slightly detuned for greater mid range, but thats not to say that its slower or less powerful. The engine still hauls & is up there with any current 600 supersport as well as the handling. The riding position is naked bike neutral, hbars good for stunts, lots of leverage. The rest of the Hornet is CBR6 of 1997/8.
KTM pictured set up for Supermoto (18inch front rim)
KTM LC4 640 1999 (Electric Start).
Test rode August 2001 when I was toying with the prospect of buying a single for supermoto. Very tall seat height & slim for a single road/trail. Egos are like other KTMs, levers for big hands (compared to jap bikes) & it all seemed alittle more hardcore than Jap road/trails. Tank/Rad/seat was slim & smooth, easy to move around on. The LC4 came fitted with a centre stand & while up on it I couldnt get on it (too high) unless you got on it like getting on a horse (left foot on left peg & swing up your right leg over). Electric start is a blessing. To kick start it, required a pretty hefty long kick, choke on (cold), decomp on & no throttle. Oh yeah the kick starter is on the left & just barely clears the frame & crankcases. Revving the LC4 it shakes just like a big single would. Clutch action was heavier than any jap single & the gearbox felt really tight & neutral was kinda hard to find (bike had 1,500kms on it). Motoring off was like dialing in some speed on a jackhammer (I love singles). Lots of torque but compared to any road bike it seemed to sign off real early. The KTM came fitted with the std muffler & I could tell the poor thing was strangled. It was good for 140kms in std form I reckon. It felt big, bigger & taller than any other bike Ive ridden. Because of its size it might be a handful on the dirt but its stance, suspension & handling gave me the impression that it could take on quite a bit of offroad action. These KTMs dominate safaris all over the world so they must be doing something right. I didnt get to go offroad on it. Im still toying with the idea of a large single for supermoto, but I dont seem to have enough time for another toy & the supermoto scene in Australia is pretty quiet.
Honda Dominator NX650
Honda NX650 (Dominator) 1995.
Test ride Bendigo 1996. Compared to other road/trail large singles, the Dominator had a pretty low seat height & combined with the soft suspension which makes the bike swat down you could easily place both feet flat on the ground (Im 175cm). The fairing & relatively large tank made it feel a bit top heavy. The power was a smooth transition through the rev range (for a single) & seemed well balanced at higher rpms. Electric start is a bonus on all singles including this one. The 650 I rode had stock pipes which felt strangled (I think any single with stock pipes feel that way) but there didnt seem to be any flat spots in the power range. Its a Honda so build quality is good as ever. Ride lasted 15 minutes & happened 5 years ago thats all I remember.
MV Agusta Brutale 04 ride impression.
January 2005.
Good:
Styling & components look nice. Ie: swingarm, pinion pegs, front axle.
Airbox induction noise.
Very nice standard exhaust note. Rorty. Save a few dollars not going aftermarket.
Revvy free spinning feel of the engine, like a 600cc supersport.
Retively low final drive (14/41), short gearbox matches engine.
Very compact & kinda solid feel.
Nice brakes, they bite compartitively well even for a new bike.
All the little bits that would be plastic on a jap bike are alloy on this one.
Bad:
Lack of steering lock (almost Ducati-sque, like the MV F4).
Harsh suspension.
Fuel injection at very low openings , jerking, ie: idle to 2000rpm.
Price $26k on road listed, maybe worked down to approx $23k ride away, maybe.
Cost of servicing, ie: @ 18,000kms, major - $942.00.
Insurance, category 5 or maybe even 6 (top?).
Underseat storage small (it's actually just under the pinion seat only).
Tool kit looks funky but some of the allen keys didn't fit the bolts ?? (tried to adjust 'bars forward on the demo ride - personal preferance).
Rev limiter seems to come in early on the tacho (12000rpm I think) when it really feels like it wants to power on.
Indicators & horn switchgear is arse backwards. (beep beep - I'm changing lanes)
Fuel tank – 15litres. Approx 200kms to dry.
The axe (my '97 748 BiP) is getting into it's senior years and I'm tossing about different options. I haven't been doing very much proper riding & seem to spend a lot of time riding around the Melbourne town with stuff occy-strapped to the ducktail, so that heavy clutch pull, racer's crouch & FairStar-the-fun-ship turning circle is always there to remind me that Tamburini did have this sort of stuff in mind when it was penciled.
I've got a few options I've whittled it down to, none are really out & out sports bikes as nowadays I reckon it doesn't take race track orphans to whoop it up in the twisties for a good time. Or maybe it's just me & age setting in.
I've considered the MV Brutale on it's looks, the fact that it's Italian (sic) & kind of exclusive. Sure it costs more & I'll proberly have some weird stories to tell owning one but I'll take a look at it.
The other bikes are the KTM Superduke 990 (not yet available), maybe the Supermoto 950 (??) or the Kawasaki Z1000.
The Z1000 is there are a default option. I know that it may not be the best in anything, but I reckon that with a set of cans, & maybe some other little personal mods, it'll rock as hard as any other pony in the parade. I kinda like the looks of it, hate the dash, but without a demo ride I can't much further comment until I do. It's cheap by almost ½ of the other bikes I'm considering too, so a tasty list of mods would be on the drawing board.
The Brutale S 2004 I test rode was through Moto One in Oakleigh (Vic). Nice red one. I noticed they had heaps of bikes in the workshop, lots in for servicing, but not that many cashbikes. It is mid January which would be a busy time of year as everyone is putting km's on their bikes. This can be a good or bad thing. Overworked/understaffed? Would you take your bike into a workshop with bikes to walls? The MotoOne guys have a pretty comprehencive workshop details posted on their website which adds confidence. http://www.moto-one.com.au/performance/