6th November 2006
44,535kms. Major shop service. Took the 748 to Melbourne Ducati (www.zag.com.au )for a major service which included:
Replacement:
-Engine oil & oil filter
-fuel filter
-Cam belts
-air filters elements
-spark plugs
-fork oil (5wt)
-brake & clutch fluid
Clean/inspect/adjust/lube:
-Drive chain, fuel injection settings, valve clearances, wheel bearing, steering bearings, general inspection etc.
Things they found:
One of the 2x mounting bolts on the countershaft sprocket had snapped, they 'tapped' the remains of the bolt to replace it with a new one. The Countershaft sprocket is held on by 2x bolts that fix a plate that 'locks' the sprocket into place, you would need to lose both mounting bolts & have the retaining plate rotate 30 degrees before the sprocket would even begin to drift on the output shaft. I didn't feel any drive train 'looseness' or noise so it was a surprise to me that the mounting bolt snapped in the first place. With the standard countershaft sprocket cover in place you cannot easy inspect the sprocket without removing it. I suppose it's a good argument for a 'cut-down' race or smaller retaining cover instead so you can see these things before you 'feel' them.
Also when inspecting the valve clearances the forward- horizontal piston's right inlet valve lifter had a shattered collet, which fragmented from 2 halves into four pieces, but still remained in place on the valve stem groove. Not a major issue in that the collets sit fixed between the shim buckets within the groove in the valve stem, the fragments of the collet were still fixed tight when the engine was operating & only worked loose when the rocker arms & shim buckets were removed off the valve. Although this might explain the large clearance measurement I found of that very inlet valve when I checked it back in 2002. Even though the clearance measure was greater than the 'ideal' setting it was still within service limits so I left it. One of the mechanics there said that the collett may have shattered after some prolonged high rpm running with clearances greater than the ideal.
I noticed on the ride home that the idle was set at 1300rpm instead of the 8-900rpm previously, not sure if that was how it should be but it just felt odd sitting at the lights with the tick-over so high.
The cost was $1223.90 in total. Yep, not cheap at all. Anyone reading this might think servicing costs for Ducati's are outrageously expensive, which they are & have been for a very long time now. Even though Ducati are addressing this issue with their new models (ie: '07 2 valve Desmos like the Multistrada & Monsters will see 40% reduced servicing costs & higher mileage between major servicing intervals) anyone like myself owning a Desmo-quattro '94 to '05 will continue to fork out handsomely. Although this is mostly labour costs & if you can do the work yourself you can save some big dollars & perhaps gain a deeper understanding of these magnificent machines.
24th April 2005.
Ride - Up late Sunday morning, eating the 4-course Sunday breaky my special lady does so well , flicking through the latest issue of Desmoto – Ducati Club of Vic mag – I came across the events list and just noticed that they had a track day @ Winton. Suited I headed north.
On the Hume at about Whittlesea it clocked 10:30am and it dawned on me that I wasn't making Winton in any time to make late bike prep (that like their bikes with the glass taped up for track work) or scrutineering, so I turned off for Whittlesea >Yea > Mansfield > Whitfield > Winton. Arrived early afternoon for a poke around & a chin wag.

The fab stretch north from Mansfield was at it's best, along it I came across 2x downed bikes (stopped at one) but in both cases the bikes where on their sidestands with not a sole to be seen (ZX2R & CBR6 '97), also just outa Tomile was a couple of Ulysses-ans on a BMW 1100 (mothership-thing with heated grips) with a busted clutch cable. Without being able to help them get going I offered to catch up their mates (who would be in Whitfield by then) to let 'em know etc.
Out of Whitfield I took some back rds to Winton .

The club turn out was low key with 2 sessions about 15 bikes each – including 6 ladies riding, they used the short course.. Very temped to get in on the last couple of sessions, but having to tape up the bike & forking over $125 (full day fee) for the 2 remaining sessions.. well.

The way back I turned off the Hume at Violet Town to Strathbogie & then onto Merton > Yea etc. That was a mistake, the rd to Strathbogie was under repair the whole way with dirt all over the place even though it had some nice corners in it (maybe I will come back when the roadwork is done). I got lost south of Strathbogie & doubled back to the Euroa-Merton rd which had a nice little twisty bit in there which made this diversion worth it.
20th March 2005.
Ride.
Faint ringing in the ears, dull pain in the palms & a sore arse… must have just been on a bit of a ride.
Saturday morning's comedy of errors doing my fork oil almost threatened to put a hold on any plans for a group ride out to Licola Sunday morning. It started off with a perilous hoisting of the front end with a car jack placed under the forward cylinder of the 748 which managed to go unsteady more than once, added to that a recalisitrant brake calliper mount bolt (gotta drop at least one calliper to remove the front wheel), as well as forgetting to mix 50/50 the 5weight & 10weight fork oil before measuring it into the fork (the 748 Showa forks take 7.5weight fork oil), finishing off with not being able to thread on the damping rod to the cap under the tension of the fork spring without a liberal application of human blood. Added a 1st b'day party ½ way through the day, losing 5 hrs of backyard-mechanic swearing time I chucked it in 11pm Saturday night under a dark cloud.

Sunday morning, the bike still propped up on the car jack & the front end was here, there & everywhere, it sure didn't look like I was going to do much riding, but what a difference a night makes, all just came together just sweet like & I was ready to roll by 10:30am. Even though I missed the planned start time for the group ride @ 9am Pakenham Maccas (about 1 ½ hours ride from my place) I thought maybe I could catch them up if I dropped the start – Pakenham - & went straight to Yarra Junction > Powelltown > Noojee > Moe > Yallourn > Glengarry > Glenmaggie > Licola. I figured that group rides stop a fair amount & I could make some ground up there just motoring on just stopping for fuel.
I hadn't been down Powelltown> Noojee in ages, the last time in pouring rain so all I remembered was taking it way easy. In 27degree & sunny it was a blast. It was good to see that the road through Fumina South & Hill End was now sealed even though coming out between the daily farms had mud & dirt in some corners.
I fuelled up at Moe & took the road through Yallourn, those power stations look weird with their cooling stacks. Then onto Glengarry > Heyfield > Glenmaggie up to Licola.
I remember the first time I came across this little road from Glenmaggie to Licola, it was 1990 I was riding my old Kawasaki KLR650 taking the dirt road down from Jamison looking for adventure. I thought I would be whooping it up in the dirt but there I was chucking about this ungainly tanker of a tailbike through those bitumen bends south of Licola, the front brake valiantly pitching the bike about as if it was looking to buck me off.
I passed Lake Glenmaggie I hook a left & the road then wound through some open grassland on top of a line of hills. I just basically rode long rolling on & of the throttle making the most of the open corners, even though I buttoned off for those blind crests that then turned left or right, but you just wasn't sure until you got over them.
The road then tightens up as it goes through bush, hugging a river (Macalister?) & then up along the edge of a ridge with some rocky cuttings in each corner. I don't remember the painted dotted line in the centre of the road of this stretch, but last time I was down here it was the oncoming log trucks that I keeping an eye out for. As it was Sunday I was hoping they would be decent Christian folk observing the sacred day of rest.
Pulled into Licola 40kms later tired & sweaty, hmm, must have been having some fun there. There was no one about, apart from the general store, a couple of touring 4wds (they're a fixture here) & the constant drone of the diesel generator (they don't get power out this far). I went through the loose change I had & grabbed a coke, ice cream & a pie (supporting the local economy) & found a tree; some grass & a nice lie down.
30 minutes later I was off back again. Looks like I had missed the guys altogether, still it was good idea to check it out nevertheless. On the way back through the twisty road with rocky cutting I could swear I was hearing this booming sound right up my arse, like another bike or something. I was checking my mirrors & doing head-checks at the tighter corners, nothing. Then I realised it was just my bike coming off the rock face. Coming into Glenmaggie again I took the turnoff to check out the town, I remember a long timber bridge that I nearly dropped my Zephyr on so I figured I'd check it out. Yep, there it was, a long timber paling bridge. Maybe in a little worst condition that last time I saw it (5yrs ago?). And wouldn't you know it I nearly lost the front again this time – there are some gaps in the planks that love to railroad a front tyre.
Out to Heyfield & home. I was getting kinda sore & took the freeway home to get it over with.
6th Feburary 2005.
Ride, Mt Buller. I had an option of going on a group ride with a new mob (never ridden b4 with them – Netrider/OCAUMC) this Sunday but I chose to ride out on my own up to Mt Buller about 200kms from Melbourne. Mostly because I didn't want to ride all day, and group rides usually have stops more often and for longer ,& don't really cover that much distance even though it would take up the lion share of the day. I just wanted to head out, cover ground asap, get my head around riding out for long kms again (haven't trekked out in months) & suss out this new final drive I recently got done.
We've had pretty wacky weather over this last week storms & cold temps (for mid Summer), so I thought heading up to Buller to check out snow in February was a novel move. With heaps of trees brought down in Melbourne due to this weather I was prepared for some interesting surprises around those nice corners on the way up to the top.
The weather was pretty much prefect for a ride this day. Pretty uneventful, didn't spot any cops out & saw heaps of bikes around. Even a group of Vespas out at the pub in Flowerdale! Lots of cruisers about. Riding out to Buller I went through Whittlesea>Yea>Mansfield>Buller. Considered going south of Lake Eildon, Eildon to Jamison, but that stretch of dirt (about 15kms) put me off even though there's some twistes road just before & after, maybe next time. I opened up the Ducati in some stretches, the lower final drive no problem with top speed, cruising just meant that it sat on 5,800rpm @ 120kms/hr instead of 5,500rpm (approx), if anything it felt like more get-up & go with roll-on passing mauver which is good.
Fuelled up at Mansfield & out to the Mount. This is where I saw the biggest impact of the lower final drive (from 14fr/38rear to 14fr/39rear), going through the gears it felt sweeter, staying in the nice juicy part of the rev range. It gave the whole bike a more fluid engine/drivetrain feel to it, as if each gear change was almost seamless in comparison. The run up was nice & flowing but I wasn't really hanging out, there was lots of bark & gravel washed onto the road so I took it kinda cruisy where I had to, just enjoyed to ride, with the Ducati's booming cans coming from the road cutting filling the air. There was snow banked up in corners & shady parts with water running off from the melting snow in places. Up at the top I planned on riding the dirt trail right up to the summit, but the melting snow & incline made that clay-mix gravel track muddy & pretty hairy with my Pirelli Corsas, with more than one occasion where the rear tyre wandered off on it's own with me trying to hold the show together. I parked off to one side & walked off for a space, catching the views. The ride down from the summit to the Alpine village was mostly along the side of the track riding in the grassy verge where my tyres could bite into something solid, still not much fun through (I suppose mud & off-road was not part of it's design brief).
On the way down the couple of really tight hairpins with a change in elevation were much harder to negotiate than on the way up. Also a few months ago they had a car hill-climb up here & there are skid marks all over the place, which makes it hard to pick a good line without going over onto the wrong side with all these tyre marks everywhere. Ride back was pretty straightforward. Found that getting into the city & with all the stop-start going the change in sprockets also helped with the inherent snatchiness of riding a twin in this sort of stuff.
29th January 2005.
Replaced chain/sprockets. Afam sprocket carrier & rear sprocket 14/39, Regina Gold link. $664.00. [Standard final drive14/38.]
Washing the 748 down one evening I found that I lost 2x teeth off the rear sprocket [opposite ends of the sprocket]. Odd really, as even though the mileage on this set was getting high for a twin as twins seem to go through chains/sprockets more than in-line 4s, I thought I would be seeing the sprocket teeth wearing over – start to look like ocean waves – before anything like losing teeth would happen.
Over the last couple of months I found that standard factory final drive ratio – 14front, 38rear, geared the engine a little tall in some places. OK on open road cruising, but in the twisties or track days there seemed to be a gulf in-between each gear change with it being difficult keeping the engine in the sweet spot between gear changes. I found this especially at the Winton track in the esses out the back & also down at Phillip Island where even thought it's a fast sweeping track I didn't get to use 6th except to rest the engine coasting the tail end of Gardiner's Straight. So I looked at this change in the final drive to try a slightly shorter ratio. I know of race spec'ed 748's running 14/41, but I reckon 14/39 (from 14/38) would be a step in the right direction without going in too deep.
Prices of the rear sprocket from Ducati OEM was astronomical, so going aftermarket with AFAM, & taking advantage of the separate rear sprocket carrier & sprocket (which allows to you change the rear sprocket without dismantling the whole cush-drive unit, also it will make future sprocket changes cheaper. The rear sprocket is alloy not steel which might mean it'll wear faster as I've previous experienced with the dirtbikes I had.
I had it done @ Melbourne Ducati (Zagame m'cycles) due to my lack of a socket for the rear axel nut (41mm) & chain peener.
19th October 2004.
Ride - Bright, Mt Hotham. Originally organised through mcnews.com.au ('net forum), this was a multi-day post-GP ride through the Alpine area based from Bright going up Monday & then heading home Wednesday. As I had the 'Bay ride on Sunday (pushbike ride 210kms around Port Phillip Bay), I only headed up on the Tuesday to meet up with the guys for the day.
Route from Melbourne: Up the Hume to Broadford> Strath Creek> Yea> Mansfield> Whitfield> Myrtleford> Bright.
Great weather, great roads, great company. Total travelled for the day 967kms.
More details to come.
12th October 2004.
(Bike repair not done through insurance/dealer)
In between being Mr fix-it redoing the bathroom due to some busted plumbing, I've polished off the scratches from my recent off on the Ducati 748 ('97 Bi-Posto) to get it mobile. Not much was required really, bit of bending back (footpeg mount etc), replacing some minor parts (indicator/levers), and sending some fairings off for a recoat.
Part of this excersie was replacing the inner clutch hub on the dry clutch of the 748, as 3x of the 6 spring towers were sheared of in the fall. I rode (limped) over to my local Duc workshop to get their rachet gun on the clutch hub nut (torqued to 130nm), besides I didn't have a clutch retainer required to fix the unit while I spun off the nut.
Taking off the clutch plates [driven plates are the round ones with the serrated inside edge which fix to the inner clutch hub & the friction plates are the ones with the external tabs that fix them to the clutch basket - outer] I found that the pressure plate (where the springs act on) was riding on a friction plate which was at the top of the stack, instead of a driven-plate as outlined on my workshop manual (and also how I last reassembled my plate stack). Also 2x driven plates sat next to each other halfway down the stack, [as well as the 2x driven plates at the bottom of the stack required for support at the base of the stack which is OK as per the manual].
Doesn't sound like a big deal, looks like the clutch replacement I had done through a dealer recently messed up the clutch plate stack on reassembly, getting at least 600kms trouble free.
Maybe it was a big deal.
After the new hub was in, I reassembled the plate stack as I found it, having the friction plate on the top & then installed the pressure plate with it's springs etc. Working the clutch with the engine off I found that pulling in the lever the pressure plate lifted off the stack & the top friction plate's tabs were almost able to clear the clutch basket tabs. This might mean that the top friction plate was almost able to spin free of the cluch basket & perhaps jam up between the top of the basket's tabs & against the pressure plate. This would mean the clutch would engage with the lever fully in.
I fired up the engine & worked the lever. Sure enough the top friction plate was almost going clear of the basket tabs with the lever all the way in.
Later I reassembled the stack as outlined in the manual & ran the bike. The top plate, now a driven plate was clearing the basket but kept the uppermost friction plate within the basket tabs with the clutch all the way in.[The clutch hub runs right into the pressure plate so the driven plate can't work free of the hub with the clutch disengaged].
This got me thinking back to what happened on that bend up at Lake Eildon.
The rear end broke free & I grabbed a hand full of clutch & cut the throttle. Even though it all lasted at the most 3 seconds, I can't remember hearing the engine rev free after grabbing the clutch. Maybe the clutch jammed when it was fully pulled out & aggravated the loss of traction of the rear wheel to bring it all the way around.
Dunno. Just got me thinking is all. Not much to go on, not like I can go back to the dealer who originally installed a new clutch & take them to task about it. Not even sure if what I'm thinking could have happened. Makes the incident seem not so freaky though. I remember thinking just after I dropped it "how the phark did that happen?".
5th September 2004.
Ride & crash. Sunday dawned too much of a beautiful day to pass up a ride out on the Ducati to somewhere tranquil & twisty. So off I rode north to Whittlesea (from Melbourne), & then across to Yea, Lake Eildon & a planned circumnavigate to Reefton & black spurs.

The route taking in a nice leisurely wander by Flowerdale, Yea, Molesworth, catching that little 'b' road south of Molesworth to Alexandra. Rolling out of Alexandra towards Eildon, I took a left through Lake Eildon National Park, hoping to get some curves into Eildon itself. Even though I did this road many times before this time there was a little surprise around one of the corners just 100mts out from that 'roundabout in the middle of nowhere.
Hooking through another sharp left corner all hangin' off my bike as you do in this sort of going I rounded the bend to see an oncoming red BMW 3-series right slap-dab in the middle of the road, most likely going wide from a previous corner. But this wasn't that much a problem for me as I normally ride the odd 20% off from WFO just in case, so I swung in tighter & hugged the inside of my corner as much as I could, leaving this red BMW blur past me with inches to spare. But there was no time for the @%*k you gestures as the next right-hander was coming up so I began to crank it over.
This is where it got tricky.

Eyes up at the apex, I crank over ready for the upcoming right-hander, knee in the breeze & I roll the throttle slightly. Suddenly the rear slides way out from under me. In what seemed less than a second I vainly counter steer & shut off the throttle, going down in a shower of sparks & the sound of god-awful scraping. I low side & slide along the road feet first watching my 748 spin on its right side over & over (twice). I kinda panic, & do that 'stand up before you've stopped sliding' thing & cartwheel once landing on my back again (wearing a backpack).
Funny how deathly quiet it can get right at this bit.

On my feet, I get over to my bike, I notice how pharked up my leathers are on my right sleeve & shoulder, worn through to the plastic on the elbow (Daniese 2-piece suit with plastic armour etc) and my right glove is almost torn from my hand. In true MotoGP fashion my little finger is bashed & bleeding so I stand there for 10 seconds trying to wiggle it. Yep, yep I can wiggle it, but just a little bit.

The bike. I just know how crash-friendly these Ducati's superbikes are [sic] so dreading the worst I look down at it laying on it's right side in the middle of the road, the left side still shining immaculate up at me. 'Bend your knee Katie', left hand on the rear subframe, right on the clip-on, chest up hard on the side of the tank, up she comes.
I take stock: No front brake lever, bent/worn rear brake lever, fairing worn through to the battery (Ducati's have the batteries alongside the engine) & the right front indicator is as limp as my enthusiasm for all this. What's good? Mirror still there, footpeg still there but a little worn down, tank & ducktail OK.
I check the dash, we have lights, so I jump on, clutch in & start her up. She fires in a second. As we're in the middle of the road I go to motor off to the side, I find first, little throttle & clutch out, suddenly there's this massive amount of scraping, gnashing sound coming out from the clutch & the bike stalls. Phark.
Take two, same thing, phark phark!

Neutral, I wheel her off to the side & spend what seems like 30 minutes trying to find some moss-covered mud that the sidestand does not submerge into. The clutch cover, which is a standard enclosed steel unit, is bashed in from the fall. No doubt the clutch is rubbing up against it. I pop the ducktail & fish out the tool pouch. Ducati's run dry clutches (that's no oil; hey, some people don't know) so removing the cover was no problem. As I pull away the cover, what seems like half of the clutch components rained out. As I was already on my knees there wasn't much else to do but look up into the sky.

OK, what have we got? 3 of the 6 clutch spring mounts broke at the base of the clutch centre posts (see pic). I lever the clutch in/out & it feels OK. I fire it up & watch the pressure plate spin, pull in the lever & the pressure plate goes really wonky with only 3x of the 6x springs still in there. I try to engage 1st & it's hard but goes in & then the bike starts to walk a little with heaps of drag with the lever all the way in. I stop it all & look at it. I look up & down the road. I listern out for something, hearing nothing. I've been here for 20mins now & nobody. Where is the rest of the world when you need it?
This is when I notice that the corner I just rode through was coated in gravel, which is most likely why such a bullshit corner taken at a bullshit speed came out so arsefaced.
Pull off my backpack & load in all the loose Ducati parts laying around here & there. I redo the bolts near the clutch that also secure the engine housing but leave the cover off & pack away the tools. (Took some pix)

Suited, fire her up & off I go. The clutch lever is mega light with only the remaining 3x clutch springs, but it doesn't sound funny, just Ducati dry-clutch funny [with the cover off]. The road is twisty here & I've got no front brake so I keep it slow back to Alexandra. In town I pull up out front the cop shop. No one home. There's a button you press that rings a number & I'm talking to some bloke in Melbourne. "Are you hurt", he asks. "Not really, just offended" I say and walk off.
The ride home took forever, for some reason along the way I lost all my lights (maybe a blown fuse) but I wasn't going to stop until home. Motored along at 80km/hr, getting passed by caravans, 18 wheelers, you name it. Was worried the clutch would slip & fry so took it mega easy. Little finger on my right hand was throbbing away & cherry red.
Made it back in one piece (the other pieces were in my backpack) by 4pm.

I wasn't that beat up, the full leathers worked a charm but they're not gonna win an fashion contest now, only hurt just my little pinkie which is still throbbing, an aching shoulder & right hip.

She's still parked in the garage, doesn't look tOo bad on second look, I wonder when my insurance elapsed?
8th May 2004.
Ride: DOCV ride day Winton track. Drove up from Melbourne first thing Saturday morning with 748 in tow, first time trailered the bike ever. Loading it solo 5am in my dark cold dank alleyway in pitch black was no fun for man or beast. Rented a skid-type bike trailer which came with a pukka ramp (no painters plank thank you very much), still not an easy job with a dead engine, opted to fire her up & motor her up - nice echo off the cobblestones & corrigated iron in that alleyway.
Big fog on the drive up the Hume Freeway, down to 60kms/hr behind a Kenworth pulling a tank of clorine, 20 metres up front & still couldnt make out his taillights. But thats good, heavy morning fog bodes well for a day in glorious sunshine. Been a year since & travelled this way, but last years (or was it 2002) ride up & back from a Winton ride day made me swear on the soft option of dragging the 748 by one of Holdens finest (VN Commode) next time around.
2.5hrs later the fog parted, the sun came out & I rocked into the Winton pit area. Seemed like a smallish but enthusiastic turnout (50-60 riders??) which meant 2x groups which ran sessions for about 35-40mins. I hadnt been on a DOCV ride day in yonks, payed up, signed my life away & rolled my bike through scruteneering. They like their participants to strip/tape any glass or plastic lens etc on their bikes & run a club member number as well (mine 10) on the front/left (approx). I got hasseled for a loose drive chain & not running zip-ties on the rear axel nut saftey pin (seemed odd to run a saftey zip-tie on a saftey circlip but who am I to argue), both got fixed in 2secs easy.
Just before the first session they had 2x sighting laps for all the first timers, I joined in as a good chance to warm the bike up, and besides it was a stretch since I had been here & I had no idea about this tracks layout, apart from some bitch corners that go left-left & right-right, if it wasnt for the dude pacing us up front I wouldve hung a right at the pit exit instead of the indicated left turn.
First 30min session, my first good crack at it. I was in the second group, mostly Monsters & ST2s, mostly riders with massive hip pads (apprantly)but I still raced em! Nah, I just needed some time alone to sort myself out on this track. Winton was fairly tight I only used 3 gears mostly (2nd, 3rd & 4th). They used the short circuit. Out of the pit exit & onto a short straight into a right hander which kinda went down to a another right hander. I found I stayed in the same gear (3rd), then out to a another short straight to a sweepeing left handers that then tightened to a sharp left then right flip/flop into a right 180degree corner, then a burst to a left 180degree corner & then to another right 180degree corner. This then opened to a short straight which I saw 4th & whaled then snickered into 5th for 1 sec until a right sweeping corner took us to the chaciane which then lead onto the fornty straight repeat.
Took me a while to get comfortable, the back part of the circuit with the large sesses right left right onto the back straight I could only really hold a tall 3rd (4000rpm) but it didnt give me the sort of drive to rip out of the corners, a lower gear like 2nd had the engine up in the heady part of the rev rang with too much poke, breaking the rear out here & there. So I held the higher 3rd & tried to find that smooth line & get that corner speed up. Felt that standard gearing was too tall overall gaps in gears to wide for 100% drive in a lot of places, one gear felt too low where the next one was too high. If I had the extra poop of a 916/998 I could just ride the meaty bit easy. Tried heaps of variation s in the corners to nail this thing they call a race track. Didnt use the brakes that much, only really 2x corners where you came down hard from a burst of the little straights, I ran these braking points hard to gain the max speed out of the straights, but from behind it just looked silly the way the rear hopped about as I went off into the marbles.
Sure had small nice stouches to keep things intresting, but I tried to pass with heaps of daylight as I didnt feel good with the circuit outside the race line. There was a 748R that seem to have me on each corner exit (I assume that is where the R bit comes in) I couldnt get that pass on him. Into the corners I was mostly all namby-pamby so late braking on this day was out. In my group I was passing quite a few & I checked the rest of the circuit when I could to see if there were others at my pace but didnt see any. Although as the day wore on a few more 748s & 999s filled in the gaps.
No major offs. I think the DOCV guys are pretty laid back with all that 110% take no prisioners stuff you see with blokes on ride days run by other mobs. One 80s 4-Valve desmo off at he 2nd corner, low side, but he rode it back no problem. Had a few bikes down with mechanical breakdowns, but thats got nothing to do with the prevelance of the certain brand on that day. Although I must say that I now have no problem at all with the amount of mechanical noise my baby makes, in like company shes a quiet & tight sounding motorcycle.
Did 260kms or track work. Fuel economy was down to about 6.5kms per litre. Felt mega sore from all the physical work I was doing, proberly due to the fact that I was still feeling my way & some lines I took were definitely not the best. I must be a slow learner (I was always a fan of crayons).
Next one at Winton with DOCV is September some time, which I pencil in no worries.
Back at home & time for a hose down & throw the road gear back on. Thinking back theres a lot of the track Ive still yet to get a handle no, but its no longer a track I hate to ride at, more one I want to master (in my own way).
Pic of my Ducati 748 in the pits, Winton.
Pic of my 748, Winton Pit area
25th April 2004.
Valve clearences. Armed with a Haynes workshop manual & half an idea I took to checking my Ducati 748 Superbike Desmo 4-valve clearences for the first time, this was going to be a steep learning curve for this little black duck. (excuse any mechanical butchery which may ensue).
(Desmotronic valve system utilises rockers operating off the camshaft to positively open & close the inlet/exhaust valves.)
Stripping the bike took the bulk of the time, bodywork, fuel tak, airbox, oil breather system, rear tail, Airbox runners (airfilter pods), & radiator (with some hoses). Left the fuel injection system on (doubles the difficulty in intake valve access I realised) & left the timing belt covers on.
Removed the cap off the left crank hub/rotor & I used a pinnion peg mount bolt (M8) with a lock-nut (from my parts bin) fixed to the rotor spline to rotate the crank to the timing mark for TDC on the horizontal cylinder which is stamped on the rotor face viewed through a engine case sight glass. Removed the spark plugs to ease rotating the crank (not fighting engine comp), removed valve inspection covers for the horizontal cylinder.
Intake valves: I used standard feeler gauges (available at any auto shop) which I think are too short without losing them in the cam/valve cavity (removed each feeler from the pack). Valve openers was pretty easy to check as they were right there at the front in the inspection hole, just slide the feeler gauge inbetween the rocker & the top of the shim (at the top of valve stem).
Valve closers are harder to check. Clearance is measured at the rear of the cam (when viewed from the inspection hole) where the closer rocker arm runs on the camshaft. I had to bend the feeler gauge 90degrees & insert the whole feeler in running only by feel as you could not actually see where the feeler had to go, I just followed the contour of the closer cam with the feeler until it slid between the rocker & cam.
Exhaust valves. Similar to inlet valves process, but as their inspection holes are outfacing (from the engine V) made access slightly easier, but the vertical cylinder butts hard near the rear suspension linkage which restricts access.
The horizonal cylinder exhaust valve inspection cover was full of oil when removed (low point in engine head) so be prepared with the old rags.
To do the verical cylinder clearances after the horizontal cylinder has been done, the crank needs to be turned 270degrees (anti-clockwise) to bring the vertical cylinder to TDC, but there is no timing mark on the rotor to confirm this. I compensated with marking the external cases & followed with the spanner rotation to the correct point.
Below is the clearance specs & what was measured. All seemed OK (35,400kms on engine) except the right intake valve on the horizontal cylinder which is on the highest clearace recommended. I was looking at rechecking them at 40,000kms before I take them to a shop to change.
Valve clearances.

Bike:

Ducati 748 Bi-Posto 1997.

Done:

24/04/2004

at km's:

35,400kms.

(left/right from front of vehicle)

Horizontal cylinder.

Left

Right:

Intake spec:

measured:

measured:

Opener:

(0.11mm)

0.10mm

0.17mm

Closer:

(0.20mm)

0.18mm

0.25mm

Exhaust spec:

Opener:

(0.14mm)

0.15mm

0.15mm

Closer:

(0.15mm)

0.15mm

0.12mm

Vertical cylinder.

left

right

intake spec

measured

measured

opener:

(0.11mm)

0.11mm

0.11mm

closer:

(0.20mm)

0.20mm

0.20mm

exhaust spec

opener:

(0.14mm)

0.15mm

0.15mm

closer:

(0.15mm)

0.15mm

0.14mm
13th March 2004
Ride: mcnews.com ride. Yarra Glen > Toolangi > Healesville > Black Spur > Marysville > Reefton Spur > Warburton. Feel bad for the Suzi GSF250 bandit rider down on the Black Spur, missed the surprise of the day. re-laid black top - billiard table smooth the new Black Spur, less the traffic it could make top 3 best. Reports tell of an optimistic passing mauver just out of Healesville on a black Porsche Cayenne just before a sharp right corner. Just as he ducks in ahead of the Porsche with too much speed he stands it up for a graceful overshoot into the roadside culvert. Damaged rear brake lever & radiator. Rider OK, bike rideable. He returned to Melb with 2x mates.
I for one am still sitting here brrm-brrming away at a top scoot had on a magnif day with a great bunch.
From the meet at Yarra Glen I rocked up & first saw a fair amount of chromed spread eagles & leather tassels which concerned me (not that theres anything wrong with that sort of thing), but then I noticed the fellas with the lary coloured bikes parked behind. Seemed a good turn out, the Ulysses blokes had the same start off point which explained the great spectrum of riders there.
Cal lead us off up the Melba Hway & beyond.
First bit of twisty came out of Toolangi to Healsville, we took the low road through Chum Creek which I havent seen in a while. Up the head of the group just behind Cal I round the second tightish left corner & find myself on the wrong side of the little white line good start, must concentrate more maybe. But the rhythm eventually set in. After 10 minutes or so Cal disappears off ahead & I ride my own pace (instead of matching someones else line which usually gets me in all sorts of mischief), then a pair of bike headlights flash in my mirrors & so I let them by, Mille [Nmilne] & a black 2000 blade [Omen137] (I think). This road to Healesville had a few harsh bumps that jarred the 748 about under me, I grinned & beared it, never really revelling the unique suppleness of the Ducati superbike line of suspenders. At the regroup in Healesville it was good to hear I wasnt the only poor bastard getting bucked around on that road.
Off again through the Black Spur to Marysville, just exiting Healesville the road beneath us took on a strange sheen, it was smooth & new, the surface was free of gravel or debris of any kind, line markings were fresh & vibrant, it seemed almost surreal, this could not be the same Black Spur that I knew. Up ahead the road curved left & right through the trees as if traced by the wayward hand of an old riders spirit. All this & sunshine as well!
But that traffic. Stealing a couple of corners before hitting a convoy of family truck-sters was the most we could get.
Rounding a corner I could see way up ahead an L plater get past by a few sports bikes, couldnt really make them out but one of them was whooping it up with a stand-up mono on the wrong side of the road, proberly one of those BikerBoyz-knobs you here about in the papers on a slow news day, on 2nd look it was Vicko on his CBR600 impressing the ladies no doubt.
Regroup on the Marysville turnoff only got half our number after 30 mins. Morpheus elected for a ride back to check it out. 15min later he returned less 1x Bandit 250 & 2x others. Rider down, but rider OK & bike rideable.
So that left 9 in the group, 6 being Hondas, 2x Prilla Milles & my Ducati.
Onward to Marysville fuel stop.
This is a bottler of a stretch Marysville > Warburton, even better the other way. So good in fact I caught 2x bikes with NSW plates up there. As we passed the turnoff for Lake Mountain I was in behind ohmygod (Mille) but leaving the odd corner in-between as a breather, catching his taillight every now & again. This little bit gets kinda tight & narrow in places, with me its always up & down through the wrong gears every 2sec with knees & elbows all over the place. Rounding a corner I come across ohmygod doing a left hander on the right hand side of the road, I tab the brakes & notice hes kinda shook abit, hmm so that wasnt a planned mauver I think.
We pull up at the Woods Point turn off. 20min later, wheres Morpheus? Dont think he turned off for Lake Mountain? Vicko goes off for a look, as he rides off he goes for another stand-up mono, whaaaaaaaa-crack-crack. Dont you love that sound of a CBR600 as it revs well past its rev limiter for what seems like the better half of next week.enough to drop koalas out of their trees.
20min later Vicko returns with his man, Morpheus VTR250 booming through the forest what a difference an open slip-on can make.
Off to the Upper Yarra dam turn-off. Seemed that the boys were a little hesitant, so I took off first, this was a fun bit of road & I didnt want to have to follow, just ride it at my own pace. Sure I was expecting my mirrors filled with Vicko/Cal/Omen137 etc in no time but that would be their prob. Came up to a L plater & she got my lights in her mirror & she kinda swerved abit so I braked & tacked back just in case, but this slowed me down for about 2 corners as I tried to pass politely.
Soon Vicko & the Cal came passed, I flashed my left indictor to let em know I wasnt going to contest.
Sedate ride to Warburton. Some like Cal, Tony, Omen & the dude on the earlier CBR600 (sorry missed your name) rode off to Melb. Nmilne, Morpheus, ohmygod & myself caught a bite/drink in Warby. Ohmy & myself rode back: Warby > Marysville > Healesville > Toolangi > Kinglake > Whittlesea > Melb.
Riding back from Warby to Marysville was a cracker. The Black Spur was actually quiet coming back which was bea-u-ti-ful. After that Black Spur I just felt tired & sore.spent? Maybe.
10th March 2004.
New brake lines/ clutch line Fren Tubo $425:00. Part # 36804094B Fr/Rr brake hose kit. Fren Tubo Kevlar lines blue, red anodised alloy fittings. 916/748 1994 to 2000. Part # 36804994B Clutch hose kit, Fren Tubo kelvar line blue, red anodised alloy fittings.
My original brake & clutch lines were rubber hoses & seeing how they were getting on to their 7th year of operation I figured it would be a good move to replace them with braided lines.
My ring around to the bike shops got a range of prices & options. From braided lines made up to suit from suppliers like Goodridge to Ducati Performance aftermarket Kevlar lines by Fren Tubo. The cheapest were the Goodridge (or equivalent) in plain braided lines (plastic coated) which came in at about $400 including the clutch line with all the fittings.
I went for the Fren Tubo out of the Ducati Performance catalogue as they specified similar fittings to the front callipers (pre 2000 Ducati Superbikes run screw-in type fittings on the front callipers not banjo bolts).
I have not replaced brake lines before but it seemed easy enough, just like bleeding the system except you start with an empty line.
Problems:
Where the banjo bolt fits onto the clutch master cylinder assembly, I trapped a small air bubble which would not bleed out. After going through 90% of the new fluid in the bottle I removed the line at the banjo bolt, dismantled the clutch master cylinder assembly off the bars & inverted it so I could fill in the master cylinder full of fluid. Then reassembled the line while the master cylinder outlet was vertical to avoid any air bubbles trapped.
Also I have a problem with how close the brake lines exit the front callipers. They rest up hard against the side of the front mudguard.
The original front brake lines had a mount on the top of the front guard. This mount does not accommodate the Fren Tubo (or braided) lines due to the thinner profile of the new lines & the inherent stiffness that does not allow the new line to bend to meet the mount. Not a big problem as the stiffness of the new lines ensures that they do not foul movement or rub anywhere while the bike is in operation. I might not worry about fixing them more than they are now.
Bleeding these lines was pretty easy, the layout of a motorcycle means that it is an easy one person operation. The brake bleeder takes a 10mm spanner while the clutch bleeder takes a 7mm spanner. Length of clear hose to a crappy tin, easy.
New rear brake line - Fren Tubo.
New brake line, front right caliper.
New lines from master cylinders (H'bars).
7th February 2004.
No details but here are some pix. Ride from Melbourne to Whitfield, via Whittlesea/Yea/Mansfield.
Half way between Mansfield & Whifield (Vic), bikers heaven.
Half way between Mansfield & Whitfield. Magic piece of bitumen.
30th January 2004.
Ride: Track day Phillip Island, Honda Riders Club of Victoria.
...Out of MG for the last time I short shift up to 3rd, slot in behind Gibernau, Capriossi shadows my rear tyre, he will try on the inside again, just like last time, ahead 2 bike lengths Rossi runs deep into turn 10 up against the outside ripple strip, he looking for the drive this time out onto the straight out to the line, for the last time. Through turn 10 behind Gibernau my V4 runs hard I change to 4th 11,000rpm 12 13 - I gain, 2-inch, 1-inch, I pull in inside his line my front tyre glances against his left knee, Gibernau hard up against Rossi now whos on the outside, we fly up out of turn 11 up onto the straight, 3 abreast. the alarm goes off !
5am.
Its absolutely pissing down. I can hear the rain droning on the veranda outside my bedroom window, waters pours out of the low points the downpipes now reached their limit. Shit.
I throw myself outa bed & find the hallway, stumble along the long straight hallway bouncing off the sides as I go then through the kitchen to the bathroom. For such a small house its a fucking long way. The sound of the rain is louder in the bathroom (a jerry-built, add-on) drowning out the flushing toilet. Shyit.
Cant be right, Ive got a ride day on. I cant ride in this, after all I ride I Ducati, I dont do rain. I log on & check the BOM site. Melb & surrounds as far as Phillip Island have yellow & pink (heavy rain) all over, shit.
I buzz Darren, mate who Im riding up to the track with, he says: " rain? Huh? Looks light here" (hes in Lower Templestowe), we disagree, hes going, hang up. I open the door & walk outside, its raining even heavier now & water layers the pavers in my yard out to the garage where it finds a low spot & has already dragged 2 inches of mud. Shit.
Back to bed.
Cant sleep. GF wakes (we have sep bedrooms on school nights) & gets ready for work, its 7am & its still raining. I get up to & offer to drive her to work (she usually trains it), shower, shit & breakfast 8am out into the gridlock, the rain had cut a few roads. Crawl to work.
She steps out into the rain in front of her office my mobile rings. Darren: "fucking beautiful ere mate, no rain , nothing! Sure got some drizzle on the way but" , "Ill be there mate, 2 hrs" I said, hung up, roared off.

(Bike stuff starts here: )
Suited, gear together, turn key & brought my 748 to life, as I lifted the roller door the rain stops & the clouds part. I coast down my alleyway to the street where 2 foot of water clogged the roadside gutter, I roll my front wheel into the stream of water I suddenly realise that mud & gravel had washed into the gutter & the front tyre ploughed sideways, shit, I power & drove through the water & mud down to the axels & come out the other side with steam billowing from under the fairing, shit.
Come to a stop clear of the water, my 748 idling nicely. Should I check it? Nah, if something is fucked Ill know soon enough & motored off on to the CityLink bound for Phillip Island.

Made good time but stuck at the speed limit, $200 was my last bill for travelling this road to the island. Arrived in time for lunch, how good was that for timing.
Got in Blue group with Darren. Looking around the turn out seemed less than last time, Darren mentioned that our group had a majority of the slow riders in it (HRCA ride days do not grade session into fast, faster & fastest.). As he said, the weather at the island was magnificent for riding.
First session for me was just after lunch, I hung at the back of the group I took in the scope of the track, motoring around I picked out: the groove in the circuit at Southern loop, the braking marker @ Honda corner, the apex line I like through Lukey Heights, the marker @ MG and the nice line through the left-left-left onto the main straight. The circuit was clean & dry with no oil, shit or new hazards to speak of.

Next lap into Doohan I took it into 160km/hr, hung in tight & powered out holding 5th (which is pretty lazy mid-range on my 748 7-8000rpm) & then dab brakes & down to 4th for Southern loop. Holding the centre meeting the groove past the first left ripple-strip then roll on the throttle while swiping the 2nd inside left ripple with my knee I pour on the throttle to 11,400rpm letting the bike run wide to the right ripple-strip, then tucked in behind the screen to 5th pegged under the bridge & then to 6th pegged cranking into the left-hand kink to Honda corner (running 5th gear hard instead of 6th gear at this point really runs my engine just off the limiter for long time which cant be good in the long term).
Into Honda corner its WFO in 6th until the 150mt marker then plant the nose into the road, full tilt on the front brakes & banging down the box with the clutch ½ way out , the engine tugging at the rear, sometimes the rear jacks about when I dont concentrate & gear down too quickly (too low gear for the speed). I dont really go to the extreme left for the tight right @ Honda corner, sometimes I tip in half way across. I bring in the rear brake at the tail end of the braking then let off as I tip into the right of Honda corner because without it the rear sometimes hops off the left side too quickly. Move to half arsecheek & tip into Honda corner pulling 2nd gear midrange winding on as I pass the apex to flat out. The 748 powers & drifts out to the outside left ripple as I right myself & tuck in, 10,000rpm upchange to 3rd flat out & head for the outside of Siberia corner left hander.
Tip into Siberia left which is a perfect 180degree corner, holding 3rd gear 6,000rpm its good to hang off the bike here, pass the apex & I catch a glimpse of the outside ripple on the exit so I tap it out, hit 11,000rpm, up 4th, meet the ripple with my rear squirming, drive out to the left kink into the hayshed bend, 5th 9,000rpm & climbing I hang off into Hayshed & catch the flashing righthander ripple-stripunder my right arm-pit with an indicated 165km/hr cool.
Up onto Lukey Heights & I start to back off & go from aggressive right hander with mega speed to scared & tentative left hander over the rise into I dont know what. Tab down to 4th & almost coast over the rise. Lukey Heights is almost a blind left hander down into MG corner. My line over Lukey is various & none give me confidence, its only when I top the rise & can see down into MG that swing over to the extreme left ready to attack again, the tight right-hander of MG corner.
Down hard on the front brake as I go down to 2nd gear, again my rear brake is only used at that last bit just before the tip in. I crank over hard into MG , already side-saddle when braking I pussy-foot throttle passing over the inside ripple strip & come out, short shift to 3rd & wind it out as I flip over from right to left for the last sets of corners to the straight.
Into 3rd gear I run the first of 3 lefts close to the inside & then power over holding 3rd until I drift to the outside ripple-strip, then up 4th gear hard cranked over to the near inside of the last corner before the straight, as I crest the final corner I hold 4th to 11000rpm & then 5th as I enter the straight.
Down the straight tucked in behind the screen Im copping a head wind indicated speed is about 200km/hr past start/finish, up change to 6th under the bridge & I edge 225km/hr as the second marker on the left before Doohan corners passes by. Down to 5th, tip in..


Forgot my lap-counter ($10 digi watch strapped to my triple clamp) so I could only guess my laps at coming in around 2:04 average. Darren was with me in just about every session where we swapped places here & there. His strong point was Southern loop & Lukey Heights, where mine was out of MG to the main straight, & into/through Siberia corner. Its amazing when youre dicing with someone, it feels like youre standing still even though theres an inch between fairings cranked over through Hayshed @ 160km/hr. Well you know, regardless how fast youre going, if youre not passing then youre not racing, eh?

In our group we had a pretty broad range of riders & I able to catch the taillight of just about all the dudes who sat in our dummy grid (nice to be big-fish-in-small-pond for one day at least), except Darren on his 70,000km old 97 VTR1000, & a 00 red/white R1.We had this huge bloke (missed his name) in our sessions who mostly ran a Honda SP2 & cornered without hanging off but still kept a respectable pace on. I reckon his weighed in at least 140kgs in socks & undies but he was sure able to place that SP2 in the most popular parts of the track where I wanted to be. Into MG corner was the best place to pass, such a weigh penalty he would almost be brake-light-on as soon as we crest Lukey, on the inside nicely.
No offs on this day that I knew of, saw a test-bike CBR600RR getting ridden off outside of Lukey full of grass & dirt. Thats about it.
Even though I tried to pass politely, plenty space & a clean line there came some moments. Out of Southern Loop into the left hand kink a silver/blackCBR600F4i ran to the right ripple-strip exiting the last of Southern Loop, I was right up his arse to get the speed to pass. He looked like he was going to hang right so I tacked to his left & came along side. Just as I was doing that he then started to verge left but I was WFO & looking at a pass on the left gaining inch by inch. He kept coming over to me so I hung left. Then I noticed he checked his right mirror he was moving over for me expecting me to be passing on his right. Thats when I noticed the black of the track under my tyres go to white edge marking. I had it tapped, I couldnt back off , I couldnt brake. He kept coming over. Then my rear tyre squirmed on the white line & slipped off the edge of the track. At the same time I pass him WFO but my engine maxes out as the rear spins in the gravel, I lose drive, the rear of my 748 fishes out to the left, I weight my pegs, let the rear hang out & hold my front still on the track pointed dead ahead. Shit, I cant back off, I cant brake, I cant accelerate the engine still bouncing off the limiter - just keep it pointed straight. He backs away. Suddenly my bike rear hanging off to the left snaps back like a fish on dry land & bounces onto the track, I snap it up a gear & my engine settles to 90000rpm off from the limiter & the left kink before Hondas comes up. Successful overtaking manoeuvre.

Only ended up with 3 sessions for the day. Ride home was hard going at the posted limit.

14th December 2003.
Ride: Track day Phillip Island. Honda Riders Club or Australia. 6:30am Met mate Darren (VTR1000 97) @ Shell servo Cnr FTG Rd & Springvale. Cool morning, forecast for 23degC sunny, no wind, hard to ask for better.
On this day being a Sunday there were about 90 riders who fronted which split into 3x groups of 30 riders each.
As we rocked up there seemed to be a lot of non-Hondas, especially Ducatis. A few fellas of the Italian metal actually hired out one of the garages, there they were full workshop tools, stands & tyre warmers on bikes running street rubber & rego plates. 2x 999 (S & R), 916 & 748R (I think).
Macca M & Lainski were there got a spot in the first group, as me & Darren got in got in later we got into the 2nd group. Riders briefing over & the first group rode out on mega blue skies & 0 wind.
2nd group: my first session, 30 riders in a session is a lot bikes on that track, pealing into Honda corner I looked back I still saw guys filing into turn 1. For some reason I was all over the place in this first session, doing crappy apexs & taking real dumb passing lines around other bikes. "Where was I what am I doing here". Looking up ahead I could see that Darren on his VTR was getting on as he rounded up bike after bike, kept him in sight but bountiful traffic made riding busy. Disadvantage in a wide mix of riding abilities in the same session is the passing, not so much in having to do so much passing, its just that some of the slower traffic arent familiar with the layout of the circuit so they take interesting & sometimes surprising lines, like when Darth Vader was trying to knockout Luke Skywalker in the X-wing in Star Wars but Luke was weaving backwards & forwards. "the force is strong in this one"
New EBC (organic) brake pads worked well on the 748, just like the stockers. Something I noticed is that the brakes didnt suffer any heat-fade problems like the previous, worn pads, but thats proberly due to the extra meat of material to dissipate the heat maybe. The acid test for brakes at Phillip Island I reckon is into Honda (Qantas) corner. Bang on the front brake at 100m mark with 160km/hr on the dial, stop on a dime (10cents) no prob. No fade, time after time (well over 25mins anyway).
Eventually I got into the groove, remembering all the cool lines & what my bike liked to do. Found my 748 liked to run higher corner speeds than a lot of guys (even faster guys) but that drive out corners wasnt there for me, so passing into the approach of corners was the ticket for me. My times were OK, 2:05s 2:03. Seeing how it was perfect conditions I should be looking at below 2:00.
Later in the morning Darren (VTR1K) was going well, did a 1:57 before he made an attempt to pass a Blade into Siberia where he had too much speed so stood up to wash it off (never works really) & low sided left-side in the grass. Broken gearlever, scratches, bashed in muffler & sore shoulder.
He was able to get a gear lever of the HRCA test bike VTR in the afternoon for a few more sessions & the ride home, lucky boy.

The taller "Corse" screen offered heaps of assistance down the main straight, out of Southern Loop into Honda cnr & the Hayshed bend. Tucking in behind it like the 125GP fellas the buffeting wasnt a prob & I reckon gave me an extra 4km/hr extra up top I reckon.
Me exiting MG corner, Phillip Island circuit.
29th November 2003.
New Front screen, Ducati Corse (part #96935102B). The original front screen on the 748 is pretty low, offers as much protection from the wind blast as a naked bike. I didnt find it too much of a problem originally, but after a while I found that the shape of the std screen magnified the sort of buffeting & turbulence my head/helmet was experiencing which got a little tiring after anything over a 3hr ride. I also noticed that just about any Ducati Superbike set up in race-trim ran a higher screen, which was a "Corse" screen as apart from a "touring" screen to suit the 916/748 that is also available. So I figured I would give it go, rafter all the racer boys cant all be wrong on this one.
I went through Moto One in Oaleigh to get the screen. Firstly they said they had one in stock but when I got there it was the other touring screen (more of a gumby style, it flared out on the sides too far for me which I didnt like and besides when youre paying retail you can be fussy). The Corse screen to suit my 748 had to be ordered from Italy - 3 weeks.
Got it, fitted it. Tell you what, even though it was just over $129AUS, the Corse screen certainly did not look to classy. No tapered lip to give a flush fit on the base where it bolts to the fairing & no finish on the outside edge, like molding etc. It looked like it was cut from one ½ of a 2litre bottle of Coke. But I figured no point in bitching now that I got it & it was fitted, so I shot out for a ride to check out its effect.
Ride: Being November in Melbourne, summer weather was getting more of a look in & today (Saturday) was one such time. I headed north-east of the big smoke, oput for the mountains, for Mt Buller. I havent been to Mt Buller in over a year so it was good to get the 500kms under the wheels for the trip there & back. Out on the open road I could feel the benefit of the higher screen on the 748, the wind bast was now higher, almost over my head, instead concentrated into my head & upper chest as with the standard screen. With the forward leaning riding position of the 748 it was easy to squat the extra ½ foot lower to get right behind the screen to pretty much avoid 100% of the wind blast. As mentioned the screen looked pretty Mickey Mouse (in Australia it means crude/cheap/flimsy) but it didnt seem to shake or bend when at speed (tested to 220km/hr). Looks like the it did the job, even though it looks a little odd on my 748 in street trim, race bikes look better with it on I reckon.
The weather was fab, mid 30 degrees Celsius & sun sun sun, with a nothing breeze. The ride up Mt Bulla was a hoot. The road seemed like it was swept clean & no breaks/patched/gravel on any corner all the way up. Supa!! Mt Buller road up to the village has a few 1st - gear mega slow corners which turn & rise (or drop, going down) at the same time, they could catch you out if you went in too deep or if there was some small level of dampness on the blacktop. I found the 748 enjoyed the run up with mostly sitting in one gear rolling on & off the throttle & linking up the corners into a funky rhythm.
At the top, past the alpine village, the road goes gravel track & winds up to the summit carpark. Loose stones & patched of very loose gravel made this bit a 1st gear commute. Climbed the last 20mt on foot, took in the view, contemplated life & pissed off back down again.
The run down weighted my hands heaps with all the anchor-work but the dry, smooth state of the road & the fact that no traffic was encountered got a carefree gallop going all the way, almost felt like no work at all.
The hose-down back at the ranch showed up a low set of front brake pads (always though they felt woody) & a pair of happy hairy tyres.
Pic: 748 @ Mt Buller, summit carpark.
9th October 2003
Ride day, Phillip Island Track, run by Circuit Breakers (http://www.circuitbreakers.com.au/ridedates.php). Forecast for this day was grim, rain, icy gale force winds & hail, it was going to be touch & go whether I had taken this day off work for nothing. Rolling out of bed at an unacceptable hour the rising sun lit a clear pale blue sky with just a few puffy clouds, so I suited up & headed off for the island.
I had not done a track day with Circuit Breakers before so to play it safe I loaded up all the tools & tape I needed to cover up & remove any offending glass/lenses, but at scrutineering they just waved my street trim Ducati through no probs.
Cold north westerly wind blowing across the track, in Southern loop & Lukey Heights the 748 got alittle push & shove from cross winds just enough to make sure you were concentrating. Most rider trailered their bikes, I think I was the only other sod who rode in. The was in full swing at the track to set up for the MotoGP the following fortnight.
Sunny until early afternoon which was great & made the day worthwhile. Got some passing showers in the early afternoon that scared off a lot of the riders into an early start for home. After my forth session I was feeling alittle wasted & felt that if I called it a day then it would be a good thing.
Good to catch up with other riders from bike forum (http://www.mcnews.com.au/), interesting fellows, goes to show you that the internet can actually be a very scary place....
Curcuit Breakers had 3 groups, I elected to ride the C group slowest - to play it safe. First 2 sessions I was passing most of the field, but later on a lot of riders picked up their speed. Wide range of bike from CBR250RR to R1 with race fairings etc. B group was "fast" road riders/experienced track day riders, & A group was pretty much slicks & race-glass all round.
Bikes of note: chick with a lowered Honda VTR1000, forks through triple clamp, lowered rear spring & thinner seat & race prepped MV Agusta 750. The VTR was experiencing early touch-down of the sidestand which I thought was odd until I realized the extent of the lowered stance of the bike. The MV was pretty funky looking in black/silver/red & also had a funky sound to boot, yes it did turn a few heads.
I found that I could not get the748s engine up to optimum temp 80 degree Celsius through each session which I thought was strange as it wasnt that cold at the island, although most racer-boyz ran tyre warmers. Did not time my laps although I would not be surprised if I did not set any records, my going was pretty smooth, easy & predicable, flowing from one corner to another checking out my lines & how the bike was doing it etc. My clutch hand was getting pretty sore by the 4th session, pushing pens about of a day does not come close to what Ducati feels is needed to punt about their product with gusto. I noticed that crankcase breather was weeping some oil, but only enough to make dirt stick to that part of the engine I dont consider this requiring attention yet. I had some funny problems in keeping tight lines in corners, especially coming out under throttle. Felt like she wanted to stand up & go straight so I was hanging off more than usual. I might try dropping the triple clamps 5mm.
Well survived track encounter. This summer I might get some gear carrying ability (with the purchase of a rack for the bike) & string a few days worth under my Pirellis for a change.
20th September 2003
Ride. The classic triangle of Whittlesea Yea Strath Creek Whittlesea. Open 140km/hr sweepers, rolling hills, smooth roads & easy going riding. Takes about 3 hours from my place to cover about 250kms, just enough to clear the head & maybe blow out a few cobwebs.
Highlights? Open sweepers btwn Strath Creek & Flowerdale, almost like riding Isle of Man (open country part), road up out of Whittlesea to Kinglake, smooth flowing uphill corners with an overtaking lane to take the pain out of local farm machinery. Ride down off Junction Hill towards Yea, a series of flowing left/rights that bring up the bitumen to your knee at 130km/hr + just nicely. These roads are favs to learners & old nails alike, I like them because theyre so flowing it all seems to happen in automatic. You can ride them slow watch the scenery go by or hook up some decent revs & ride well into the triple digits.
Had a little moment out of Strath Creek to Flowerdale, motoring along at a decent clip into a sweeping left hander hit a pothole cranked over & the bars slapped about, kept the throttle pegged to let the front quake in my hands but the rest of the bike held the line.
14th September 2003.
29,400kms. Service - basic items
. Even though I was planning on doing the whole of the 30k km major service myself, time restraints & not having the best set of tools available has knocked a hole into that idea. This left me with only doing the following: Oil/filter change, new plugs, replace fuel filter, bleed brake fluid, replace coolant & clean air filters.
The spark plugs I went for were NGK DCPR9EVX Platinum Plate. Interesting note was that my previous NGK plugs I replaced required the use of a non-standard Ducati plug spanner to fit them (larger hex size), but these NGK Platinum Plate plugs suited the original spanner (??), gapped @ 0.055mm (range 0.5 & 0.6). Oil used Shell VSX 15w 50, 3.5litres. Oil & fuel filter were Ducati original (at great expense), but looking at them I would not be surprised if cheaper aftermarket (for another vehicle) would suite. Air filters where simply cleaned as you would a dirt bike foam element. Sure lots of guys would just toss the old for new, but I did a pretty good job last time of just remove the foam & washing, then oiling the foam (Foam filter oil) & then re-assembly. Works a charm. Coolant & bleed the brakes where pretty straight forward. Seeing how I did the brakes recently, both the brake fluid & coolant came out pretty clean anyway.
For the 748 fuel filter is actually located inside the petrol tank, fuel pump & all. Theres electric wiring, plugs & everything in there! Withdrawing the unit was fun - not, what with the pressed snug fit of the fuel pump assembly in the tank. But a darn sight easier than re-installing it. The thin rubber o-ring that seals the unit to the tank had kinked up & fuel weeped when the tank was up-righted (the job was done with the tank removed & upsidedown). Took 3x attempts to get the fuel pump assembley seated right. The Ducatis fuel filter is a steel unit so you could not check to see if it needed changing, although will all the dodgy petrol stations I have visited with the 748 I would not be surprised if it needed changing.
All this still leaves the Cam belts to be replaced (change @ every 20,000kms, I last changed them @ the first 10,000kms) & check the valve clearances. The valve clearances Ill do over the next week as I need to get all the bodywork, fuel system & electricals clear of the inspection covers (v labour intensive). I might get the shop to do the cam belts as it needs a special tool to re-tension the belts (which I do not have) , but Ill check the clearances first to see if they need doing. Although labour intensive it is easier than replacing/changing the shims/clearances which I would get the shop to do if required.
Ducati lineup out on Gertrude St Fitzory.
29th August 2003
MOTOshowROOM: the return of desire. Opening night of this exhibition (art) Ducati motorcycle lineup Friday evening. Word went out that an art exhibition revolving around "desire", motorcycles & more importantly (for this little black duck) the Ducati 916. The Ducati club of Vic & other groups where contacted for a lineup outside the exhibition on its opening night. Not sure if the impression sort by the artist for this night was achieved but it seemed to me to feel like a regular club ride meet, with a few extra people thrown in. Oh yes, did I mention that free grog was on the cards for those who rocked up with their first love?
I grabbed a moment to go over the exhibition. I dont know art, but from what I understand to know art is not to understand it in itself. (Meaning: thorough knowledge of art can taint the perception of something new or unexpected. Compulsive categorizing or defining commonalties in expressions). So me being art-dumb should be just fine. Consisted of a womans torso in a one-piece suit (mockup) as wall pictures, an installation of polyurethane foam incorporating the lines of bike/racer etc, a video feed of angles of the suite helmet etc, a helmet painted & of course a 1995 model (methinx) 916 mono-posto (aftermarket cans, braided lines, all else stock ). Im not sure if the artist rides but this exhibition centered more around the physical look of bike/rider (racer) & didnt stop me with any feel of riding as such. It would be interesting to see a physical manifestation of what the feeling is to ride (fast). Arh, if I feel I can do (better/different) than I should, and not bag someone else efforts in bring something like this to life [in art]. Didnt meet the artist so I suppose my understanding of the core message may have fallen short.
After a few hours & most of the riders had polished off their free stubby, some bikes started to head home. The crowd mix seem to leaning more to the arty types as the night wore on, riders left & arty types rocked up.
Some fellas from work rocked up on their bikes (not Ducatis) to check it out. Seem to spend more time checking out the ladies, art brings them out of the woodwork. (hmm maybe I should do an art show thing.).
As for my baby? Well it was a short 30 min ride but it was a long break since last I rode her. Even so, the rear preload seemed really soft to me so when I do the 30k service Ill spin the preload one full turn up (as I dropped it one turn last time) & see if it feels better. I had been concerned about the lack of corner prowess she had & the increase in rear preload would be one step forward there. Although that ride harshness the reason I dropped it 1 spin on the rear preload will be there for me to deal with. Dunno, I really should be riding it more instead of making all these adjustments with only 10mins here & there on her (even though it is winter). Ill check out opportunities for some big miles as the weather goes tropical.
Pirelli Diablo Corsa, rear 180/55.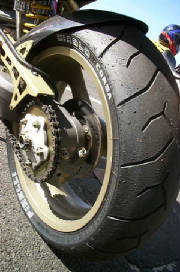 Fitted to my 748, after one 20min session, Phillip Island track.
12th May 2003.
Honda CBR600RR Ride day, Phillip Island track. A promotional day for the new Honda CBR600RR I had 6 sessions in total, 2x on the CBR6 RR & 4x on my 748. Run by HRCA, the drill: bikes in street trim, sessions of 20 minutes with about 15-20 riders , bikes roadworthy etc. All my sessions where in the morning so I would be finished by 1pm. Rode down to the track, the day was cold in the morning (5degrees Celsius) but was clear & sunny warming up nicely. I found that regardless how cool it might is, after a 20 minute session on the track Im sweating through in just a Tshirt under my leathers.
Turning up to the track in the morning with mate Darren (VTR1000) I am still dumbfounded why the organisers @ Phillip Island persist on using the crappy dirt/gravel access road which actually loops through a cow paddock (for no apparent reason) to get to the pit area. The main gates and its sealed access road is never used, go figure. My first session was on the new CBR600RR.
Riding the new 2003 Honda CBR600RR at Phillip Island is most likely the closest I would ever get to being Valentino Rossi. Matching the physical dimensions of the MotoGP bike in just about every way expect maybe with lower foot pegs, the new CBR600RR is short, tiny & packs a wallop. The 600RR feels low & wide, with out much wind protection compared to the 748, its engine is rev happy but I think you would find the same output from the 600F4 as well. Super brakes & cornering/handling that would cut a line inside of anything else out there.
Next was a run on my 748. I was interested to see how the new Pirelli Diabolo Corsas would go which I just fitted. As the first lap in each session is a sighting lap behind the marshal Took this opportunity to scrub in the new tyres, back onto the main straight for the end of the sighting lap, the marshal pulls off & the field gets down to it. I was not sure of the abilities of many of the riders in this session, there was a wide mix of regulars & some first timers who saw the test session ad in the local mag & signed up, so I took a back seat & waited for the crowd to thin out before I started strutting my stuff.
The organisers where mixing the test bikes 600RRs within the same session as the fellers on their own steeds, this was both good & bad. Some riders took it slow on the new 600RR while others tried to ring its neck & see how hard it would go. 3x test 600RR when down, one directly in front of me in my last session. I think the combination of mixing the groups like this, & some riders - who are used to riding larger cc sport bikes - may have felt that as they were only a "mere-600" they could turn up the wick a bit. This brought some undone. The dude who binned it in front of me was just coming out of Southern loop & got into a tank-slapper (how? he was coming out & straightening up ) & braked, throttled (just about everything at the same time) off into the grass & gravel. I was 2 bike lengths behind & must admit he was hiking just before his off, but I suppose speed doesnt mean much if you have to walk back to the pits.
In my second 600RR test session I was more comfortable with how this new bike behaved & set out to revel in the crisp new brakes & compliant suspension, something miss a little on my 29,000kms - 6 year old 748. Even though I would have preferred to have some clear track on the new 600RR, I got tied up with some other dudes on test bikes & it seems that they were up for a bit of a ding-dong. I was getting pretty complicated sitting behind a few fellers doing interesting lines sitting on a unfamiliar bike. Opportunities came up for passing but I was not confident that the 600RR would do like my 748 does, so I held off. At one point I squirted by these two at Honda corner (on the inside). After the session we pulled in & one of the fellas shook my hand like I won some championship (shitte).
The new Pirelli Diabolo Corsas worked very well on my 748. It was cool but sunny & dry, the tyres warmed up real nice & did not show any signs of cold-tearing. When warm I was able to go deep into corners & push hard, throttling early & the front tire did not push out, or the rear squirm. In a series of laps during a session I tried to do Siberia harder & harder, increasing my entry speed & keeping the inside line without a problem. I noticed that the front tire was difficult to go right to the edge, seems that it has a rounder cross-section for the Diabolo Corsas , with the side tread going vertical to the sidewall. The rear was scuffed right up to the edge, rubbing off the 3 pronged pitchfork at the edge of the tread. I did not run lower pressures in my tires on the circuit, just the regulation 290psi. Being a new tire I knew that it would behave far better than my last trip to the island on my heavily worn Michelin Pilot Sports, but I must say that these Diabolos felt comfortable all around the circuit. The 748 is not a big powerhouse motor, but its twin configuration give heaps grunty torque instead of screaming top-end power & in some corners its always a problem of rear end squirm on exit. These Diabolos gripped well & didnt change characteristics on following laps. On the ride to the circuit I felt the tire when I pulled into the petrol station & noticed that even though I was motoring on a straight road on a cold morning the whole tire body felt warm.
Great weather, finished early 1pm. It seems to me that there are more & more stacks happening at these ride days then ever before. It's almost to the point where I consider it a good day just be motoring home in one piece. Still every off I've seen to date was just the sole rider overshooting, or locking up & riding off on their own.
Winter coming, 30,000kms service & a big O'seas holiday for yours truely in July/Aug, to the home of Ducati & surrounds...
Pirelli Diablo Corsa tyres.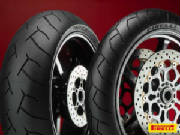 My 748 takes 120/70 front, 180/55 rear. $510Aus.
5th May 2003.
New tires, Pirelli Diablo Corsa, 120/70 front & 180/55 rear, $510pair.
The Diablo Corsas are a sharper tire, both front & back, which made tip-in into corners faster, almost like falling into the corners (something I felt alittle with the original 120/60 front, which is why I went to 120/70). The curve of the tire comes much higher up the tyre sidewall than the Michelin Pilot Sports, wearing out that devils pitchfork (as apart from the Michelin man) stamped on the edge of the tread may be a fun exercise. I havent as yet had a good go with these tires yet but a track day on Monday 12
th
May may shed light on their behavior under spirited riding. Tread pattern looks alike its hardly there & I would feel that the Diablo Corsa are more narrowerly focused than the Michelin Pilot Sport or Dunlop 207, closer to the Dunlop 207GP.
At Ducati Melbourne where I had the Diablos fitted I mentioned to Chris there that I had experienced some front end shudder under very high speed (160km/hr+) with the Michelins I ran which was something that only developed recently. Chris said that the old 3-spoke rims the earlier Ducs Superbikes ran where pretty soft alloy in comparison & could be knocked out easily. After fitting the new tires any rim mis-alignment would come up with the wheel balance. As I left them to fit the tires I got a call later from Chris to say that the balancing showed the front being out with a slight flat spot (not seen with naked eye). He quoted an engineer could straighten it out at about $150approx with a 4 day turnaround, but as this was only quite slight I took the punt of balancing it out as much as possible with the wheel weights & waited for after my next track day (May 12th) to see if it showed up (wobble) & a fix was warranted.
Over the last few rides with my 748 & after sampling a spin on various other Sports bikes, I thought that the spring rates the 748Bi-Posto ran where quite hard. The suspension, regardless of damping settings rode very hard, almost harsh even. Sure I understand that the 748 is a Sports bike, in more a pure sense of the word than a lot of other sports biker out there, but the ride it gave most of the time was uncomfortable almost to distraction. I quizzed both Chris & Tony at Ducati Melbourne & they checked the sag (with & without rider) & confirmed that the stock spring rate & its sag setting was right for my 75kg weight. Hmm, I thought. More investigation required, perhaps. (I understood that Ohlins actually quoted softer fork spring rates as an aftermarket "upgrade" for the 916/748). They offered to increase the sag by running off a little preload, but I knew (or felt) that may effect turn-in into corners due to the lower rear ride height or make the rear "wallow" with less preload.
So off I rode, steed shod with new shoes $500 poorer, itching to try them out (after scrubbing them in alittle, wont make that mistake again see Nov 2001).
25th April 2003.
Ride Day Phillip Island. A mighty cold misty morning me & Darren (Honda VTR1000) motored our way down to the island for another HRCA ride day. Because of the cold I ran
my nylon Dainese parker-jacket (armor removed) over my Dainese Areo 2-piece suite & used my winter gloves for the ride down there which was enough to take the sting out of the icy ride. Didnt have any anti-mist spray for the visor so running it partically open at freeway speeds was a joy no end (mental note to update the shopping list).
On arriving we signed up & fronted scruniteering as per usual (bikes run in street trim, lights mirrors fitted & functioning). I had concerns about my rear Michelin Pilot Sport tyre as the left side was at the wear marks (due to previous Island sessions) and this concern was reflected in the scrutineering marshal who took me to one side & stressed that normally that they would not let me through with that rear tire. I nodded with the heavy look of concern acknowledging the responsibility I was taking in going onto the track with a low rear & shuffled off regardless. Even though there was a fair amount of meat left on there I must admit it bugged me all day & I tried to take it easy on the left side which isnt easy at a track like Phillip Island!!
Most of the day proceeded well but after the second Honda test bike was written off the organisers brought everyone together for a "now lets take it easy fellas" chat. There was a need to call the St Johns & a local ambo in to assist so lunch was called early. I didnt find out exactly what had happened, a heard that on one occation a test bike VTR1000 - was low-sided off Siberia at high speed, flipped & rider tumbled badly.
My pace was improving slightly even with this tire worry bringing in laps in the 2min 5sec, the best being 2:02. The 748 was running well, I could swear that next to other twins it just revved away putting out the ponies to match litre twins & some in-line 4s out of corners & gave it legs downs the straights. The smaller desmo certainly isnt shy about motoring about the dizzy part of the rev range. Phillip Island is a fast, flowing circuit that rewards maintaining higher corner speeds & doesnt require heavy outright accelleration from 0kms.
The rear was losing traction slightly out of some corners in the braking & initial throttle out more than usual, a combination of less meat on the tires & a greater need to keep those corner speeds high. To compensate, I first increased the compression damping on the rear ½ turn with no real results so I went back with the rear compression & let off the rear rebound ½ turn. This didnt help accellation but seemed to make the rear more compliant on heavy braking where the rear wanted to chatter or walk out sideways. Even so, I will definitely go back to my original settings after the fitting of new tires, all this fiddling was to get back something I had lost with running crappy worn tires on a race track.
On the subject of my worn tires, the Michelin Pilot Sports worked very well throughout their life span on the 748. Only in the final layer of rubber left did things "get interesting", and highlighted the importance of decent new tires for a track day (yes we all know that, we say, but sometimes you need to experience how bad it can actually get). At the end of my last session part of the tire on the left side which experiences the heaviest load at Phillip Island began to blister away from the tire carcass. Most likely due to slight overheating on not much rubber (left). Still, I wouldnt knock Michelin Pilot Sports, they are a great tire.
23rd April 2003.
27,750kms. Oil change only. Shell Advance SX4. 3lt. No oil filter change, although I did remove & drain the old oil out of the filter & reinstalled it. Old oil came out pretty clean, not even black, almost. Reinstalling the oil filter I filled it with new oil but got most of it spilling everywhere as I made a comical attempt to spin it on, not successful. Getting closer to the big 30,000kms service.
31st March 2003, WSBK Afterburner ride day Phillip Island. Promotional ride day in conjunction with the WSBK event run the previous weekend. Run by HRCA, bikes run as per street trim, 25min sessions throughout the day, participants had the option of doing 1,2 or 3 sessions (fee applicable).
Pinged for speeding $200, 20km/hr over the speed limit on the way to the circuit in the morning. Coppers in an unmarked black Commodore SS going the other way clocked me @ 130km/hr & hooked a U to pursue. In my helmet with ear plugs & wind noise I couldnt hear their sirens, mirrors on the 748 dont work unless you move your elbows so the coppers where on my tail for about 10kms before I caught their headlights in my mirrors.
Many track day riders with NSW & SA plates (interstate).
Not a large turn-out, many afternoon sessions were not filled.
Max 3x sessions per rider, I could not get any more places in the gaps of the afternoon sessions.
The HM Plant Ducati team were still there in the pits.
01 Blade came down right in front of me at the tail end of Southern loop in my 3rd session. His bike lost the rear & spun 360 before sliding off the circuit & flipped in the grass, dust everywhere. Cornering heavily I stood up to brake & run wide, but stayed on the bitumen. The next lap around the medics were there.
My Michelin Pilot Sport tyres are now completely worn on the left side, no tread left. Top & right side still OK. Considering Pirelli Diablo Corsas for my next ride day Anzac day.
Most riders during the sessions had not been to the circuit so not familiar with the race lines. It made it difficult to pass as bikes swerved across my lines from one side to the other.
One jolly chap on a blue R1 was blistering around the circuit, using the deep inside line in corners like Honda & MG to get in on me. Im starting toi get paranoid about my inside line on those corners now, everyone seems to be using it on me.
Im starting to use higher speeds through corners & find that I dont have to rev the 748 as hard to gain the kms down the straights to pass. Although I dont go knee down on any corner even those I pass there are. Ducati 748/99X is very thin & your knees arent splayed out as far as just about any other bike.
748 outside pit area, Phillip Island track.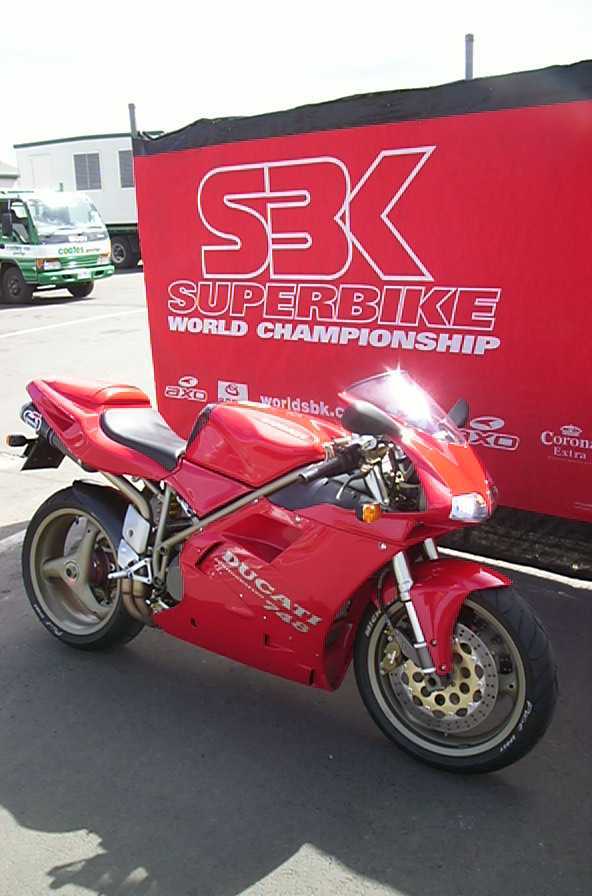 WSBK Afterburner ride day.
30th March 2003. Went to the WSBK @ Phillip Island. Great day, Hodgson starred. Missed the end of the second WSBK race close finish between Hodgson & Xaus. Have to see the replay on Fox.
Ride up was Ok, still getting lots of cowboys not used to riding staggered & all over the road, everyone seems to want to pass someone even though someone is passing them, at one stage four guys were passing each other at the same time. Great to arrive at the track & be able to park your bike right up to the trackside, the big thing at WSBK at Phillip Island is to do laps all day of the spectator area riding your bike without a helmet & smoking a fag with a serious mug.
When I rode back home I added preload to the rear on my 748 , One turn harder on the collar. As I have a ride day planned for the next day I felt that last time I was riding Phillip Island the 748 felt a little soft or "wallowy" in the rear end compared to how the forks have been behaving since I re-did the oil. To offset any firmer action from the added preload in the rear (even though it is only one turn more) I added a ¼ turn harder on the rebound as well, but in all honesty I think I might set the rebound back after I arrive at the track & do one session with just the change in preload first. Best to check out one change at a time.
Doing the preload on the rear shock of the 748 is a bit fiddly. Using preload tools from a previous dirt bike tool kit (shock preload adjusting tools can be universal in most cases) I found it heaps easier if I took the load off the rear wheel by propping up the bike from the engine cases & removing the left muffler to give more "throw" for the tools as the pipe to the left muffler fouls access to the shock.
Honda Riders Club of Aust ride day, Phillip Island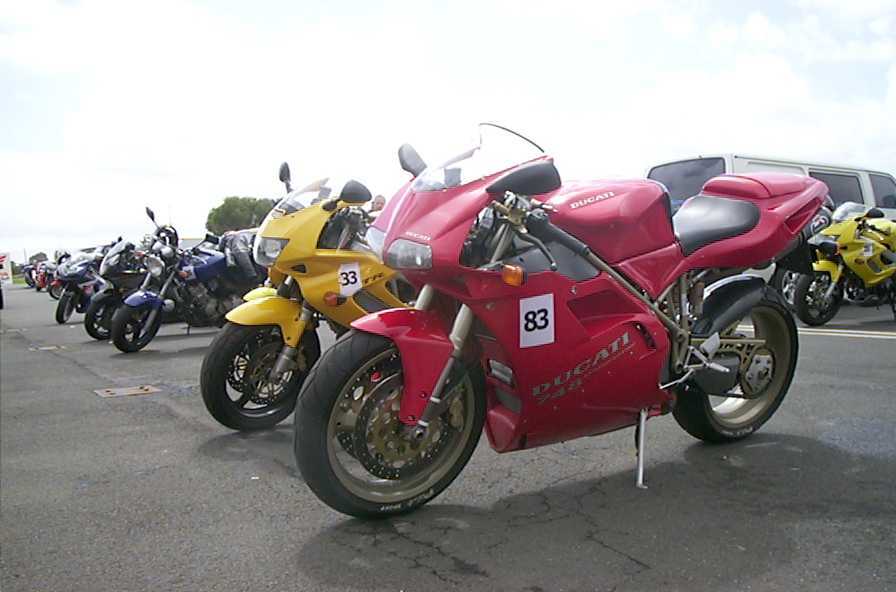 Pit area, my 748 & Darrie's yellow VTR.
15th March 2003.
Honda ride day Phillip Island track. This trip down to Phillip Island had this "de ja vu" feel about it, you know same track, same lot of riders & the same sort of riding sessions. Sure it was fun, but I felt that my weak points on the track where there as ever like not getting that good "flow" or pattern of linking the corners together to pull off that One Hot Lap.
Great thing this time was coming up against riders that were very close to my speed, making passing a whole new ball game, where I was forced off the racing line or committed to lines that I dont normally take to pass another rider. All done with a thought that any maneuver I attempted had a "b" plan if proved unsuccessful, grass-trekking was not an option. Friend Darren on his 1997 Honda VTR1000 proved to be the biggest obstacle in my sessions, that any lack of corner prowess his VTR had compared to my 748 was gained punching out of the corners into the straights with that extra mumbo. A couple of occasions he took a cheeky move to brake deep on the inside approaching a tight corner, like Honda corner & MG, to get in under me & force through while I braked wide to sweep the corner. Sure I let him through, sure.
Again the blur of Shannon Johnson (Honda Aust factory racer) flashed by on his 03 Blade through some of my sessions cutting it pretty fine when it came to overtaking, leaving little over a few cm between bikes. Heated conversations in the pit area between himself & various ride day participants between sessions, left me feeling in good company in casting a poor light on his on-track punting.
Outgunned, I must say my little 748 certainly had a little something special if you drafted a litre twin or Blade down the main straight into Doohan corner worked like a charm every time well almost. Cant say for certain but I would swear that my 748 felt "fitter" in stratospheric part of the rev range compared to the larger twins which would have the bulk of their drive through the upper midrange, and this was what I used to get that little desmo putting out the ponies when that extra inch made the difference.
Lapping the Island was bringing home times over 2min, with 2:03 coming up a few times. Running a stopwatch taped to the top triple-clamp does not give you Olympic accuracy and just about every lap involved traffic which gets you a less than prefect Super-pole blinder, but jamming it I was with a shimmy here & a wiggle there telling me I was rightly ripping.
I ran standard pump fuel unleaded (92 octane) & the 748 was set-up in street trim with lights & mirrors. Suspension settings were; Front, Preload 4th groove, rebound 9 clicks out, compression 10 clicks out. Rear: rebound 1 turn out & compression 1 turn out.
I recently did my fork oil and the transition from heavy braking to cornering gave a firmer, more confident experience than ever before. In some cases this translated to greater velocity into the apex & bringing on the throttle earlier with the rear breaking while cranked over but not stepping out, more eased out. The rear shock felt looser though, with a lot of movement back there as if the rear tyre was rolling over undulations when the front tracked true. I found that I hardly used my rear brake, especially into mega heavy braking where down-changing gave me all the brake I needed back there as I concentrated on the front. I have to say that its truly amazing how heavy you can go on the front anchors from a high speed straight into a corner (165kms to 60kms), as long as the forks are heavily loaded and you are balanced, back & upright, its only the feebleness of your fingers on your right hand that will dictate your place in the Barros School of Late Brakers.
Phillip Island is a fast flowing circuit with way too many left handers. My Michelin Pilot Sports are now testament to that, down to the wear marks on the left but 3000kms + on the top & right side. The 748 is not a tyre muncher, but this circuit is. Grippy asphalt & corners in which you are hard on the gas but rarely upright shags any sporty compound. Happy with the resilience & consistency of the Pilot Sports (4000kms old) my desires are now fixed on new Pirelli Diabalos, but my faith in their longevity in this application is not driving this want.
My shopping list for the 748 was previously long but mostly ornamental, things like braided brake lines, a mono-posto conversion & rego plate relocation. With these sort of sessions I am starting to consider things like getting my fork/shock serviced & re-valved & a oil cooler. Maybe a different cam hmm.
13th March 2003.
26,500kms. Fork oil change. Looking through the Haynes workshop manual for my 748, changing the fork oil did not seem to be a difficult job. Even though the 748 may be an extra few $$ the fork internals were pretty much the same deal as any half decent dirt bike (which I had done before) which includes an inner damping rod connected to the Top-cap. The only things I did not have for this job were a 32mm ring spanner for the fork Top-cap & the "holding tool" to secure the inner damping rod to allow removal of the Top-cap & removing the fork spring & spacers.
Fork oil details: Shell Fork Oil type 7.5wt, 480cc per leg, measured level 135mm from the top of outer tube (fork spring & all spacers removed), fork fully compressed & damping rod pushed down.
Procedure: Remove all engine fairing & chin cowl from horizontal cylinder, elevate front wheel (I did this with a workshop stand for the rear & a car jack under the fwd cylinder), remove front wheel, mudguard, brake calipers. I also removed the air filter pods to ease access to lower triple-clamp (this is done by unclipping the air filter pods from inside the airbox). Removed clip-ons & loosened the top triple clamp, but left the lower triple clamp tight until I loosened the Top-cap. The fork top-cap was on very tight, & the 32mm ring spanner I bought for this on the red-anodized alloy Top-caps burred up the edges a bit (fuck!). These Top-caps can be tightened lightly really, as long as the rubber seal is good & the cap is seated snugly then thats OK. Then I loosened the bottom triple clamps & slid the fork out.
Disassembly of the fork involved the removal of Preloader & preload pin, the Top cap off the damping rod which was tricky without this magical "holding tool", I made do with 2x small sockets inserted through the holes in the spring spacer to secure the damping rod hex nut & a vice to hold them in place. Again these were previously done up really tight & took a few gos to get it loose. As I lifted off the Top-Cap I noticed that the top part of the damping rod (anodized blue & includes the Rebound adjuster & a long alloy rod) came off together with the Top-cap. This did not look like the pictures in the manual. So I undid the red Top-cap from the blue damping rod upper & reinstalled the blue damping rod upper to the lower damping rod. This then allowed me to remove washers, the top fork spring spacer, the spring itself & the lower spring spacer. The top spring-spacer has a piston attached to its base (white plastic with a metal band) which should come out with it.
I drained the old oil by inverting the fork (it helps to pump the fork too) & made sure I had a measure of how much came out as residue old oil remaining would mean that maybe the exact 480cc of new oil may over fill it (I have heard that fork oil volume is very important). I mixed the 7.5wt oil (I could not locate 7.5wt so bought equal amounts of 5wt & 10wt to mix 50/50 earlier). A measured 460cc came out of the fork so thats how much I initially put in, compressed the fork & measured the level from the top of outer fork 137mm so added a small amount. 135mm measured. Did the same for the other fork.
Reassembled and ran my earlier fork settings: Fork position 4th groove showing on outside of top triple clamp; Preload 4th groove; Rebound 9 clicks out; Compression 10 clicks out.
Things I noticed: You get fork oil everywhere. Someone at the factory (or workshop) does up everything too tight even the soft alloy nuts; The Top cap & upper damping rod are hard to separate without them coming off the damping rod as one unit initially. Careful when reinstalling the upper & lower damping rod as the lock nut allows a range of positions along the rod to fasten, this is important in that the rebound adjusts for each fork may be fasten at different levels ( along the rod), this may not effect operation but it means that the rebound adjust on top will protrude differently at the top of the fork when assembled.
23rd February 2003.
25,550kms. Oil/filter change, replace rear brake pads(Brembo $54.00AUS). Dropping new oil every 2,500kms (oil/filter every 5,000kms) has now meant the old stuff is coming out cleaner each time. The 748 Bi-Posto Strada holds 3.5litres of engine oil without the oil cooler that 748SPS/R & 916/998 runs (which hold 4litres) . I am considering on fitting an oil cooler in future to expand on the oil capacity and perhaps reduce the breakdown rate of the oil. As mentioned earlier even at 2,500km intervals the old oil is still coming out pretty used. As before I run Shell Advance 15/50wt (3.5litres).
The rear brake pads were down to 1.5mm pad. Replacing them was a piece of cake but before you go tossing the old pads dont forget to remove the small pin on the pads "tab" as the new ones dont have these fitted. Oh yeah its wise to remove a small amount of brake fluid from the reservoir as pushing the brake piston into the caliper returns quite a bit of fluid.
Me outa Siberia corner , Phillip Island.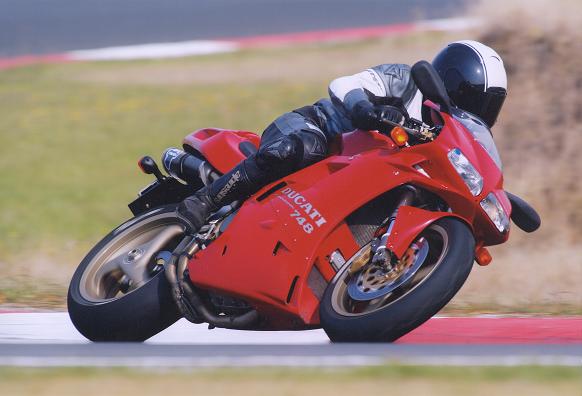 20th February 2003.
25,450kms. Honda ride day - Phillip Island. A mate Darren (Yellow VTR1000 1997, 60,000kms) took me along to a HRCA ride day at Phillip island. Ive been to these before when I had my Honda CBR600 1999.
Up at an ungodly 5am to meet up with Darren & then ride down to Phillip Island. I didnt take all that much with me this time as the guys at HRCA require the bikes to be run as per street trim, no removal of mirrors & no taping over glass etc. I run standard Unleaded petrol in my 748 regardless of whether Im doing a track day or not, I havent found any real discernable gains in "ridability" with higher octane fuels like Shell Opti-max. Darren chose to run Optimax in his VTR1000. The ride down was OK, it was to be a mild 26degree day & the morning dawned pretty clear.
Even though it was a Thursday, being the first HRCA ride day for 2003 drew quite a crowd to the island, the pit area was full of bikes, cars & trailers. Ive noticed a trend of more guys trailering their bikes down, those that rode down like myself perhaps made up 10%. At a HRCA day, Hondas - especially Blades, VTRs & CBR600s - made up the lion share with a few ring-ins like GSXR1000s & R1s. Apart from a yellow 900SS there was only one other 996 Ducati.
The sessions broke down to 3 groups of about 20 bikes each, most guys were pretty casual except one racer, Shannon Johnson fronted on a 2003 Blade shod with Michelin Pilots (I think) which he ran tyre warmers (bit rich I thought). In some of my sessions he chose to cut it pretty fine on some passing maneuvers which might be OK in Formula Extreme but didnt put us regular joes playing boy-racer for the day to any ease.
Of course we (Me, & Darren) were in the same session which drew the line in the sand of how we are to be seeded on the track. A little race began in the first session as Darren took off through the pack on the first - sighting lap. I let him go not working through the pack as well first off feeling that even though my 748 may not have the outright power, it could out brake & corner a VTR1000 regardless of rider talent. The end of the 2nd sighting lap (1st session had 2 sighting laps) I took it up a notch, most guys where pretty good with heaps of room, but I noticed I wasnt making much ground on the yellow VTR one corner ahead. This continued until the Checkered which came out as a surprise to me.
This sort of thing continued for the rest of the sessions. One thing I noticed was that everyone was either scraping pegs or going knee-down without a problem where I would have daylight in the same corners with the same pace or even faster. The only pegs I scraped where on the test VFR800 I rode that day & my knee did not get decked at all on my 748. Consciencly trying to run my knee into the hotmix slowed me down & just felt so odd I gave it away after the second attempt. Rather do the speed and keep the pace cooking - if I rub in the process than so be it. Darrie on his VTR was running his knee all though corners & even scraped a peg through the Hayshed which is a 150km+ gentle right hander.
I had an opportunity to turn a few laps on some of Hondas test fleet. The first was a lucky chance at a SP2 when a rider didnt front for his turn, I was there & eager, helmet in hand. The test fleet rode off & had half a lap on my be the time I took off. The SP2 is the closest Honda to my 748, in riding position & engine characteristics which made me feel right at home. The added bonus of more outright power & lighter controls (can you say clutch?) made getting to a heady speed easy. By the second lap I was past the others test riding bikes including one other SP2 ridden by someone used to a more "layed back" VTR. After that ride on the SP2 it made me realize that the Honda sure had more power & was easier to ride faster than my 748, but it felt kinda too easy, like a babys toy. Dunno, after that stint on the SP2 I feel that lapping well on my 748 is like real mans-work (feeble people need not apply). I call it character & the 748 oozes it from every leaky oil seal.
The second test ride was on a VFR800, but that was an odd experience and I dont feel like covering it again (see Other Bikes Ive ridden page of the website).
Nothing much else happened. Fuel range with heavy track work was 170kms until reserve. My Michelin Pilot Sports felt great & took the temperature well, no sliding. Had some kick arse photos taken but theyre hardcopies so I have to find a scanner that does low file size to post them her. Top speed down the straight was an indicated 225kms.
New rear hugger fitted.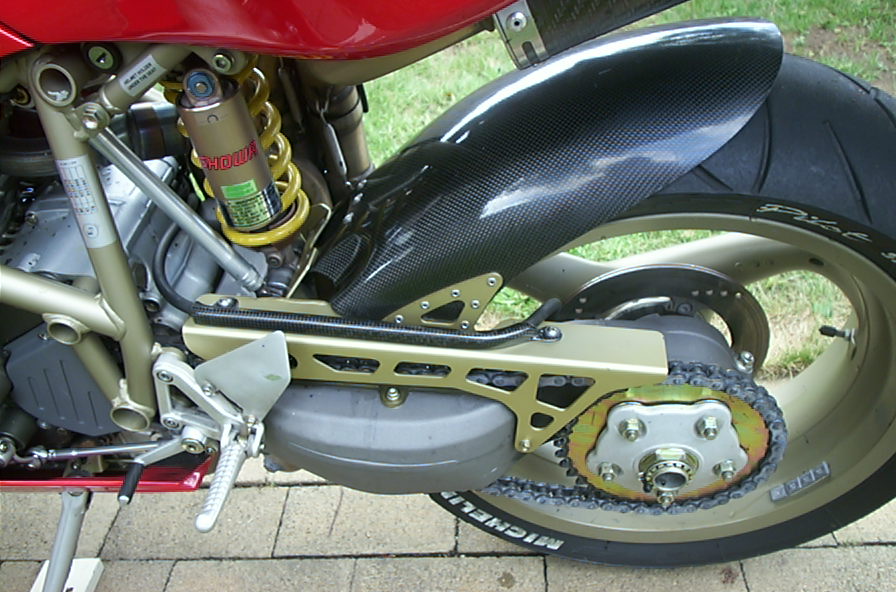 Hugger incorporates an alloy chain guard anondised gold to suite frame/wheels.
1st February 2003.
Carbon-fiber Rear Hugger Bought & fitted. $365.00AUS. Theres quite a few huggers on the market for 748/9XX, but I was sold on this one as it also had an alloy chain (anondized gold to suite frame/wheels) guard incorporated into it. I bought it from a local importer/distributer Road Rocket (
http://www.roadrocket.com.au/
) based in Melbourne Australia.
Even though I would expect the majority of these would be fitted by a dealer on purchase there were some installation probs I had with it. It was not really that bad, but then it wasnt just a straight forward slap-on job either.
(NB: The 'Spacer" I mention below is a replacement Pivot bolt "Nut" for the
lower rear shock mount, which comes with the Hugger). The 'Spacer' provided to effect a mount for the hugger on the right side (when viewed from rear) required the standard 'spacer' to be removed, which involved the lower shock-mount bolt to be undone. To undo the lower shock-mount bolt the rear wheel/swingarm had to be suspended but a normal Ducati rear workshop stand could not be used. The bike had to be suspended by propping up from the engine or swingarm pivot to remove the load from the rear shock. I did this by removing the fairing lowers, getting an iron pipe 2.5cm thick by 2 meters long & ran it under the engine between the pipes & engine casing. I propped it up with 2x car stands at a height to take the load off the rear swingarm. This helped to un-load the lower shock mount bolt to remove much easier. The drive chain makes sure it gets in your way of this 6mm Allen-key bolt when undoing it. The rear brake caliper needed to be unbolted to provide enough slack in the rear brake line to maneuver the hugger/chain guard into place.
The small Allen head bolt provided to mount the hugger to the replacement 'spacer' cannot be fastened without the removal of the exhaust headers to allow space for the Allen-key to be used. This can be time consuming as the mufflers need to be removed first to allow the headers to be removed. I would suggest the
use of a 8mm Hex-head bolt in place of the Allen-head bolt, as the use of a
8mm ring/opened-end spanner would not require the headers to be moved/removed.
To be frank, after I fitted it I thought that it covered up too much of the rear wheel, well more than I wanted but it was better than none at all. Not sure if this hugger would pose any interference when adjusting the chain as the eccentric cam adjustment may bring the tyre closer (too close) to the hugger. It seems to have a very close tolerance to the tyre itself, well we would have to see.
Out between Lorne & Apollo Bay.
I personally love this particular stretch even though its gets pretty crowded during the summer mths
28th January 2003.
24,500kms. Ride. Its great having some time off work at this time of year. I originally had plans to take a few days for an organised ride up through the high country around Mt Hotham, but the recent (and on-going) bushfires this summer have made that whole region a no go. Even though today was not that hot a day I thought it might be best to shoot down along the Great Ocean Rd as an alternative. January is not the time of year to head down Lorne/Apollo Bay way because of the crowds & insane tourist traffic, with all the hazzards they may bring for those of us who would choose a more rapid for method to commute these roads. But I took a drive down here in my car to the 12 Apostles with my better half 2 days ago & it looked magnificent.
I rode Melbourne, Geelong, Winchelsea, Lorne, Apollo Bay & back. It was another great day, mild, & the road was quite clear. I had a few moments passing the caravans as they cut corners & swayed a bit, but apart from that it was pretty uneventful. Came across this guy on a 1998 916 Senna, we pulled in at the same servo, his Senna had 21,000kms & looked in better condition than mine (ie: imaculate). Thinking about it, I have not seen any Mono-Postos in Australia except for SPs, Rs & Sennas. At Apollo Bay I hit the beach & took in some rays (glad to see that going topless is all the rage with the young ladies this year).
27th January 2003.
Ride. Great day 24 degrees Cel, clear, no wind, quick fang up through St Andrews/Kinglake/Toolangi/Healsville/Warburton/Reefton/Marysville, and back. Lots of bikes out passed Warburton/Marysville, got tied up with these 2 fellas, one on a Honda Fireblade 1997 & the other riding a Ducati 916SP 1995 (?), riding through Reefton Spur after the Upper Yarra dam turnoff. Nothing shakes me up than having a couple of guys shadow me through some twisties, just not used to it. I could not shake them and I wasnt sure if they had this place wired & were just stuffing around back there. The road here is pretty tight 2nd/3rd gear stuff, left right left, with no shoulder or armco, just hillside or sunshine, not much margin for error. I rode the smooth line sticking mostly in 3rd & running the midrange, this let me go deeper/faster through the apex which usually holds off guys who want to bang past out of corners using their outright power (748 twin v 916 twin/900 4cyl). Over the years riding on twisty roads like these I have found that blokes on bigger bikes dont seem worry too much about corner speed when they feel theyve got ponies to pull one over the supersport brigade when things open up. The only thing is here, at Reefton past Upper Yarra, it doesnt really open up until Woods Point Rd, but thats where everyone pulls over for a breather anyway.
This went one for a while, left, right, left, their headlights flashing in my mirrors, we passed a bloke on a Honda CBR250RR, as I passed him it sounded like he had the throttle tapped full-open in neutural. Every now and again a car would pass the other way but everyone stayed on our proper side of the white line so it was only a slight correction if I was banking hard right (we ride on the left in Aust). Then I misjudged a corner (from looking in my mirrors too much) & baulked on a sharp 2nd gear hard right, the Blade got pasted & tackked on behind him. This was much easier, all my braking markers & corners speeds where now all laid down ahead of me, just had to find a way around, but too late, Woods Point Rd came up & we all coasted to a stop.
We shot the breeze for a while, & then they road off for a break at Marysville. It was getting late so I thought I should just carry on until Marysville, then down to Healsville & back via Kinglake/St Andrews.
Casual ride with mates, Mt Macedon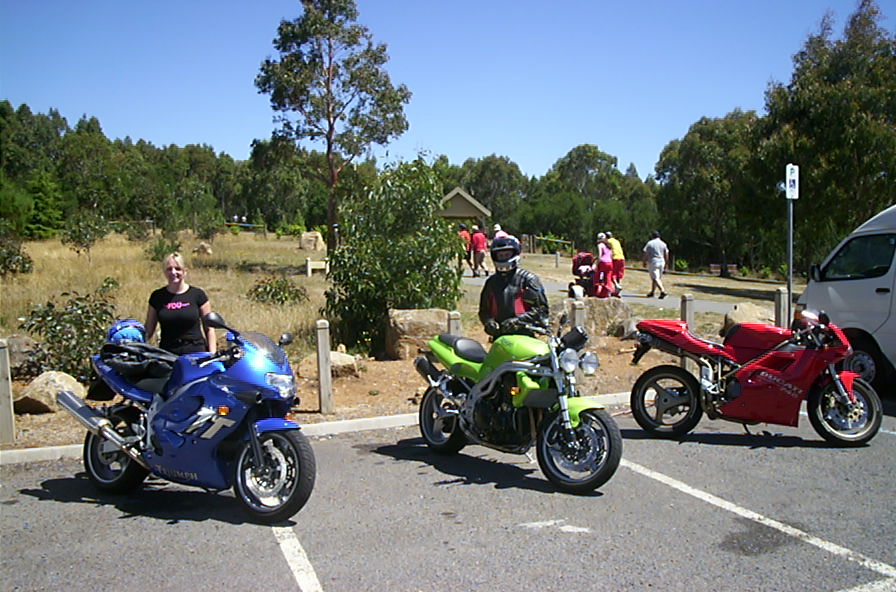 19th January 2003
.
Ride up through Blackwood/Dalesford Victoria with a couple of friends. Casual ride.
09th January 2003
23,552kms. Balance, tune & C/O check. $109.10. Its been recommended that the fuel injection/engine management system be checked every 10,000kms. Even though I had done most of the work at the 20,000kms service (change fluids, check valve clearances, etc) something like the C/O check can only really be done with equipment costing in the realms of $500+ which I was not intrested in shelling out for. It needed doing as my fuel economy had been suffering previously I was averaging 250kms before the reserve light came on & now it was down to 200kms per run to reserve and also it had this annoying habit of stalling while sitting at the lights every now and again (even though restart was a simlpe press of the starter * up she fired). Aside from that it ran like a dream with power everywhere, no apprant flatspots.
I took her to Melbourne Ducati Richmond to do the Throttle synchronisation & idle speed adjustment, as well as the exhaust gas CO level check. Runs like a dream, well it did before I took it there but since then I've noticed an improvment in average fuel economy up to around 250-260 per tank. I understood they leaned it off a little which kind of conserned me as its always alittle safer to run a bit rich than lean. Whatever, its fab & its summer.
Replacing the engine oil.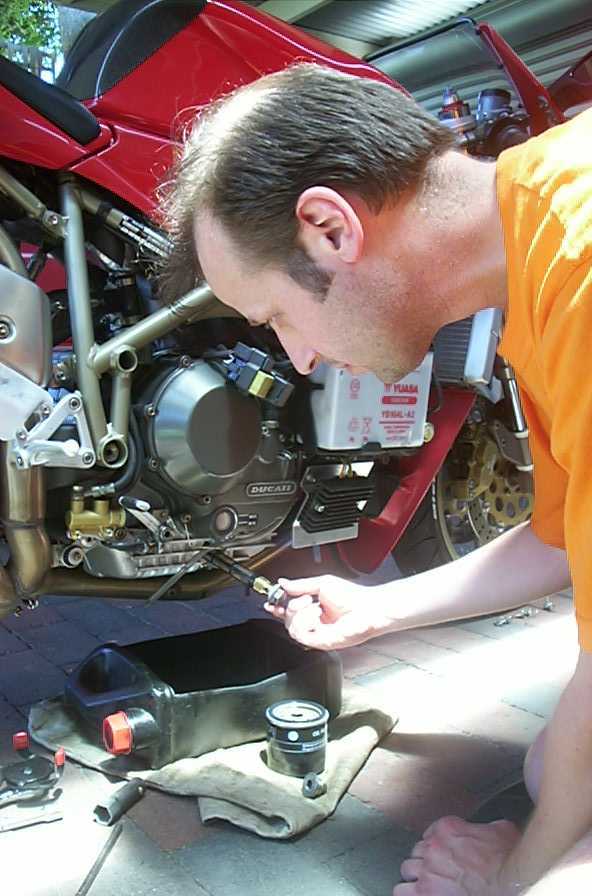 Shown in the pic is the removal of the mesh (primary) oil filter (not replacable).
21st December 2002.
23,061kms. Engine oil change only. Shell Advanced SX4 15w/50 (mineral oil, synthetically fortified) 3.5lt. I dropped a fresh lot of oil in after doing the ride day, which is just as well as the oil came out pretty black (used looking). I didnt replace the oil filter, but I did remove the oil filter to drain as much of the old oil out of it before I re-fitted it. I did not think I would have to replace the engine oil at this frequency every 2500kms approx but it seemed a good insurance measure. I tried using the old washers for the drain plug etc & ran hi-temp engine gasket sealant on the mating surfaces (not the threads) just in case.
Im looking at doing something about cleaning up the rear end. I noticed at the ride day lots of fellas had their 748/9XX stripped of road gear & the tail section (cans etc) looked real sweet. Relocating the licence plate & indicators may not be too easy. Looking about the Internet there are a few options out there, but most of them involve fitting a rear hugger (which I dont have as yet).
16th December 2002.
Ducati Club of Victoria ride day at Phillip Island track. Beautiful weather , mid 20s (degrees Celsius), sunny & no wind. Phillip Island is a leisurely 2 hours ride south/east from Melbourne (home). Rode down as I usually do & set my bike up at the track (removed mirrors, taped lights). This time I also took out the 15amp headlight fuse (I tried to also take out the 7.5 brake light/indicator fuse but that disabled my tacho/dash too).
Ive done DOCV ride days before at Winton (see more below) & the drill in procedure is the same on this day. The DOCV guys are pretty cool, no crash-test dummies or banzi-pilots, all nice & casual which suits me fine. Only a few non-serious falls, mostly involving overshot corners with bikes copping gravel rash & a light dusting. No full-on coming together of bikes or major injuries.
Fantastic day. I have been to Phillip Island track a few times before (this trip makes 6). This time I tried to concentrate on running the engine below a max of 10,500rpm & carrying high gears through corners using higher entry speeds than usual. Sometimes I find myself so focused on the rider ahead of me, trying to catch him, that I run into corners without too much thought on clean lines & where my engine is at. A lot of this is just some bad habits from previously riding in-line 4s (Honda CBR6 1999) & the idea that on a race track revs mean power, but with a twin - even a revvy twin like the 748 - a real advantage in making easy fast laps is to capitalize on the mid range power on offer. In some cases I was running a trailing throttle into & through the apex of a corner which meant that emerging from the apex the throttle was already dialed-on winding it out as the bike lifted up out from the corner. Examples like going through Honda (Qantas) corner through to Siberia was all done in the one gear (3rd I think), only changing up on exit of Siberia.
Sure they are plenty out there who would scoff at this approach & express the idea of full revs/power at every opportunity, but weekly engine tear downs are not my thing & I dont want to get rid of a haggard 748 when its done only 30,000kms.
Even though I didnt exactly time myself (running a stopwatch on my bike) I had been told by some spectating that I was bringing average lap times below 2 minutes which impressed me (if no one else).
I mentioned earlier that I wanted to try & keep the engine below 10,500rpm even though it could safely run passed 11,400rpm making power, but it seemed to be pushing the engine into that raspy-wail that felt uncomfortable (to me) & seemed unnecessary. Besides its comforting to know that theres an extra few rpm on hand to get me out of surprises. Last time I was down Phillip Island way on a ride day the 748 went through a bit of engine oil, going from full (at the sight-glass) to low. Most of this was blown up through the breather hose into the airbox, but this time around all was OK, not a drop of oil lost. Perhaps the approach in containing my revs helped this along.
Surprise of the day was the appearance of the Ducati MotoGP team, with Caparossi in tow, setting up for testing the following day. A partially open door to a pit garage was swamped by all to cop a perv at the 2003 Ducati MotoGP bike being prepped. Unlike the press pics of the MotoGP bike which had the 'toaster style' muffler , the bike I saw ran straight out pipes from under the tail. It was a four into two set up with similar pipe routing of the 998. They had 2x bikes, one in Ducati InfoStrada livery and one in plain white. The whole team was dressed in Ducati Info Strada gear so I reckon that the Marboro deal would come in for January 2003 for the team.
So what's it sound like? If you know someone with a VFR750/800, ask them to take off the pipes & start it up. It was fucking loud, but very cool. Deeper than a F1 car and didn't rev as hard, allot like the Honda MotoGP. Not sure if this bike was the running the 'big banger' firing sequence (which is suppose to sound like a 998 WSBK) or the other firing option. They didn't take it out on the track, they just arrived & unpacked etc, today Tuesday 17th December 02 - was going to be the test session. They opened up the garage & wheeled it out to start it, the whole race team had ear plugs, while those of us looking on used our fingers, or decided to savour the deafening ringing after the MotoGP shut down.
I used 2x full tanks doing track work on my 748, clocking approx 170kms each time. The first session just after lunch was when my fuel reserve light flickered on, I exited the track at Honda (Qantas) corner & then rode out of the circuit down the road & into Cowes to fill up, sans mirrors & lights all taped up. The local constabulary watched as I motored past, but I suppose theyre used to this sort of thing having a race track 3 kms down the road.
My 748 @ Honda (Qantas corner), Phillip Island.
Avrg lap 1min58sec. Honda corner is 1 of 2 slow right handers.
...More on the Phillip Island Race Track.
DOCV ride day Phillip Island Track 16th Dec 02.
My 748 foreground.
12th December 2002.
22000kms. New rear tyre, Michelin Pilot Sport 180/55. ($275.00 AUS) fitted/balanced.
748 Clutch drum & centre, plates removed.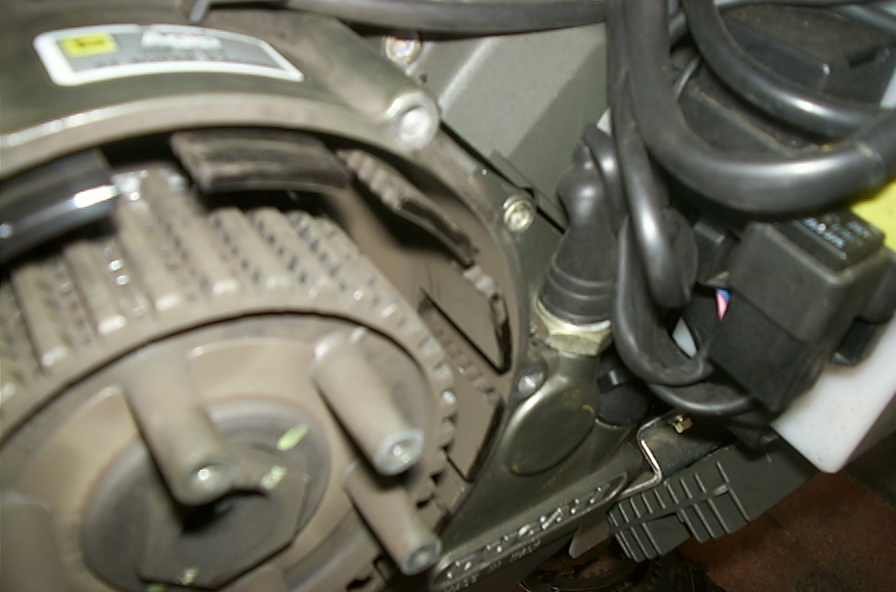 Out-of-focus but shows the notches on the clutch drum & centre caused by the clutch plates.
1st December 2002.
21,850kms. Replaced clutch friction plates - $276.00(AUS$). It seemed a norm for Ducati 748/916 to be due for a new clutch plate set by the time they hit 20,000kms. The clutch on my 748 didnt slip at all but it began to only engage in the final few cm of the lever throw which concerned me. I checked the thickness of the friction plates to make sure they were in spec which was 2.8mm service limit (3.0mm new) for the 748, mine came in at about 2.9mm average. As I had the clutch apart I noticed how badly impacted the "prongs" on the Friction plates where they make contact with the clutch drum had been. These had also developed notches in the clutch drum as well which brought the clearance between the friction plates & clutch drum to over 1.2mm, the service limit was 0.6mm. A lot of the Ducati dry-clutch noise is attributed to friction plates impacting the clutch drum when operating, & the extra clearance due to wear increased this noise. The clutch plain-plates seems in very good condition & came well within the service limits. These plain plates vary in thickness depending on were they are located in the clutch plate "stack", so its wise to keep an eye on the order they come out in when reassembling. The springs on the pressure plate came at 36.9mm free length (replace at less than 36.5mm).
Replacement clutch plates for the 748 come as a set of friction plates & plain plates. I decided to just replace the friction plates as the plain-plates on the replacement pack had a fine film of rust on them & my original plain plates were OK. When replacing the pressure plate the first time I didnt line up the stamped triangle on its face with the grooved spring post which caused abit of stuffing around until it dawned on me what had happened.
Both the clutch drum & clutch centre had notches where friction & plain plates contacted with them, which looked kinda bad but none of these notches where more than 0.03mm deep & it did not seem to effect clutch operation so I ignored it until next clutch tear-down time.
I blew as much of the old clutch dust out I could, put the covers all back on & went for a ride. Beauty.
Its actually been a while since Ive been out on a ride longer than an hour so it was great to head out south/west from Melbourne to Geelong & down the Great Ocean Rd. The weather was near perfect & there wasnt all that much tourist traffic down there which meant that it was pretty much knee-down from just out of Eastern View right up to the 12 Apostles (155kms approx). Lots of bikes out & the major towns like Lorne & Apollo Bay had the long queue of bikes out front of the pubs there. Saw a silver ZX7R resting up against the armco just into Skenes Creek (I think) but no rider. Love the booming sound of the 748 through the twisty deep road cuttings. Some of the Great Ocean Rd was recently resurfaced so some horror stretches are now almost the best. My fav bit is still through Gellibrand I think the road winds its way around the edge of a valley with lots of cows grazing, good surface, freashly laid. Thats all I remember/notice, too busy with other things to look at the scenary/signs. Not sure how many kms I covered this day, 3x tankfuls hitting reserve everytime which makes it about 700kms?? My rear Michelin Pilot Sport is getting pretty low & proberly would have to look at a new one for a DOCV ride day @ Phillip Island on the 16th December.
13th October 2002.
20536kms. Woo hoo, a change on front tyre certainly has had a great effect on cornering. Going from a 120/60 Pirelli EVO to a Michelin 120/70 Pilot Sport front has made the transition in corners so much smoother & turning more predictable. Must admit the Pirelli Dragon EVO I had was rooted badly & had virtually no rubber on the sides but still a bit of tread in the centre making it pretty pointy & "unstable" when cornering heavily. Went up for a ride through Warburton Marysville Healsville Kinglake (Victoria Australia) & found I could corner confidently, almost inch perfect with the new Michelin Pilot Sport 120/70.
Earlier at the tail end of last year I had a dumb incident with a new rear tyre (also a Michelin Pilot Sport 180/55) that put the 748 in the workshop for 3 weeks, so I made sure I used some brake cleaner on the tread to scrub off that waxy film off the new front, this saves on riding mega-careful for the first dozen kms to scrub it in.
I was considering painting up the lettering on both tyres to dress up the bike a bit, not sure what to use, have to look into it ... on whether I could actually be bothered really
.
10th October 2002.
20050kms. The 20k service. This was a major service & would normally cost at least $800 by the dealer. I chose to do all that I could for this service. This involved changing all the fluids Oil, Coolant, etc. Also checking the valve clearances & replacement of all the filters (Oil, air & fuel filters), as well as the general lube etc.
What I didnt do was Adjust valve clearances, fuel system synchronization & brake fluid change (I am looking at braided lines shortly & will be doing it then). I will get the dealer to do the fuel system as it requires equipment I just didnt have & the valve clearances were spot on.
Things I noticed: Fuel filter is inside the fuel tank with the fuel pump etc, it was a bitch to get to; Getting to the inspection covers for the valves clearances involves a lot of dismantling, I had ¾ of the 748 covering the garage floor at one stage; the air filter "pods" can easily be clipped off the air box, but to get at the air filter elements themselves requires undoing 16x self-tapping screws (bitch!); you have to drop the front fairing to get the forks off (& finding 7.5 weight fork oil is an exercise in frustration, ended up mixing 5wt & 10wt 50/50).
I had also replaced the front tyre, as the old Pirelli Dragon EVO 120/60 was way down since the last ride day (Winton). The tyre developed a pointed-profile due to heavy wearing on the sides which gave the front a funny vague feeling when cornering. I have gone for a Michelin Pilot Sport 120/70, I thought that sticking with a lower 60 series front tyre was a bit kooky when the rest of the world is motoring around on 120/70 fronts.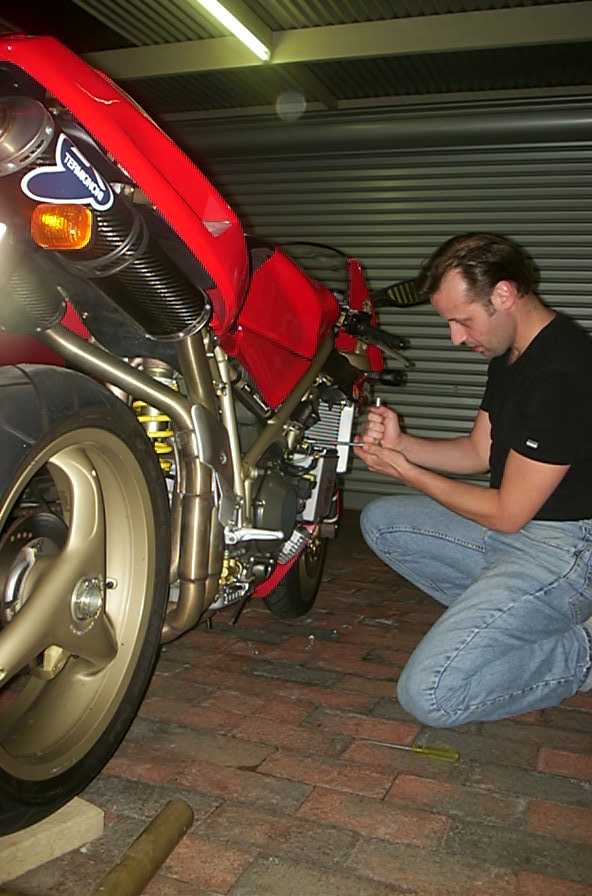 Removal of the battery to gain acces to the Regulator wires.
27th September 2002.
Voltage Regulator problem. Replacement to Japanese Voltage Regulator including heat shield & labour - $570.95.
As mentioned earlier, the 748 was blowing the 3amp fuse off the voltage regulator when the revs increased above 1200rpm. The diagnosis from the dealer was that the voltage regulator failed & was putting out either no current at all or way too much (therefore blowing the fuse). My 748 pre-dates the upgrade in regulators used on the current 748/998 which is a japanese unit. The recommended replacement was to go to the new japanese unit but it required rewiring part of the loom to suit the new unit. Even though the new regulator is sold as a kit (including a heatshield & wiring) I left it to the dealer it sort it out (electricals, I just dont go there).
Next is the 20k service. I bought a workshop manual (Haynes) that covers the 748 up to 2001. It is well layed out & has a section on whats required to perform the service. This includes checking the clearances on the Desmotronic valve-train, which after I read through the procedure, doesnt seem so hard. Adjusting them might be another matter.
Italian Bike Expo, Melbourne Museum 22nd Sept 2002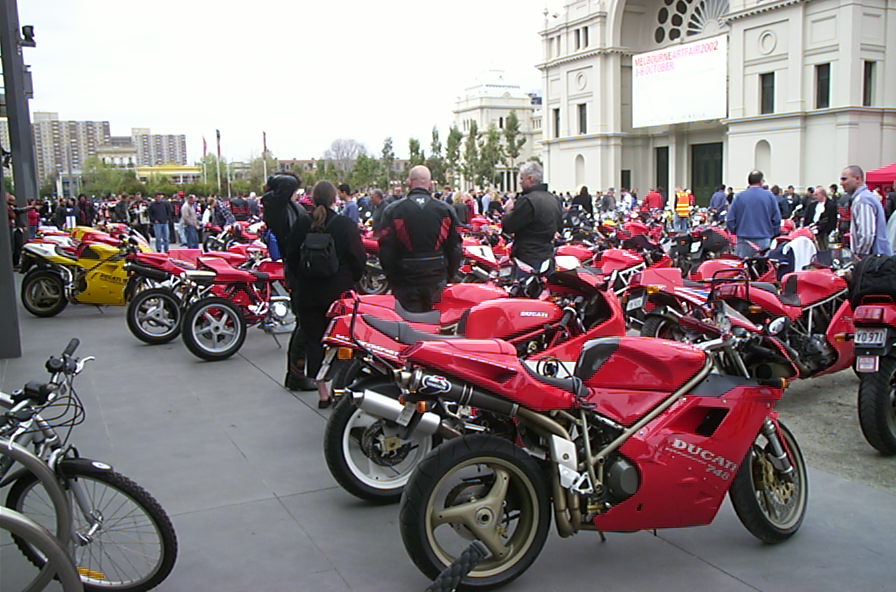 My 748 in foreground. All Italian bikes represented, prizes given to standout bikes.
22th September 2002.
20,003kms. Italian bike festival Melbourne Museum Plaza. As part of the "The Italians" (art exhibition) the people @ Melbourne Museum thought it would be great to assemble other things Italian regarded as art, their motorcycles. MV Agustas, Moto Moroni, Guzzis, Lavs, Lambettas, Ducatis a-plenty & lots of brands that dont usually crop up that often. The booming -gurgling sound of a 1974 (?) MV Agusta 750S with straight-out megaphone pipes stirred the crowd at one stage which is not something you hear everyday. Lots of Dukes, belts & bevels, nice to see what a lot of blokes have hiding in their garages. Some bikes that turned up had gotten their first dose of fresh air in almost a year, while others are their daily ride.
As for me it was a pleasant novelty to lose my 748 in what was an ocean of Ducati red ( with the smattering of yellow, silver & black, etc). Good to BS with blokes who loved them (loved to hate them) & blokes who rode them. With such a nice day it meant that the urge to go out for a scratch up into the hills was eating at me. I hung around for the awards for the standouts & then it was a quick squirt home to zip into the pants of my two-piece (I had just my top half at the bike expo, yes I know that the jacket of a 2-piece is a little short in the body) & head out into the hills. As the Royal Melbourne show was on this weekend the traffic on the back to my place was chronic, I lane-split as much as I could, but it was all 1st gear pain in the arse. And with all this slow work going on with my 748, wouldnt you know it, as I turned into my street she just stopped dead. I pull the clutch & go for the starter, but nothing. The dash & idiot lights where lit, but no go from the starter. I coast to a stop, chuck it in neutral ,try again & nothing, dead. Huh?
Pushed her into my garage & off came the right cowling to check the fuses. The master one was good (30amp), so I worked my down the bank of fuses right to that last one Voltage regulator fuse. You guessed it. Burnt out. You know what that means? I replaced the 3amp fuse & hit the starter (no throttle), she fired up good but as soon as I go for the throttle the 3amp fuse flashes like a Christmas tree & she dies. I tried the same later on a cold engine with my last 3amp fuse with the same result. I plan a phone call to the Ducati dealer Monday morning.
My 748 @ DOCV Winton Ride Day, 07/09/02.
Mirrors removed & zip-ties used to secure upper fairing to brace in absence of mirror mounts.
7th September 2002
19,885kms. Ducati Owners Club of Victoria, ride day @ Winton Racetrack Victoria Aust.
Cruising the Web I stumbled across the Website of Ducati Owners Club of Victoria( http://www.docv.org/ ). I noticed they had a ride day coming up on the 7th Sept @ the Winton racetrack which I hadnt been to, so I joined up & arranged what was required to be there come Saturday 07/09/02. Winton is about 3 hours north of Melbourne & I contemplated going up Friday evening & staying in Benella (10 minutes from the track) but I wasnt able to get my arse into gear. So come Saturday morning @ 3am it was up & Adam to be away from home by 4am.
Forcast For the Saturday was 15 degrees & for occational showers & I experienced them on occations as I motored up the Hume Hway to Winton. As Im a "fair-weather-rider" riding along in the dark in drizzling rain in just my Dainese Areo 2-piece suite (less rain-suite didnt think I would need it) @ 5am is not in my top five things to do first thing on a Saturday morning, never-the-less I arrived alittle early in Benella so I pulled in for breakfast & fill up. Ran into two blokes - Vern & Raymond (I think) in the Café who were headed up to Winton as well, but they chose to trailer up Rays 1979 Darmah 900 & stay overnight in Benella. On arriving at the track it seemed that I was the only one who elected to ride up from Melbourne, sure I was kinda tired & it was only 8:30am & I had not done any track time yet, but this is what riding is about isnt it? You RIDE your bike, not trailer it around for hours on end only to spend less than 2 hours with your bum on the seat. Well that what I keep telling myself anyway, itll makes sence to me one day.
The Winton track was a relitively small track, no hills, clockwise with mainly right hand corners. The V8 Supercar boys had been practicing the day before & there was clumps of rubber all over the circuit. The drizzling rain had followed me there & it was wet for some of the day. The way the DOCV guys do their trackdays is that you had to tape up all your glass/plastic & run a nominated number on your bike. Also each rider had to do one session as a flag marshal. As it was wet early my marshaling was done in the first session. I brought along some white electrical tape to make up some dodgy numbers, 10 was the lowest number available. About 30 guys turned up split into 2 groups Sports & touring (?), 6 sessions per group each about 30 minutes. I ended up doing about 150kms track work for the day which took me to reserve. No stacks. The track surface was really smooth (shiney like, not grippy) & with the rubber everywhere from the V8 Supercars it left me with not a lot of confidence as my 748 felt like it squirmed here & there in corners. As I had to ride it home I figured it would be a good idea to ride on the careful side (as I always do). The track layout seemed odd in that some corners flowed from a gentle right to a sharper right corner which didnt leave you much time vertical to comfortably jump on the anchors hard. The succession of some corners meant that in some cases it was faster to just maintain one gear constant throughout a series of corners than to brake-throttle-brake. In "racing" they say you should be either heavily accelerating, braking or cornering & never on a constant throttle (cruising/coasting), but this was hard on this circuit. Maybe I just need more time on it.
The ride home was like the ride there, more drizzle. I did it in one go (full tank to reserve) because I wanted to get home, I was cold, damp, tried & bloody hungry.
Pic taken from overhead, tank off to the left.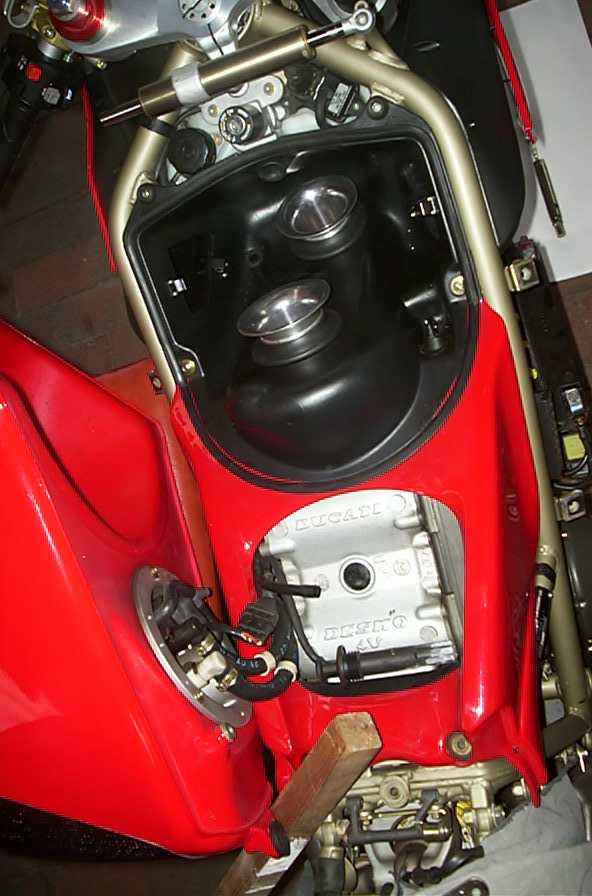 Vacume hose disconnected, fuels lines intact. top of rear cylinder shown.
31st August 2002.
19,200kms. In my last entry I mentioned that the idle was a little erratic, stalling at about 1,100rpm, and my fix for it wasnt too kosher, so I figured I should give the plugs a check if nothing else. I hadnt removed the plugs before as all previous servicing was done by the dealers, but I figured that it would be a straightforward job on even the most complicated bikes. With my 748 it went like this: removed the two lower cowlings covering the engine; removed the rear/seat; removed the tank (or rather unbolted it & swung it over on its left side without undoing the hoses - to allow access to the rear cylinder head.
The rear plug was easy enough, after the tank was out of the way it was right there infront of you, the spark lead was yanked off & bobs your uncle. But its not that easy, the first problem raised itself: The plugs fitted to my 748 were NGK D9EVX (not Champion RA55V as per the owners handbook), which were a larger size than the sparkplug tool that came in the tool kit. So a mad panic set in while I searched for something to suite, luckily I had a collection of old jap bike Tool-kit tools (from previous bikes) which included a sparkplug spanner. So I had a Kawasaki KLX650 sparkplug spanner that fit nicely. With the NGK D9EVX plug removed it seemed pretty clean, no massive collection of carbon etc. I ran the wire brush over it a little & used a bit of fine sand paper on the under side of the electrode. When I gapped it I found that it was at about 0.7mm. The owners manual recommends 0.5mm to 0.6mm. Perhaps that is what the idle problem related too. Cleaned & gapped (@ 0.55mm) I installed the rear cylinder spark plug.
Now the front cylinder. Had to remove the front cowling below the radiator to allow access. Believe it or not I had to remove the front guard as well (huh?) to give me the clearance to get to tool in to the spark plug cavity. Again the gap was about 0.7mm, so cleaned & gapped in it went.
A test ride around the sights of Melbourne showed the idle problem fixed , oh yeah I did actually remove that tape I used on the idle setting (why do I do things like that??).
19th August 2002
18,800kms. Cant believe its been over a month since Ive been out for a decent ride. Had a day off work & planned a lot of work around the house which needed doing, but the morning dawned clear & dry & that left my previous plans for another day & off came the cover on the 748.
This time of year in Melbourne / Victoria, it is pretty much snow on all the high country & a lot of the twisties up through the hills have that 4 month old green moss & dampness that the Winter sun just doesnt reach. So it was off down the coast to the Great Ocean Road along the western coast of Victoria. To Apollo Bay from Melbourne its about 2.5 hours. For me the best route is Melb/Geelong/Winchelsea/Lorne/Apollo Bay. The main drag between Melbourne & Geelong is still 60kms of works & speed limit of 60-80kms/hr (urggh).
Between Deans Marsh & Lorne the Otways are still pretty damp & greasy & not that much fun through the windy roads. From Lorne to Apollo Bay is what I regard as the start of the good stretch. This time of year the tourist traffic isnt that much of a problem (being Monday makes it better though) & with a lot of the coast road bathed in sunlight, it was dry & a good scoot. It was great to get some temperature in the tyres again & scuff them up nicely to each side.I noticed that some of the worst stretches had actually been resurfaced & were wider with a gripper hotmix.
So it was to Apollo Bay & then back to Lorne, home through Anglesea/Geelong to Melbourne. Travelled about 400kms. Noticed that my idle on the 748 was a little irratic & it actually stalled 2 times while sitting at the lights (warm engine, idle set at 1100rpm). Perhaps this was due to the impending 20k service (new plugs, valve clearances) where this would be put right. When I got home I checked the idle setting (removal of right cowling) & noticed that theyve got some "putty or silicone" compound on the idle setting screw to stop the engine vibrations adjusting the setting. Because of this I thought best not to stuff around with the screw (just before taking it to get serviced) & instead placed a layer of electrical tape to "pad out" the idle setting (yes, I know it sounds pretty "backyard" but didnt have any Locktite to replace the thread lock compound). The result is now that it idles @ 1,200rpm, enough to avoid the stalling.
All this dumb-arse fiddling has highlighted the fact that I did not have a workshop manual for the 748 & I should get more familiar with servicing the bike if I am to avoid the $$$$ in ongoing servicing costs
Installation of extra park light (left).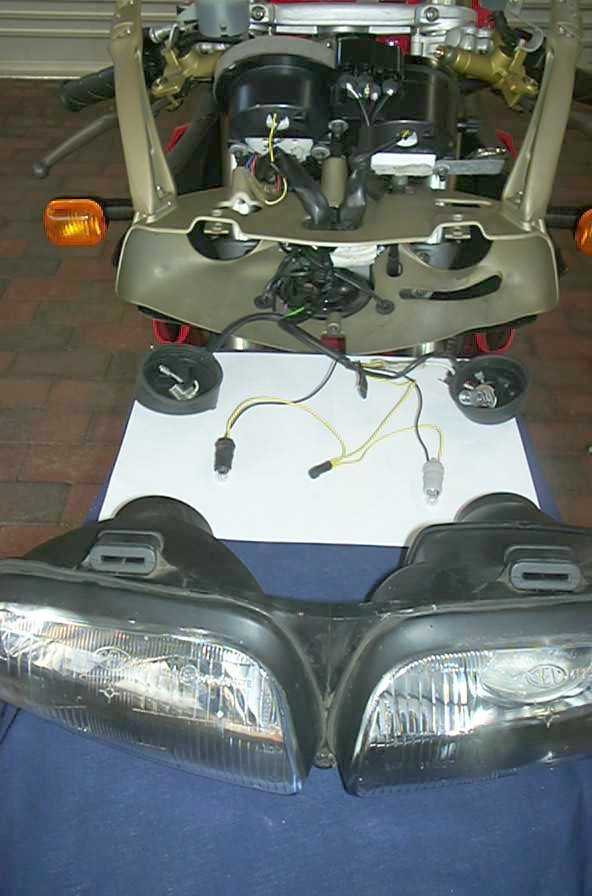 Park lights run in parrel off lighting harness. Rubber boots are main-light end caps (for low/high).
29th June 2002.
Its pretty cold & wet now, winter in Melbourne. For a fair-weather rider like myself it means the 748 is kept nice & snug under its bike cover. Went to kill a few minutes down in the showroom of Melbourne Ducati. Looking at the 2002 998S I thought Ducati reverted to caburators from injection for 2002. Alongside the switchblock on the lefthand side was a slide-type lever with a choke symbol on it. Ducati have dropped the switch on the throttle housing as on earlier 748/916 used to give a little throttle on cold start-up & gone with what is a more convensional cold-start-up set up for their owners. Ive heard some Ducati Hyper-bike owners had missed the cold-start proceedure with these bikes & would stand there next to their bike blipping the throttle untill the engines got some temperature in them (looks like some didn't read the manual, eh).
I noticed that the current 2002 Ducati 998 & 748 have twin park lights (one in each of the headlights, low beam & high beam). This is different from my 1997 748 BiP which only has the one park light in the low-beam headlight. I checked the wiring diagram & it did not seem to be any issue if I doubled up on the park light like the current model, these park lights are only 5w 12v, & run off the main dash light wiring harness.
Was not easy locating the extra park light part which fits into the blanked off hole in the other headlight (it is a little rubber grommet style holder with 2x connectors, the globe is a 5w 12v plug-in type you can buy over the counter @ the petrol station). Not too many (any) Ducati wreckers in Melbourne (Australia) & these type of spare parts are the usual 2week wait from Italy. Finally sourced one from a dealer who recently did a smash repair on a 998 & this part was in the Misc bin. As the original head lights came with the holes already in place it was a simple task of running the extra park light in parallel off the exsisting wiring harness & thats the job done.
Also noticed the new 998 are fitted with 120/70 front instead of 120/60. Might be the way to go on my next set of hoops. At the moment Im running 120/60 front & 180/55 rear. Im looking at Dunlop 208 Sportsmax at 120/70 & 180/55. Im also toying with modifying the rear indicator/numberplate set up to make it alittle neater, we'll see. Stay tuned.
Phillip Island "Honda Blade Blast" 03/06/02.
6th June 2002
17,850kms. Hondas Blade Blast ride day @ Phillip Island race track. 4x 15 minute session on my bike plus 2x 15 minute session on the new 2002 Honda FireBlade 900. Cool sunny day, no wind & @ sea level. Temp at Phillip Island was between 10-15 degrees (Celsius). Track was damp in the morning for my first session but dried up nicely for the rest of the day. I was running a Pirelli Dragon EVO 120/60 up front (70% worn) & Michelin Pilot Sport 180/55 rear (50% worn) tyres.
7am, I rode my bike up to the track & ran my standard suspension setting throughout the day (see My Ducati Album for details). Ride up was freezing, it was about 4-5 degrees & a lot of moisture in the air, not only did my visor stream up constantly but so did my mirrors! (?). Got there just in time to miss the start of my first session @ 9am, so it was a hurried unload of the back-pack & extra jacket & out in to a damp cold track. Just as well I missed some of that session the damp conditions made those long sweeping corners a little un-nerving, I just waddled around to get an idea of the lines & where things were at.
Next session was a fang on the 2002 Blade. I must say that there is a lot to say about the new Blade. Everything they say about it is pretty much spot-on. Linier power, monster brakes, stable handling. On my second session I was lapping faster than I did on the 748 & at the end of the main straight at Doohan Corner I was doing at least 15kms faster through there easy. Southern Loop was also made easier with the broad, smooth spread of power the Blade had, very predicable & lots of it, nice & smooth. Lower midrange was the same as my 748 but it was all sky-wards from there. Sure its a, what, 959cc in-line 4, but its like I always had too much power for everything, apart from the main straight I dont think I really had it full-on tapped. Comments of the front understeering under hard cornering didnt seem to be a problem and I found it tracked straight & true. Lots of room to move around on (good for fatarses) & the seating position was almost up-right (compared to the 748). On the last session I got the Blade into abit of a tank slapper out of Siberia but that because I had way too much on coming out of Siberia & out to the Hayshed & I was sitting too far back (no enough weight forward). Nice bike, you dont have to think really, just ride, the engine/handling/brakes will be there when you need them.
Back on my 748 for another session. Straight from the Blade I notice that my 748 seems to sign off early (its a twin), but the off-shoot is that it can run a gear further through the rev range as it seems to grunt through the lower RPM. Sure the 748 doesnt put out the ponies that the Blade does but its great to roar into & out of corners on full tilt & to the stops. The 748 encourages me to run corners deeper & faster to carry more out of through the apex to the exit, and thats a buzz. The 748 doesnt come anywhere near touching down anywhere & there were a few examples of me having to cut into a corner harder to square off a badly executed entry, although there is still that vague "falling " feeling the Ducati has when leaning hard into a corner. Kinda makes you think that the front is washing out on you or something, but it still sticks to the line. I was looking at changing the front tyre from a 120/60 to 120/70 in an attempt to gain a "rounder" & taller tyre profile, might reduce this problem.
Each 15 minute session seemed to have finished just when I was getting into the groove of it all, but it was enough to blow out a few cobwebs & gain a little more confidence in the 748 after a less than inspiring recent history. Sometimes you need a good hard fang like this to get a better prospective on your sportsbike & how you should approach riding it. Im not the wheelie popping sort of dude on a Saturday night. Monos for me always seem to turn out arse-faced when done intentionally with an audience watching. Some track work or Sundays out through the twisties is where its at for me.
Now when is my next track day..
Duke's back & lookin better than ever.
11th May 2002.
Woo hoo, picked up the 748 from Melbourne Ducati (+61 3 9428 1700), and I must say I was happy with the results. Last time I took my bike there for repair they replaced the front fairing (around the headlights) with a later model which was sans decal, which was something I was mightily upset about. But with this repair they put that right. Its been about 4 weeks since I took it in & Im darned happy shes back.
I noticed there was some condensation inside the headlights which steamed up when the Duke was ridden home. This was something I had after a 1 hour ride in torrential rain once before, where I disassembled the headlight unit & ran the hair dryer through it. But this time it was weird in that I hadnt ridden in the rain & Id assumed that the 748 had been garaged in the time it was being repaired. When I took the headlight apart I noticed a hairline crack through the plastic body of the headlight unit, this may have let some moisture into the lenses. I wasnt surprised that this may have been missed in the repair in that it was only when the whole headlight unit is removed from the Duke that the crack line was exposed. A little general propose sealant should do, which I did.
The repair was covered by the insurance of the Taxi owner that caused the accident.
Tuesday 9th April.
17,050kms. In the last couple of weeks Ive been out on the 748 at Reefton, Mt Macedon & Apollo Bay. Went up to the Superbikes @ Phillip Island to see Bayliss make 2 from 2. As a mate said the World Superbikes are becoming more of a Ducati Championship, Ducati filling most of the grid positions & being THE option for privateers. I suppose the interest in MotoGP is taking the focus off Superbikes for the main Japanese factories. I personally find the racing & racers in WSBK more engaging than MotoGP regardless of the fact that I own a Duke.
Well Im sad to report another stack on the 748. Happened Sunday pm on the way back from Reefton, going through Carlton (inner north Melbourne) in built up traffic. At an intersection a taxi was turning left from the extreme right lane across 3 lanes of traffic, I was travelling straight through the intersection in the extreme left lane. Taxi drove across my path, I hit his left fender full square-on (he was at right angles to me), I had a green light. Impact was slow, with heavy braking I was able to wash off speed to about 10kms on contact. 2x witnesses blasted the taxi driver for his bad driving, they demanded that I report him (which I did). Bike is rideable, just cosmetic damage on the right side & foot peg. I tried to swerve left to avoid him but the rear stepped out a little. Another insurance job, his insurance.
I noticed the footpeg & footpeg mounts on these Ducatis are pretty flimsy. A small laydown would completely crush & distort the footpeg. Theres no provision crash tabs (roller skate wheel-things) on the sides of the fairings like on some jap bikes. Also the frame mount for the footpegs are so tiny Im surprised that they dont bend with just the riders weight (doing Corser wheel-stands for example).
Hopefully the next entry wont be bitching about parts delays or dealer workmanship, heres hoping.
21st March 2002
15,811kms. As with my previous bikes, I planned to do an oil/filter change every 5,000kms. This is a simple enough job on any bike and it proved the same on the 748. The oil filter element on the 748 is a steel canister type like what you would find on any car or most Honda road motorcycles. Process for the 748 was as follows;
Place the bike on the workshop stand so its vertical. Remove right lower cowling (quick release fasteners 6x). Remove drain plug (Allen key), let oil drain. Remove & clean oil mesh net (large hex nut below oil sight glass). Remove oil filter. Then, replace new oil filter, install drain plug & oil mesh net bolt. Unbolt battery cage & swing away to allow clear access to oil filler cap. Fill new oil (3.5litres), install filler cap & battery cage, & replace lower cowling.
Things I noticed: As the last oil change was at 10,000kms and done by a bike shop, all the bolts/nuts were done up way too tight. The drain plug has a huge magnet on it to collect metal fragments in the oil (largest Ive ever seen). The old oil came out as black as shit, lord knows how much metal & carbon deposits there was in it (old oil was Shell Ultra 4), considering the 748 runs a dry clutch Ive never seen the engine oil so dirty/used after only 5,000kms. The oil filter is standard size (for a bike) but recessed & only 2cms clears the cases & sticks out the bottom, this doesnt offer you much leverage when trying to remove it. This was OK though because out came the screwdriver & hammer, puncturing the old oil filter body with the screwdriver & a whack in the right direction the old oil filter was off. The new oil filter should only be done up hand-tight, there is a large rubber washer on its base which binds it to the cases well enough. The placement of the battery alongside the motor doesnt help any when trying to refill the engine oil. I removed the bolts holding the battery cage & swung the whole lot forward/down to clear the oil filler cap. As I have replaced the oil filter its best to run the engine (oil filler cap on) before you settle on the oil level. This pumps oil into the empty, new oil filter.
Oil filter cost: $19.60 AUD. Oil used: Motul 5100 Ester, $47.00 AUD. My personal policy with engine oils is use a relitively good quality oil & change often. No need for ultra exotic or expensive oils, fully synthetics might take higher temps/pressures, but its the metal, dirt & shit that accumulates in your oil over time/distance thats the real killer. Go for cheaper oil & change it more often, for the 748 that is every 5,000kms.
World Superbikes at Phillip Island this weekend. Weather forecast is mid/high 20s (degrees Celsius).
17th March 2002.
After doing the Great Melbourne bike ride (pushbike event, 45kms through city & surrounds) I took the 748 up through Warburton, Reefton, Marysville, Healsville, Kinglake & Whittlesea for a fang. Reset the rear ride height (pre-load reduced by 1cm) but I didnt really notice any difference really. It was a good day, 26 degree C, clear day.
748 just outside Whitfield Vic, Aust. 10 March 02.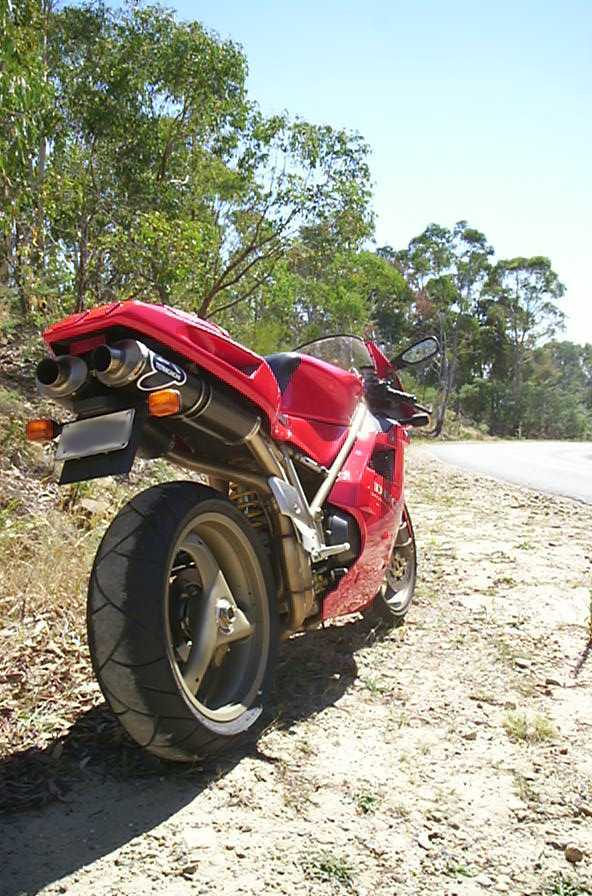 Not shown in the pic but the road from Mansfield nrth to Whitfield Vic Aust is now sealed
10th March 2002
Sunday, out for a ride, up again to Mt Hotham/Dinner Plain. Left Melbourne 9am, couldnt scare up an other takers so it was just lil old me which meant it was pretty much non-stop apart from the odd fuel stop. Its the Labour Day long weekend & I was expecting Mr Plod to be out in force itching to pinch some darn crazed bikers, so avoided the main drag (Hume Hwy) & took the more interesting route. This route was; Melbourne, Whittlesea, Yea, Mansfield, Whitfield, Oxley, Myrtleford, & Bright (gateway to bikers paradise). The road between Manfield & Whitefield had been recently sealed so this road will be definitely visited more often.
Heaps of bikes out this day, on the way back down from Mt Hotham back to Harrietville (Great Alpine Rd) I was happened across by this dude on a Honda SP1. I call him a dude because he fanged past at proberly twice my speed through there & fuck if I could keep up with him. He was travelling light too, no back pack, & was climbing all over his bike - arms & legs all over the place. Sure I may have been riding for 4 hours straight by now & the SP1 might have more poke than the 748, but this was twisty second & third gear stuff, it was time to pull my finger out & bring the needle up to around 8-11,000rpm. So tacked behind him using his lines through corners I wasnt familiar with. He must have been through here before, taking those corners cranked over at point blank range (i.e.; no margin for error, at all). This is when I noticed how loose my bike was feeling. What normally felt like a tightly sprung & damped suspension set-up it started to feel wallowy & kinda springy. Sure the road was pretty rough (not your billiard-table smooth race track this) & I was chopping the throttle & jumping on the brakes without any sort of flow that you would have 100th time around the same race track, but this didnt feel comfortable. Needless to say the SP1 dude disappeared around the next series of corners & was left riding the wild bull in my own race.
Rear sag set at 10mm more than standard and the lighter comp/rebound settings might need to get changed. I think adding at least 5mm less sag (increase rear preload) & 1 up in comp/rebound might be the way to go. The reduction in rear sag would also stop the front tendency to want to push through corners (not that its a major problem now).
Got home in one piece, went back the same way I came (less traffic more fun).
Standard Ducati rear sprocket, in Aust $375:00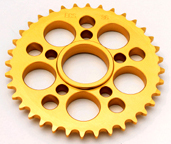 One-piece rear sprocket similar to Std.
Aftermarket alloy rear sprocket with carrier.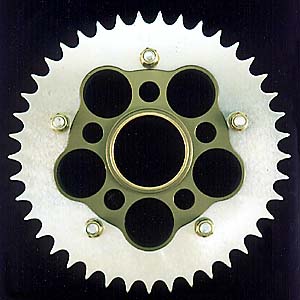 Alloy Sprocket $70-90:00AUD, Carrier $440:00AUD
07th March 2002
14,300kms. New chain & sprockets. Ouch, seeing how I'm not the sort dude who's into popping monos & doing stoppies, I'm kinda pissed at how fast I've gone through a set. Washing my bike after the last ride I noticed that I could lift the chain to almost half the height of a sprocket tooth on the rear ( looking at the rear sproket it is at 3 o'clock, towards the rear). The 748 Bi-Posto runs 14 front/ 38 rear (748 1997 SP runs 14/37). Getting prices for replacement parts went as follows:OEM replacement: Front $56.72AUD, Rear $309.66AUD (steel).Aftermarket: Front $40.00AUD, Rear $70-$90.00AUD, alloy rear sprocket run with a replacement sprocket carrier: $440.00AUD.
I wasnt too keen on running alloy sprockets because my experience of alloy sprockets in the past on other bikes lead to reduced mileage per set. Ringing around the dealers in Melbourne Australia I suddenly realised how scarce Ducati parts supply was. OEM replacement rears (38t) were on back-order since December 2001 with no ETA. Nobody had any on the shelf, stock OEM or after-market!
A Ducati Servicer (Shafton St Motors, 44 Shafton St Huntingdale.+61 3 9544 4444) came through in the end with an original Ducati/Cagiva kit (containing steel front & rear sprocket (14/38) & Regina Chain). With a heavy duty Tsubayaki gold-link chain it came to $785:00AUD. This included fitting as I didnt have a tool to fit the large nut on the rear axel, but it was only recently that I discovered I didn't need to remove this large centre-nut to change the rear sprocket. I got to keep the Regina chain that came in the kit as well & I might use this later on.
A second look at the old chain/sprockets I found that the sprockets still looked OK but the original Regina chain had hacked out badly (lots of play between the links and very kinked up.). Sure, I lube the chain with quality lube on a regular basis etc but there you go. Lube Ive used in the past include Belray (5 outa 10, foams up too much drips everywhere), Shell chain lube ( 5/10, flings off when travelling) & PJ1 Blue Label (8/10, comes out like WD40 & solvent evaporates leaving heavy lube between links). Currently Im using Kettenpflege, this works little like PJ1 Blue label but with whats happened on this chain Ive just replaced Ive still got my reservations.
Gr Alpine Rd, outside Harretville Vic Aust.
Removed pinnion pegs. pic 31 Jan 02.
27th January 2002.
Removed the pinnion pegs. Haven't had much need to dink anyone (carry pinnions) lately. Reckon it makes the tail section look heaps neater.


25th January 2002.

Picked up the repaired bike from Ducati Melbourne , Australia (+613 9428 2882). It was Friday after work @ about 5pm & I rushed from work & was pretty anxious to get the 748. Looking over it at the dealer everything seemed really good, new parts, great paint job etc, so off home I rode.
Gave it a second look over that night I suddenly realized that they had forgotten to include the Ducati decal above the headlight on the front fairing (Ducati 748/916 1997 had decals on just about every panel) and the mesh insert in the tail were coming unstuck. I called Saturday morning but the guy I had been dealing with wasnt there so I left a message re: the missing decal. Called again Thursday , thats when I got the bullshit story about how the front fairing was a new part & the 97 part was superseded, & to put the decal on would include another couple of weeks because the clear-coat would need to be stripped, & colour re-done, & etc etc etc. I had time off from work coming & summer with no Ducati for 2 weeks was something I would be dreading.
Thats when I came to the conclusion to count my losses & put this down to another bad motorcycle dealer experience. Sure it might be a little thing but the dealer calling me before hand to explain what was going down, except me discovering all this in my own time, would have spoken volumes. I dont think that anything concerns me more than to leave a motorbike at a dealer & have them work on it. 15 years of riding & having to deal with motorcycle dealers has re-enforced my opinion that bikes should only be brought to them if there isnt any other alternative.
Whatever, its a nothing thing. I can still ride the 748 & enjoy the experience & thats the main thing.


30th November 2001

Dropped it.
Left hand corner from a standing start on a dry smooth, clean piece of road in broad daylight. Still in first & doing about 15kms/hr the back slid out to the right as I cornered left, then to catch it I countersteered right over to the stops but it was all too little too late. The rear bit & pitched the bike over down onto the right hand side. I have no excuses, it was my first roadbike stack in 15years riding on the road, 5 years on road bikes.
I just bought a new rear tyre Michelin Pilot Sport & was riding the 2kms home. Late Aussie spring, warm day, T-shirt & jeans. Ive had new tyres on bikes before & we all know about the, careful for the first hundred kays mate, let her get scrubbing in .
Took it to Melbourne Ducati. Claim it on insurance & watched my premium rise. Damage was front & right side upper/lower fairing, clip-on, screen, mirror, front fairing support, footpeg, fr brake lever & some other little stuff. The quote was: $5,085.80AUD. This was to bring the bike back good as new, replaced all damaged/scratched parts.
Cost meant nothing, it was the wait. The long, arduous wait..


27th November 2001

10,000kms service. Living in inner north/west area of Melbourne I took the Ducati to get serviced at Melbourne Ducati Richmond, Melbourne Australia (+613 9428 2882). Rear of Duttons.
This included Oil/filter, plugs, valve clearances (with all the replacement gaskets that go with it), new airfilters & replaced Cam-belts. This totaled $786.90AUD.
The air filters had perished slightly (they showed me, but were they mine?) & the Cam belts would normally get done at 20,000kms, but the Duke was already 3 years old & I erred on the safe side.
Breakdown of the charges:
Cam Belts $172.18AUD, overall labor $420.00AUD, Valve clearance parts $16.25AUD. Oil change parts $134.65AUD. Oil used was Shell Ultra 4.
Dont tell me I was scammed because that wont be helping anybody, especially you.

Oh yeah, they sprayed that Bikeshine or whatever stuff all over it to make it look all new & fancy, just meant that I had to wash it off when I got home.

Phillip Island Track day Nov 2001.
5th November 2001

Ride/track day at Phillip Island with the Australian Superbike School (+613 9792 1322).
I havent really done all that many kms on the 748 & I wasnt too sure if I would be any quicker at Phillip Island than on the Honda CBR60099. My last time here was November 2000 on the Honda & I did a 2:04. GP & Superbikes do about 1:32 I think.
I left the suspension settings as they were & rode my bike to the track. A couple of mates & just about everybody else trailered their bikes down to Phillip Island. I didnt feel I needed to bring much, just what stuff I packed in my backpack, but some blokes brought their whole garage with them (I must be missing something?).
As long as your bike was roadworthy & tyres had some meat on them then that was good to go. The Superbike School guys taped up our rearview mirrors, some took them off & other blokes took off their rego plates (something about insurance).
3 groups of about 15 riders, grouped in abilities wherever possible, 1st group fast, 2nd group faster & 3rd group more so. The 3rd group mostly ran slicks & aftermarket fiberglass panels (ie: racers).
Each session was about 20 minutes which I think was OK by me. The passing was nice and safe in my group, lotsa room, no surprises. Phillip Island is a fast flowing track, some corners are taken at about 140kms upwards, except maybe Honda/Qantas, MG & the mid part of Southern loop. Tyres feather up nicely.
I found the Ducati was in its element. That riding position & handling all comes together when youre cracked over corners with red & white ripple-strips. Nothing like that booming roar out of the final corner into the main straight or down changing off Lukey Heights into MG corner. Following the racer boys helps novices like me pick the good lines & thats where its at I reckon.
Top speed was about 180-200kms indicated just before Doohan corner (yes I know the Duke 748 can do 240-250kms but a little more straight might be required).
A few stacks: A Suzuki GSXR1000 2001 with 600kms on the clock off at Qantas corner. Yamaha R6 off coming out of MG corner (I think), he was airlifted (!). And just at the end of my last session the heavens opened up & some bikes dropped like flies, that was my queue to ride home.
Oh yeah, my time was 2:07. (Nothing to boast about)


November 4th 2001
Replaced front tire. Original Pirelli Dragon EVO 120/60 front tire had been fitted since 1997, it had that hard plastic feel you get with rubber exposed to the elements for a long time etc. Besides I had a ride day coming up & it was good an excuse as any . The rear was OK.I took the front wheel off to take to a bike shop just around the corner Turn One M/C Kensington Vic Australia (+613 9372 1299). It was replaced with another Pirelli Dragon EVO. Charlie at Turn One M/C said they werent so good in the wet, but being a fair weather rider it didnt matter. Ive got this thing about trying to keep both front & rear tires the same type where possible, in this case Pirelli EVOs.
Taking the front wheel off first seemed daunting but after you drop the fairing off & use the workshop stand on the rear, all you really need is a car jack on the head of the forward cylinder & that suspends the front nicely.My rims are the old 3 spokes & theyre bloody heavy ! Ive heard the later 5 spoke rims are heaps lighter.
I have been getting an average of 6,000kms out of a set of tires, this included Pirelli Dragon EVOs, Michelin Pilot Sports & Dunlop D207s, on bikes like the 748, Honda CBR600 & Kawasaki Zephyr 750. The riding was basically weekends up in the hills, track days, that sort of thing. Not much commuting at all.Dunlop D207 at temperature were predictable & surefooted on tracks & heavy road work. Some prefer Dunlops D207s over Michelin Pilot Sports because at the limit of their grip they begin to squirm where Michelin Pilot Sports grip, and grip some more & then just let go. I havent really experienced that with either tires I ran on the Honda CBR600 or Kawasaki Zephyr 750. Michelin Pilot Sports seem to feel stickier than the Dunlops D207s & feather up like mad.The Pirelli EVOs are in the same league but I havent really pushed them hard as yet.
2nd November 2001

Adjusted suspension settings after spending some time riding the roads I normally frequent. I thought it might be best to get to know how the Ducati 748 responds to my kind of riding before I went off & changed this & that. Some more exotic motorcycles offer suspension with a greater range of adjustment than other bikes, but this can be a bad thing, you can actually tune the suspension so far out that it could make it unridable.

The standard setting are:
Front: Compression 12 clicks out, Rebound 10 clicks out, preload 3rd notch from top.
Rear: Compression 1 turn out (anticlockwise), Rebound 1 turn out, Preload 30mm sag (from static, rider weight 73kgs).

My suspension setting are:
Front: Compression 14 clicks out, Rebound 12 clicks out, Preload 5th notch from top.
Rear: Compression 1 turn out (anticlock), Rebound 1 turn out, Preload 40mm sag (from static rider weight 73kgs).


13th September 2001

Bought the Ducati 1997 748 Bi-Posto from a private seller in the Melbourne Trading Post (Australia). It had 5000kms on it in immaculate condition & came fitted with Termignoni slip-ons mufflers & was EPROM chipped. The standard pipes came with it too (in a box with 0kms). Standard on the 1997 748 Bi-Posto was Showa GD 052-007-50 Rear shock & Front Showa GD051, Steering Damper (no adjustment), adjustable steering angle (rake?). No oil cooler.

The first owner was some bloke who filled his garage with exotic cars & bikes he never used & the guy I bought it from owned the Ducati while his engagement was going through an off period. This bike had never been dropped, ridden in the rain or seen a race track.. Until I came along.
I had a buyer for my Honda CBR600 1999 & the Ducati 748 was a very hard temptation to overlook. Sure Ive heard about the servicing costs & parts prices as well as the reliability stories that these sort of bikes attract, but, what the hell I thought if youre going to be a bear, be a grizzly!. Ever since the 916 Ducati came out in 1994 I was sucked in and there was no turning back.
The 748 was a better preposition for me in that the time I spent riding the Kawasaki Zephyr 750 and later the Honda CBR600 99, I felt that I could get more out of the smaller 748 capacity than the 916/996/998. I heard that even though the Ducati was a twin, it was a relatively revvy twin & the 748 was better geared to make the most of its power. The 996 at 120kms/hr is spinning at about 3500rpm and redlines at 10,000rpm, wheres the 748 at 120kms/hr sits on about 5000rpm & redlines at 11,500rpm.

I saw the Ducati 3 times, but it was only when the cash was waved under the guys nose did he let the keys go for a test ride (which was pretty much on par with all Ducati owners selling their bikes, Ive found). Came fitted with the standard front Pirelli Dragon Evo 120/60 & a new rear Pirelli Dragon Evo 180/55.

Test ride was in drizzling rain, a first noted the seller. Test ride observations was a direct comparison with my Honda CBR600 99:
As the bike is fuel-injected (therefore no coke), starting was: First, clip-on the switch underneath the throttle housing to give a little throttle on start-up when cold so the engine would idle a bit higher 2000rpm. Second, press the starter & over she turned to a fast idle. This bike had the sidestand cutout switch removed (definite must). If you revved the engine while on the sidestand over 3000rpm it would walk backward on the stand due to the vibration.
Getting on you realize that this is a RACER. Seat was higher, flat & hard. The tank felt narrow & square, like a shoebox between your legs. The clip-ons were a long stretch forward & down low. Grips felt very thin. The hydraulic clutch pull was heavy (I usually use two fingers, habit from MX days). The engine trembled & shook in the frame, blipping the throttle you could tell that a lot of action was waiting there for you up higher in the rev range. The engine noise was tremendous. I reckon you could hear every little whiz, click & bang that was going on down there, especially the dry clutch (standard housing).
Gearbox action was crisp but not light. Motoring off in first it felt heaps better above 2,500-3,000rpm, the engine seemed like it had long legs, revving cleanly & smoothing out up through the rev range. Up through the gears you could tell that 7,000 to 10,000rpm was where it was totally happening, but being a twin it pulled strong everywhere, more so than the Honda (in-line 4) to about 7,000rpm which is where most road legal cruising speeds happen. At 120km/hr the 748 sat on about 5,000prm in top.
Stop-start city traffic was such a pain, I definitely couldnt commute through the city every day on the 748. The racer riding position, heavy clutch & lack of steering lock made it a chore for me. But thats not why I bought it.
The lack of steering lock means a U-turn on a normal single-lane-either-way road was a shoulder to shoulder affair.
Suspension seemed harsh and the handling felt alittle ponderous at low speeds (up to 50kms).
Bought it. Sorted.